Underwater Photographer Jean-Marie Ghislain Captures Diver Playing with Great White Sharks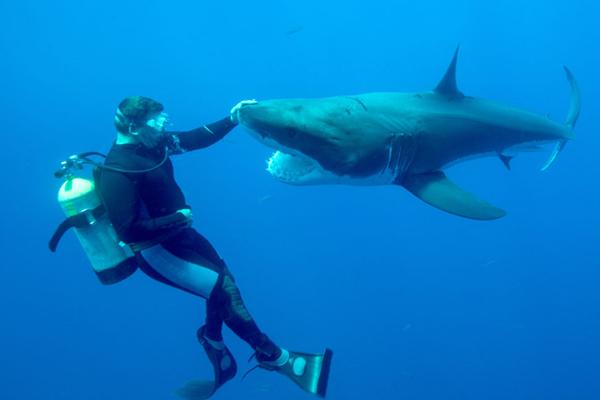 Yesterday's story on the winners of the 2017 Underwater Photographer of the Year Contest was so popular that we decided to feature these incredible images of a diver getting up close and personal with great white sharks near Mexico's Guadalupe Island.
Belgian photographer Jean-Marie Ghislain captured German diver Martin Kochling swimming with two great whites that exhibited different personalities. "The large female was a player who showed amazing social ability," he says, noting that, "The younger male was quite territorial and aggressive."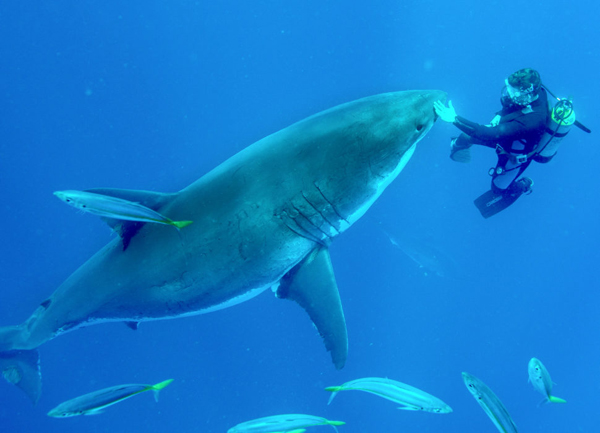 Ghislain says photography came to him naturally as he was "always passionate about light and how each object, each person reflects or absorbs it." He says he spent his early years as a photographer without any specific project in mind.
In 2009 Ghislain finally put his photographic vision to use for the purpose of a cause, the defense of the oceans and their inhabitants. "I finally decided to confront my historical fear of water and sharks," he says, adding, "Against all expectations I switched to a real fascination for these animals, changing my life irreversibly."
It's unclear from Ghislain's account of these images if he was shooting from within a shark cage as he photographed Kochling's exploits. In any case, Ghislain says, "It's good to show you can have a peaceful encounter with a great white. They have such great personalities."
Earlier this week we posted the backstory story about another close encounter with a shark, captured by freediving photographer Alexandre Voyer, so take a look at that article too.
You can learn more about Ghislain and his work by visiting his website. Be sure to take a look at yesterday's story featuring the stunning winners of the 2017 Underwater Photographer of the Year Contest. And for a more humorous look at this genre, check out our earlier story about Bruce Mozert's 1938 photos of pretty pin-ups posing underwater.

FEATURED VIDEO