Understanding And Controlling Strobe Lighting; A Guide For Digital Photographers Page 2
Combining Hard And Soft Light
I think that the most expressive lighting for portraits—and many other subjects—is a mixture of hard and soft light and a mix of brightnesses. I used four lights—three hard and one soft—to create this image (A). The soft light came from an umbrella/light panel set up just to the left of the camera. This provided the basic illumination for the shot. I set up a strobe with a snoot behind the subject. This lit the left side of her face and created highlights in her hair. The light produced a brighter area on the left side of the face, and I am particularly pleased with the way it defined her cheek and chin. I placed a warming filter on the light to add color. (In fact, I placed filters on all of the hard lights to put more color into the shot.) I put a much smaller strobe behind and to the right of the camera to add sparkle on her lips and in her eyes. Although I can find reflections from this light in the shot, this light had less effect than the other strobes. This light was also covered with a warming filter. You can also see the light I put on the background. Since this light had a blue filter on it, it added color to a normally gray background.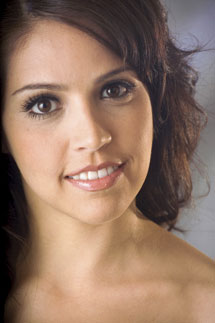 A. The diagram for the image. I used four light sources: an umbrella/light panel, reflector, snoot, and bare bulb.
Hard Vs. Soft Light
Earlier in the book, I described hard versus soft light. We'll take a close look at the topic here, but before we do, try a little test that will help you visualize the difference: At night, set yourself up in a dark room with a light with a large lampshade. Turn all of the other lights off. Note that objects near the lamp have soft shadows that slowly transition into lit areas. Objects farther from the lamp have shadows that go from dark to light quite quickly. This is soft light. Next, remove the lampshade and look at the way the light renders the objects in the room. Note that when light falls on objects that are not very close to the lamp, the highlights quickly transition to shadow. This is very hard light.

Understanding and Controlling Strobe Lighting: A Guide for Digital Photographers
by John Siskin
Published by Amherst Media, 2011
ISBN: 978-1-608952-42-7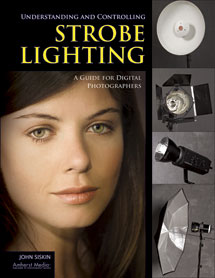 Synopsis
One of the most important factors that photographers can control in their images is the lighting. In this book, John Siskin shows you how to choose the right strobe light sources and modifiers for the looks you want to create, implement them effectively on a shoot, and produce images you'll be proud to share.
About The Author
John Siskin is a fine art and commercial photographer who often works with landscape and architectural images. His work has been part of many exhibits at the Brand Library, 2nd City Art Gallery, Harold's Gallery, Farmani Gallery, and The Atelier. He has been a regular participant in the Valley Studio Tour.

His work has been published in a number of magazines, including View Camera, Photo Technique, and Shutterbug. You can view some of his magazine articles and more of his work on his website at: www.siskinphoto.com. He has done a large number of commercial jobs including projects for General Motors, Disney, and AidsWalk. His portraits for AidsWalk have been displayed on the streets of Los Angeles, Atlanta, San Francisco, and New York.

John has taught photography for more than 20 years at colleges in Southern California. He is currently teaching lighting and portrait classes online at: www.betterphoto.com.
Where To Buy
This book is available anywhere photography books are sold, including many camera stores, www.amazon.com, or directly from the publisher at: www.amherstmedia.com.

FEATURED VIDEO