Turn Boring Travel & Nature Photos into AMAZING in Photoshop (VIDEO)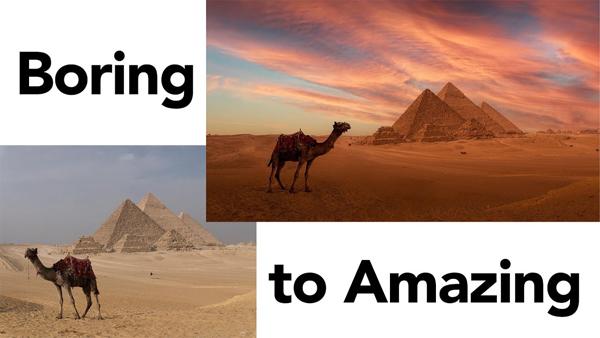 One of the common pitfalls with travel photography is returning home, reviewing images on the computer, and discovering they don't look as great as they did through the viewfinder. The same thing is true when shooting landscapes, even close to home, because it's impossible to return and find exactly the same light.
We've all confronted this predicament with dismay, but in today's tutorial from one of our favorite travel and nature photographers, you'll learn how to transform photos from boring to amazing with a little help from Photoshop. Best yet, the simple techniques you'll learn will prove very helpful when editing all sorts of outdoor images.
French pro Serge Ramelli is known for spectacular travel, landscape, and cityscape photography captured throughout the globe. Today's episode features an image he made of a camel standing before the pyramids to demonstrate Ramelli's processing technique. It's a beautiful scene, but unfortunately the light and color tones were rather flat.
Ramelli begins with a few simple adjustments to open the shadows for more detail in the camel, bring down the highlights to improve the sky, and modify the white-balance setting to warm up the shot for the sunset effect he's after.
With that out of the way the fun begins with a number of selective enhancements. Ramelli wanted the camel facing inwards, looking toward the pyramids, rather than gazing out of the frame (unfortunately the ornery animal didn't cooperate). To get the job done, he demonstrates how to select the camel and refine the cutout for precise results.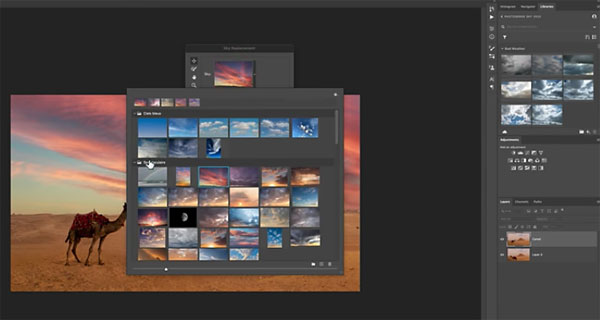 Other steps include changing the sky and matching it to the background, the best way to erase unwanted distractions, and a few simple dodge-and burn techniques for a perfect result. You can find more shooting and editing tips on Ramelli's YouTube channel, so be sure and take a look.
For another helpful Photoshop tutorial, check out the video we posted recently, explaining how to give midday landscape photos a beautiful golden-hour glow.

FEATURED VIDEO