These Are the Winners of the 2018 National Geographic Photo Contest
An eerie photo of recalled Volkswagen and Audi cars sitting idly in the Mojave Desert (above) has been chosen as the grand-prize winner of the 2018 National Geographic Photo Contest. The photo, titled "Unreal," was captured by Jassen Todorov of the United States.
The image was selected from nearly 10,000 entries in the National Geographic Photo Contest. Todorov won $5,000 and will have his winning image featured on the @NatGeo Instagram account, contest organizers said.
Todorov shot the image from his 1976 Piper Warrior airplane while flying over the Southern California Logistics Airport, which stores retired airplanes to be use as scrap metal or parts.
"But following the 2015 news that Volkswagen was manufacturing cars that subverted emissions tests, the vast stretch of land adjacent to the airport became a boneyard for recalled (Volkswagen and Audi) vehicles," Nat Geo explained in a news release. "When Todorov read news that the recalled vehicles were being housed at the airport, he was struck by the scale of the story—he wanted to see the scene for himself."
On the importance of the photo, Todorov said, "By capturing scenes like this one, I hope we will all become more conscious and more caring for our beautiful planet."
Pim Volkers of Laren, Netherlands, won first place in the Wildlife category for a photo of wildebeest crossing the Mara River in Tanzania. See image below.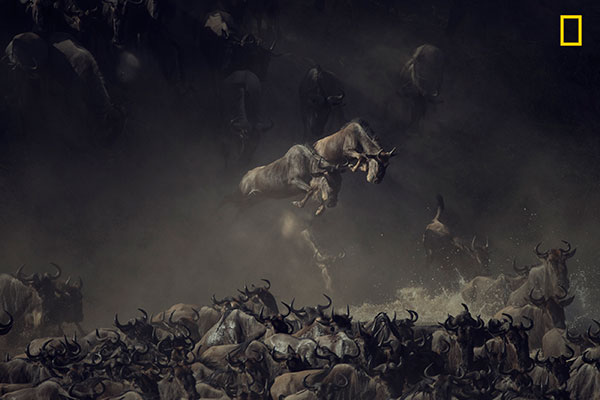 Mia Collis of Westlands, Kenya, won first place in the People category for a portrait David Muyochokera on his last day working at his studio in Kibera, Nairobi. See image below.
See more of the winning photos from the 2018 National Geographic Photo Contest here.

FEATURED VIDEO