A Trio Of Sony D-SLRs; The Sony A350, A300, And A200 Page 3
Final Assessment
All of the new Alpha cameras are fast, easy to operate, and capable of generating beautiful images. Any of this trio would be a fine choice for first time D-SLR buyers and for many photo enthusiasts. The A300 and A350 provide Live View, a definite bonus because this feature has been very successfully implemented; it's likely to satisfy even those who are upgrading from a digicam. While the A350 provides the highest resolution, the 12-megapixel A700 (reviewed in the January 2008 issue) comes close. That very rugged semipro model is even faster and more versatile, though more complicated, so it remains most appropriate for the experienced, serious photographer.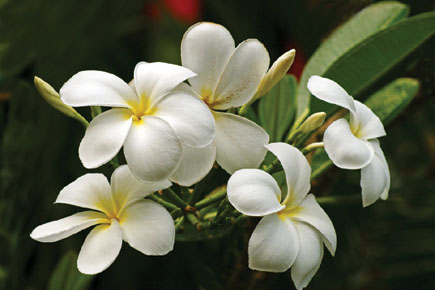 Live View, available with the A300 and A350, employs new technology to make this feature quick and fun to use. The tilting LCD screen is a definite benefit, ideal for shooting from a very low level, or from a high level as for this blossom that was on a branch well above my head. (This image was made at f/8 at 1/320 sec, using ISO 400 and a +1 exposure compensation setting.)
Since unveiling their first D-SLR in June 2006, Sony has become a strong contender in this market by offering a wide range of high-performance cameras. Their line of lenses has expanded quickly, too, and the Alpha brand includes the other essential accessories. Two years ago, the A100 appealed primarily to those who already owned some compatible Maxxum lenses. Today, the system is succeeding on its own merits. Regardless of your budget or needs, you should be able to find at least one Alpha camera that's just right in terms of feature set, performance, and value.
Technical Specifications

Sony A200

Sony A300

Sony A350

Sensor And Processor
10.2 megapixels effective (3872x2592); Bionz LSI engine with Dynamic Range Optimizer
14.2 megapixels (4592x3056); same processor
File Formats
JPEG, raw, and raw+JPEG
Same
Lens Mount
Alpha; compatible with Maxxum; 1.5x field of view crop
Same
Viewfinder
Penta-mirror; 0.74x magnification; Spherical Acute Matte screen
Same
Capture Modes
P, S, A, M, Auto, and seven Scene modes
Same
Sensitivity
ISO 100-3200
Same
Metering
40-zone Evaluative (1200-zone in Live View, A300 only), Center-Weighted and Spot only; exposure compensation and bracketing

Same as A300
Live View
A300 only, on 2.7" extending/tilting 230,000 pixel LCD with Quick AF (using a secondary sensor) or manual focus

Same as A300
Framing Rate
3 fps (both) for six raw or numerous JPEGs; A300: 2.5 fps in Live View
2.5 fps, or 2 fps in Live View, for four raw or numerous JPEGs
Autofocus
Nine-point sensor, cross-hatched central point; automatic or manual focus point selection; AF assist with flash; Eye-Start activation

Same
Stabilizer
Super SteadyShot (sensor shift); also provides sensor dust removal
Same
Other Features
Numerous WB modes, with fine-tuning and bracketing options; many Flash modes; Wireless and High-Speed Sync flash with optional units; eight Picture Styles (sRGB) and Adobe RGB with selectable Contrast, Saturation,
Sharpness levels; Dynamic Range Optimizer; high ISO NR on/off

Same
Storage
Compact Flash I or II; optional Memory Stick adapter
Same
Power
Rechargeable InfoLITHIUM battery; optional AC adapter and vertical battery grip VG-B30AM

Same
Dimensions
5.2x3.8x2.7" and 5.25x4x3", respectively
5.25x4x3"
Weight
18.8 oz and 20.5 oz, respectively
20.5 oz
Street Price 18-70mm DT Zoom
$599 and $699, respectively
$899 ($799 body only)

Note: THE A200 AND A300 ARE NOT SOLD AS "BODY ONLY."
For more information, contact Sony Electronics Inc., 16530 Via Esprillo, Ste. MZ 7104, San Diego, CA 92127; (877) 865-7669; www.sonystyle.com.
A long-time "Shutterbug" contributor, stock photographer Peter K. Burian (www.peterkburian.com) is the author of several books, including "Mastering Digital Photography and Imaging" and several "Magic Lantern Guides" to Pentax and Sony D-SLR cameras. He is also a digital photography course instructor with BetterPhoto.com.

LATEST VIDEO