Trends In Mobility And Economy Page 2
Fotodiox quietly made its PMA debut this year. These monolights range from $98 for the L-120 (120 ws) to $400 for the 1000 ws L-1000--economical any way you put it, with five models in all (300, 400, and 600 ws models filling the gap). Attractively designed, they boast a silent fan but are otherwise modest in features. Each comes with a 250w modeling light and built-in slave, and all but the L-120 offer stepless output down to 1/32 sec. A full system of accessories is available. And most important for the digital shooter, the triggering voltage is 5v, suitable for many digital cameras.


JTL emphasized the new Digital Versalight D monolight kits, which now include controller software to help you remotely set up the various lights in your studio. While smaller kits are also available, one of the more robust and versatile kit configurations, the TL-1300 Versalight D Boom Kit, consists of two Versalight D-500 units, a Versalight D-300, one digital remote controller and three receivers, two air-cushioned light stands, a hairlight softbox and a square softbox (with connectors), a three-section boom kit, plus a large case and stand carrying bag to tote it all. This kit will put you in the ballpark to shoot practically anything in a studio situation or on location. (If you're wondering: why a boom stand? Think the utmost in maneuverability, especially where you can't impose a standard light stand on a set--the boom and light head stay out of the way of the camera.) But if you're entirely focused on location work, the portable, multi-voltage Mobilight Kit (with two lights/stands/umbrellas and carry gear) may serve you best. For true mobility, add the JTL Battery Pack to each Mobilight.

Lumedyne has gone on a diet, trimming the fat and upgrading their popular mobile lighting products. They are keeping those with uniquely distinctive features, reducing the number of SKUs dealers have to stock, but more important for the end user, making it easier for you to choose from among an array of battery packs and heads. The upgrade begins with a two-year warranty. Beyond that, X-tra Fast Pack catalog numbers will end in "X" to indicate they sport the switchable recycling option, giving you the option of fast or extra-fast charge times. UltraCycler and UltraMegaCycler packs will remain in the line-up, along with the MicroCycler, TinyCycler, and select Modular Cyclers, while the Signature Series packs and heads will exhibit enhanced features. Some price increases will reflect these various enhancements. Discontinued: MiniCyclers and MiniMegaCyclers, Low Voltage batteries and cables, and Fast Packs with a designation ending in "F."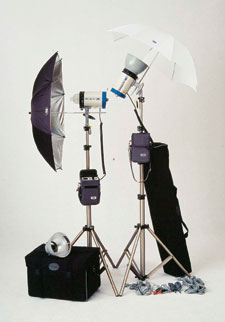 Toronto, Canada-based Nadel Enterprises introduced the OPL-300 Kit. It consists of two 300 ws AC/DC monolights, one battery pack for true mobility, and the necessary cables. Each head features plug-in flash tubes, three-position power switch (down to 1/4 power), three-position 60w modeling light (usable with AC only), and a 6v triggering voltage, which should make it safe to use with digital SLRs. The OPL-302 Kit ($995) includes two stands, umbrellas, and carrying case. Also shown was the OPL-M1002 Kit, consisting of two 100 ws heads and various accessories ($499).

Richard Harris of Paterson Photographic proudly introduced me to an array of new studio strobe systems in the monolight genre. Stellar monolights comprise a prudent choice for the amateur on a budget. Each light is made of extruded aluminum, with user-changeable flash tubes, and all are fan-cooled and compatible with Bowens interchangeable reflectors/accessories. The basic series consists of four lights: 150 ws ($199, street), 300 ws ($249), 600 ws ($399), and 1000 ws ($559). The other series, especially suited to the digital camera user, is Stellar X Digital (two models: 400 and 800 ws, $349 and $599, respectively), which features a digital read-out showing power output in tenths. This has the added benefit of a pre-flash override, so it can be properly triggered by any on-camera or shoe-mount flash. Sporting an anti-glare rubberized finish, these lights have infrared and optical sync built-in and come with a fully proportional halogen modeling light, while strobe output itself is fully variable. The 300 ws Stellar monolight kit retails for $599, and comes with two heads/stands/umbrellas and bags.


In studio flash accessories, I encountered several noteworthy products. Debuting an actual production sample of an item they've teased me with previously, Bogen Imaging Inc. showed off the Lastolite ePhotomaker, a light tent designed for small product photography, especially for online sales, complete with the Ezybalance neutral gray/white balance target (also available separately). Both the ePhotomaker and Ezybalance fold down for easy storage. Two kit sizes available.

Chimera touted the new quick-release Speed Ring for their softboxes. It's designed to facilitate the oft-arduous task of assembling/collapsing a light bank. In a corner of the Chimera booth, I came across someone handing out releases for a new product to be distributed by this company: XP Innovations introduced the LiteShaper, which, as the name applies, allows you to shape the light being output by a softbox in any number of novel ways, as well as more traditional barn doors and snoots. LiteShapers are available for the 24x32 and 36x48 Chimera softboxes, with more to follow.

Westcott has added the Master's Brush Wide Umbrella to its product line. It's designed to shape the lighting in tune with old portrait styles, such as Rembrandt and Butterfly lighting, as well as variations on the new. Essentially a shoot-through umbrella, it measures 45" in diameter and is composed of three layers: hot silver, white, and black--to produce spectral highlights.

Manufacturers/Distributors' addresses can be found on page 176.

LATEST VIDEO