A Treasure Trove Of Photographica; Jack Naylor's Unmatched Collection Will Move On
For the past 55 years what has captivated collector Thurman (Jack) Naylor about photography is just about everything. He has amassed a private collection that has extended from the pre-photography days of Chinese mirrors and the earliest daguerreotypes to a miniature digital camera used today as a spy device. It has been a labor of love for Naylor and an unforgettable experience for those of us who have been privileged to visit the private underground museum where the majority of the collection resides.
Megaletoscopio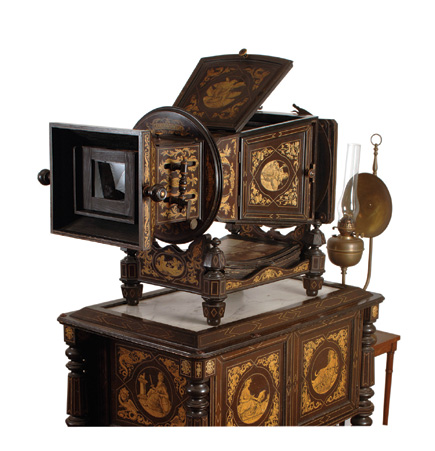 The Venetian photographer, inventor, and optical authority, Carlo Ponti, patented the invention in 1859. He named the new viewer "Megaletoscopio." The machine produced a remarkable color photograph 79 years before the color process was invented. Ponti manufactured a limited number of these devices made of plain or carved wood. This is the only one made on special order from a wealthy Naples family, in such a high style. By peering through the lens at the front, the viewer sees the transformation of an 11x14" black and white Ponti wet plate photograph change into its richly colored equivalent. There is an oil lantern (today, an electric light) behind the photo. The Megaletoscopio, which sits atop a marble base, is made of ebonized teak and every square inch is covered with inlaid ivory designs. The storage cabinet of this instrument (1862), which is also made of matching teak and inlaid ivory, contains 40 Ponti photographs. This Megaletoscopio is the only such model produced.
A recent visit to the museum stirred both nostalgia and a touch of sadness since Naylor has decided to put what may be the world's largest private collection on the market. Many of us shall miss his pride and hospitality and his wonderful tales about collecting these treasures.

Now 87 years old, Naylor is a retired president of a company that employed more than 6000 people for over 30 years. Back in the 1980s he became editor of Shutterbug for two years, changing the format of the magazine and adding color to the publication. Twenty-five years ago he built his current estate in Brookline, Massachusetts, creating a 4000-foot area below ground to house his collection of cameras, photographs, and memorabilia. Climate controlled to 68Þ with regulated humidity, the rooms are soundproofed and surveillance cameras peek from the ceiling.

On the first level, paintings by Mondrian, De Kooning, and family portraits by Andy Warhol seem strange bedfellows for the early portrait of a member of George Washington's family or the magnificent Edward Curtis images and work by Naylor's close friend "Maggie," Margaret Bourke-White.
Largest Daguerreotype Made
This unusually large, 10x12" Mammoth plate daguerreotype was made in 1846 by John Adams Whipple of Boston. It is a family portrait of Stephen Tilton, a prosperous Boston merchant, his wife Priscilla, and their 12 children. It is one of a very few extant daguerreotypes of its size. It is an extraordinary example of the daguerreotypist's art. Daguerreotypes are normally a fraction of this size.
© 1846, John Adams Whipple, All Rights Reserved
A few steps up to the main living room there resides one of Naylor's favorite "gems." Called a "Megaletoscopio" and patented in 1859 by the Venetian photographer and inventor Carlo Ponti, this unique and exquisite teak and inlaid ivory camera produced the illusion of a color photograph 79 years before anyone conceived of such a vision. Peering through a lens at the front, an 11x14 wet plate photograph, hand-painted in color on its reverse side, miraculously becomes a richly colored photograph. This dramatically inlaid Megaletoscopio happens to be the only one in the world.

Another star in the collection is the largest daguerreotype ever made, the mammoth plate taken by John Adams Whipple of Boston, showing a family of 14 from Maine. It is one of the most beautiful images I have ever seen.

As we descend to the museum I nod a hello to Alfred Eisenstaedt's "VJ Day" and Joe Rosenthal's cover of LIFE magazine showing the US Marines as they raise Old Glory on the summit of Mount Suribachi at the end of World War II. Sam Shere's image of the Hindenburg disaster in 1937 and the signing of the peace treaty with Japan aboard the USS Missouri are also part of the collection, as is a small flag that Naylor proudly points out, telling me, "This flag went to the moon with Alan Shepard, the Navy commander who was the first astronaut to land on the moon in 1961."

Naylor has made many friends over his years of collecting and looks back on visits from Ansel Adams as he shows me Adams' own favorite photograph, "Moon and Half Dome," taken at Yosemite. Adams presented this to Naylor and it takes its place with Adams' portrait of Georgia O'Keeffe and Orville Cox.
WW I Spy Camera
Camera carried by German pigeons during World War I. Pigeons were released as close as possible to the enemy area to photograph the enemy activities. The camera shutter, operated by a timer, took only one photograph, hopefully of the enemy. The pigeon was supposed to return to its home. The only pigeon picture this collector has seen shows a French chalet.
Large glass cases contain the jewels of the collection, including the only known daguerreotype of the midget Tom Thumb. Many of the thousand daguerreotypes in the collection were taken by the well-known Boston photographers Southworth and Hawes, and nearby are letters written by Southworth. These are pricey images, the larger ones valued close to half a million dollars each.


FEATURED VIDEO