Transcend 4GB JetFlash T2K Flash Drive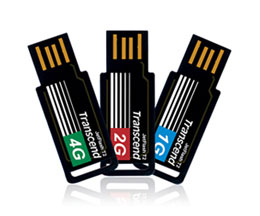 Transcend Information, Inc. has released the lightest JetFlash T2K USB 2.0 Flash Drive with memory capacity up to 4GB. Transcend's JetFlash T2K is a tiny and slim flash drive; it measures a mere 42.6mm x 16mm x 3.1mm and is almost weightless (2g). The JetFlash T2K uses advanced sealing technique to assemble memory chip and casing into a perfect whole. Its design includes a hook to use with a neck strap for convenience and to prevent loss.
Transcend's JetFlash T2K can be used with software applications found in the JetFlash elite software package, which can be downloaded from Transcend's website. JetFlash elite focuses on the needs of the user and is specifically developed to help you manage data and increase productivity. JetFlash elite includes eight functions: AutoLogin, PC-Lock, Favorites, Secret-Zip, E-mail, DataBackup, Online Update and My JetFlash. The JetFlash T2K supports Windows 98SE/2000/Me/XP/Vista, Mac OS 9.0 and Linux Kernel 2.4.2 or later.

It is now available in 1GB, 2GB, and 4GB capacities, and is backed by a lifetime warranty.