On The Trade Show Circuit; Springing Into New Digital Imaging Products Page 2
On The Road With Your Pix
Also at CES, Digital Foci (www.digitalfoci.com) announced the Picture Porter 35, a portable photo manager that has a 3.5" color screen, a built-in hard drive starting at 160GB, and a multi-format memory card reader that lets you transfer 1GB of image data in about 2 minutes. Picture Porter 35 supports raw files, EXIF, and histogram data from a wide selection of D-SLRs. IPTC (International Press Telecommunications Council) support lets users view IPTC metadata, such as headlines, copyrights, and comments embedded in the photos. For the non-pro, IPTC support lets you see comments added to photos downloaded from sites such as Google's Picasa Web Albums. Picture Porter 35's multiple memory card slots provide direct support for CompactFlash, Memory Stick including Duo, xD, SD/HC, and miniSD—with no miniSD to SD adapter required. Picture Porter 35 lets you create new folders, make selections, copy, rename, delete, and sort files by name or date. The iPod-like Playlist feature allows you to produce slide shows that can be viewed on Picture Porter 35 or transferred to Digital Foci's digital photo frame for playback. Other features include audio and video playback, built-in speaker, audio recorder with built-in microphone, and audio and video output. For extra security, the USB-host feature lets you back up the Picture Porter 35 hard drive to an attached external hard drive.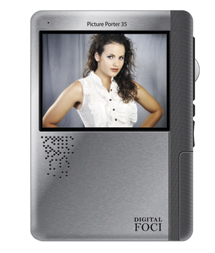 More Megapixels, More Storage
When my pal Ralph Nelson got his new EOS 5D Mark II he was impressed by both the quality and size of the image files and knew that, in the words of Jaw's Police Chief Martin Brody, he was "gonna need a bigger boat." At Macworld Expo, Western Digital (www.wdc.com) introduced the My Passport for Mac portable drive and the My Book Mac Edition external hard drive. My Passport for Mac storage devices feature a shock-resistant enclosure, capacities of 320GB or 500GB, and are USB-bus powered, eliminating the need for an external power adapter. The My Book Mac Edition drives are equipped with power-saving GreenPower technology, USB 2.0 interface, 1TB capacity, and are compatible with Apple's Time Machine back-up software. My Passport for Mac with a 320GB drive costs $129.99 or $149.99 for a 500GB drive. The My Book Mac Edition 1TB hard drive sells for $149.99.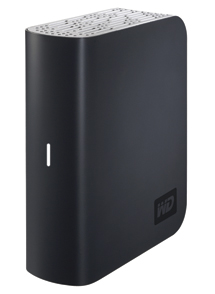 More Storage
The 2008 Consumer Electronics Association report entitled "Amassing Digital Fortunes: A Digital Storage Study" found the average US online adult has nearly 1800 files stored and plans to store another 1060 digital files during the next year. This amounts to 30GB of content that should be backed up. At CES 2009, SanDisk (www.sandisk.com) introduced a family of USB flash drives, including a back-up drive with software activation at the touch of a button. The Ultra Backup USB portable flash drive is the first offering of the company's Ultra USB product line that includes three different products, including the ever-popular SanDisk Cruzer that provides simple, reliable, and portable storage, plus access to a variety of U3 applications. (U3 is a company-produced proprietary method of auto-launching applications from specially formatted USB flash drives.) For those of you who want style with their portable storage, there's the SanDisk Extreme Contour that's enclosed in a sleek, elegant industrial design. The SanDisk Cruzer drive will be available in capacities of 4GB-32GB with prices from $24.99-$99.99. The SanDisk Ultra Backup drive is available in capacities of 8GB-64GB and costs between $39.99 and $199.99.
Photos For iPhone & iPod touch
As one of the last people on the planet to get an iPod, I'm really enjoying my iPod touch (an iPhone without the phone) that I received as a Christmas gift from Mary. Now Nikon (www.nikonusa.com) has announced the free my Picturetown application for iPhone and iPod touch that's available from the Apple iTunes App Store. It offers users access to their my Picturetown accounts and the ability to upload photos taken with the iPhone's camera. Features include access to the user's my Picturetown online storage site to create photo albums and tag and organize images created with real cameras. Through my Picturetown, users can e-mail images, publish to Flickr, and link their photos to blogs and social networking sites. Each user receives 2GB of free storage on the my Picturetown online service with the option to purchase up to 200GB through a my Picturetown Gold Account.

LATEST VIDEO

SPONSORED VIDEO