Today Is the Birthday of Ansel Adams: America's Most Celebrated & Beloved Nature Photographer
Today marks the 116th birthday of Ansel Adams (February 20, 1902-April 22, 1984), a passionate environmentalist and one of the most iconic image-makers of our time. Were he alive today, Adams would no doubt be somewhere in Yosemite Valley, and he'd likely be pioneering new forms of photography—perhaps in the digital darkroom.
Adams was the grandson of a wealthy timber baron, and he grew up in San Francisco, not far from where the Golden Gate Bridge was completed in 1937. He was only four when the great earthquake of 1906 hit, throwing him to the ground, breaking his nose, and marking him for life. Perhaps that early experience with the power of nature contributed to his later fascination with our country's majestic, wild places.
Adams taught himself to play piano at the age of 12, and for the next dozen years music was his passion and intended profession. Fortunately for those who appreciate fine photography, however, he ultimately set music aside to pursue his love of nature, and what would become one of the most celebrated photography careers in history.
Later in life Adams said this about his first visit to California's awe-inspiring Yosemite Valley: "From that day, my life has been colored and modulated by the great Earth gesture of the Sierra Nevada." On that very trip Adams received a Kodak Brownie camera from his father, and the rest is history. Adams hiked, climbed, and made photographs in the spectacular valley that would become almost synonymous with his name.
Adams also made several lengthy trips to the American Southwest, to photograph what was for him, an entirely different type of nature. Adams was influenced by other great photographers of his time, notably Paul Strand who inspired Adams to evolve from a "pictorial" style of imagery to what he considered "straight photography," in which his final prints had no appearance of being manipulated in the darkroom.
Adams also emulated photographers Edward Weston, Alfred Stieglitz, and others, in a commitment to keep learning and evolving his craft until the final days. Likewise, photographers who followed Adams, and those who love beautiful imagery, owe him a great debt of gratitude.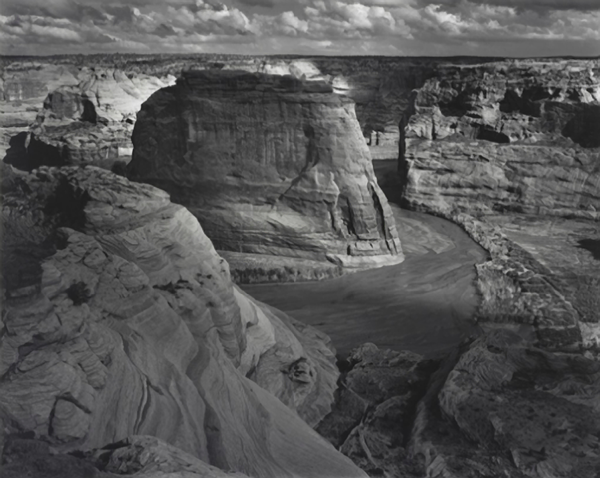 You can read more about the great master and view a selection of his imagery on a website devoted to Adams' work. And be sure to look at our inspirational story about Laurie Klein, who studied with Adams and is a very fine photographer in her own right. You may also want to watch the short film below, with a fascinating look at the life and work of the great Ansel Adams.