The Tip Off
The Shot On The Way To The Shot
I've been to Acadia and have never seen this dawn orange sky reflected in the water. The graphic is quite simple and elegant and I spent just enough time here making this image with various filters and lens combinations, that I got to Thunder Hole (right) just in the knick of time, actually almost sprinting, to get the light before it lost its subtlety.
Photos © 2002, Tony Sweet, All Rights Reserved
It's happened a great number of times that, while driving to a predetermined scene or location, I looked out of the window and exclaimed, "Man! Look at that!" The thought of stopping entered my mind and I even stepped on the brakes several times, slowing to a crawl, but decided to keep on going to the predetermined "better" location. I've done this for years. More often than not, the scenes that I passed up throughout the years are more vivid in my mind than the ones that I photographed at the destination.
This was the destination for the workshop that day. The point was the wavy fence line framing the Cape May Lighthouse. But, the soft focus of the image (below) was "spilling over" and I decided to shoot almost wide-open to soften the fence line, drawing more attention to the lighthouse.
Recently, I made the conscious decision to stop at every photo opportunity that grabs my attention, even if I'm not initially sure why; even if I'm in a hurry; even if it drives my fellow photo buddies nuts. I've gotten to the point that I almost suffer a mild anxiety attack if I drive or walk past an image that should be given a closer look. But, a work habit has evolved that has made me view everything as subject material and I am learning to see beyond the obvious. It makes sense that if one is in an area with no apparent image to make, one would start looking at different options for image making. This is a reason to look at, study, and analyze everything you can. The more open you are to visual sensations and the more images that are in your imagination, the more you will see to photograph.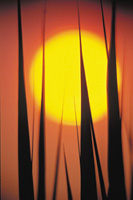 This image is the result of an unexpected stop on the way to a predetermined location, Cape May Lighthouse in New Jersey. I noticed a student stopped on the side of the road. I stopped to see what he was photographing and this image was the result of my brief visit, which has since been a very successful stock and fine art image.
In our busy lives, which are destination oriented, we often lose sight of what is between point A and point B. Many times the journey will be of greater interest and will yield more excellent and marketable images than the final destination. It's important to keep one's eyes and mind open to image possibilities everywhere.
All images shot on Fuji Velvia using the Nikon F5 and Nikkor lenses and were scanned for publication using the Nikon Super Coolscan 4000.

Tony Sweet (http://tonysweet.com) is a professional nature/fine art photographer, workshop instructor, lecturer, and author living in Baltimore, Maryland.

LATEST VIDEO

SPONSORED VIDEO