Three Olympus Zuiko Digital Lenses; 14-35mm f/2 ED SWD, 12-60mm f/2.8-4 ED SWD, And 50-200mm f/2.8-3.5 ED SWD Page 2
This lens is well corrected for flare, linear distortion, and chromatic aberration or "purple fringing." Slight light falloff at the corners is noticeable at wide apertures but is gone by f/5.6. In action photography autofocus performance was quite reliable with an E-420 and even better with an E-3 camera. The latter provided many sharply focused images of competitors riding toward my position during an indoor equestrian event.
This well built, splashproof 100-400mm equivalent telephoto with ED glass and ultrasonic AF is a fine choice for sports and wildlife photography. Add the Zuiko Digital 1.4x ED tele-converter ($350 street price) and you'll have an even more useful 140-560mm f/4-5 equivalent with greater effective "reach." As hinted earlier, this zoom would be an ideal complement to an E-3, maximizing the potential of the AF system in action photography. You can find my review of that pro-caliber D-SLR by entering the keywords Olympus E-3 in the Search field at www.shutterbug.com.
The Bottom Line
Olympus was a bit slow to develop lenses with Supersonic Wave Drive and so far, it's available only in high-grade and pricey models. Of course that also applies to ultrasonic lenses from Pentax and Sony. Presumably, that's because of the time and expense required for each company to develop their own proprietary technology. In any event, it would be great to see an affordable Zuiko Digital 70-300mm SWD zoom. Families with children who are active in sports would love that lens because the faster autofocus is most useful in action photography.

In the meantime, professionals and dedicated photo enthusiasts will benefit from SWD and a wide maximum aperture. These three zooms are also perfect examples of the merits of the "digital specific" design employed by Olympus. The combination includes extensive use of multilayered coatings, centering of the lens elements within the mounting system, and an extra group of elements that causes all light rays to strike the sensor at right angles even at the edges. These features—plus the large ED and/or aspherical elements made of glass—definitely pay off in terms of superior performance at every focal length and aperture.
New Focusing Technology
Now available in three Zuiko Digital lenses, the Supersonic Wave Drive (SWD) autofocus motor provides very fast, nearly silent AF operation. Several other manufacturers also make ultrasonic lenses but the technology used by Olympus is proprietary and not identical to any others. In a Zuiko Digital lens, a tiny (5.3x4.3mm) optical encoder detects lens position using direct rotation detection. Two compact ultrasonic motors drive autofocus at a very high speed through elliptical oscillations; this assures very fast starting and stopping response. According to Olympus, their technology also provides great accuracy: "a level of precision that's accurate to 5 microns."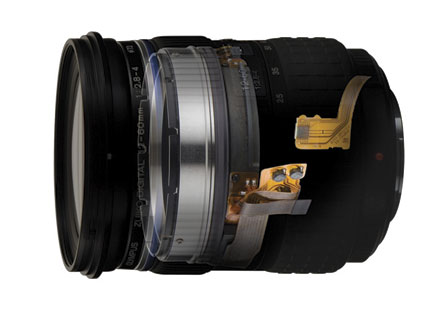 As this illustration indicates, all SWD-series lenses employ Olympus' proprietary Supersonic Wave motor which uses ultrasonic devices to create elliptical oscillations which drive autofocus for very fast response.)

All three new zooms employ the same SWD technology plus Internal Focusing (IF). This IF design allows for autofocus by moving a few lightweight optical elements to optimize start/stop response and overall speed. The trio also provides mechanical manual focus instead of the electronic "focus by wire" system of most Zuiko Digital lenses. The mechanically interlocked focusing provides instant response, a more familiar feel, and allows for focus touch-ups at any time while in AF mode. (For manual focus in AF mode, be sure to activate this function in the camera's electronic menu.)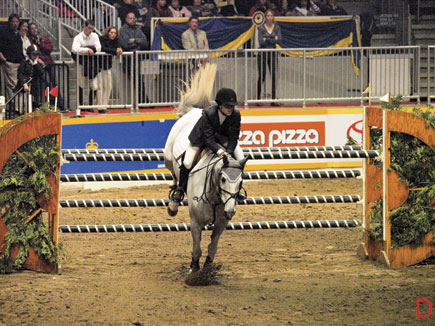 The SWD-series zooms provide superior autofocus speed and reliability, a benefit that's particularly valuable with the 50-200mm model. Because this 100-400mm equivalent lens will often be used for sports or wildlife photography, the improved tracking focus performance is a definite asset. (This series was made at 150mm at f/3.5 and ISO 1600 using an Olympus E-510 camera at the Royal Winter Fair, Toronto.)

Additional information about these and other Zuiko Digital lenses is available on the Olympus E-System website at: www.olympusamerica.com/e3/lenses.asp.
Three Olympus Zuiko Digital Lenses Comparison Chart pdf (928KB)

You may also contact Olympus at 3500 Corporate Parkway, Center Valley, PA 18034; (888) 553-4448.
A long-time "Shutterbug" contributor, stock photographer Peter K. Burian (www.peterkburian.com) is the author of "Mastering Digital Photography and Imaging" and several "Magic Lantern Guides" for Pentax and Sony D-SLRs. He is also a digital photography instructor, teaching two online courses at BetterPhoto.com.

LATEST VIDEO

SPONSORED VIDEO