Think Tank Photo's Four New Camera Bags For Air Travel Solutions
For photographers, having to check their gear before boarding an airline exposes them to one of their greatest fears: the theft of their equipment and possibly their livelihood. Think Tank Photo's newest additions to their air travel line -- the Airport Check In briefcase and the Airport Antidote Airport Acceleration, and Glass Taxi backpacks -- allow photographers to carry their bodies, lenses, and accessories onto planes with different carry on requirements and legally store them in overhead bins or under the seat.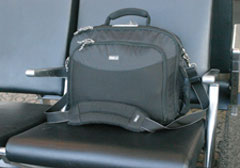 Being able to travel through airports with the least amount of hassle is of utmost importance to photographers. When combined with Think Tank Photo's breakthrough large backpack, the Airport Addicted, and revolutionary roller, the Airport Security, these new bags provide photographers with a complete menu of options for complying with airline requirements for bag size and weight, as well as the maximum number of bags allowed they can carry onto the plane.
The Airport Check In is a briefcase that holds all the accessories, cords and cables a photographer must carry, and it will hold up to a 17" laptop. It can be attached to a roller handle by sliding the briefcase slot over the handle or worn as a backpack with the shoulder harness that is supplied. It comes with a seam-sealed raincover that protects the entire bag, as well as a removable Cable Management 50 bag.
The Airport Antidote backpack fits all international carry on size requirements. With the laptop case removed, it will fit in the small overhead bins of "commuter flights." The Artificial Intelligence 15 laptop case that comes with the backpack fits into a compressible front pocket so that it can be removed easily before sitting down It is designed to hold pro-size SLR cameras and up to a 400mm f4 lens (without the body attached). It includes a seam-sealed raincover, tripod or monopod attachment, and business card holder.
The Airport Acceleration backpack fits all international carry on size requirements when the laptop case is removed. The Artificial Intelligence laptop case that comes free with the backpack is located in the front compressible pocket so that it can be easily removed in its own carrying case and reduces the size of the backpack for either weight or size requirements. It is designed to hold pro-size SLR cameras and up to a 500mm f4 lens (without the body attached). In addition it has "tuck away" shoulder straps and a removable waistbelt, as well as a seam-sealed raincover and a tripod/ monopod attachment system.
The Glass Taxi is a convertible shoulder bag/backpack that holds up to a 500mm f4 lens, 300mm f2.8 lens with SLR attached, or SLR with 70-200 attached with hood in position. It is a very compact and lightweight method of transporting such large lenses. Since it "looks" small, it is ideal for traveling through airports with large lenses to facilitate getting on the plane. It includes "tuck away" shoulder straps, a seam-sealed raincover, and a free Curved Comfort shoulder strap.

www.thinktankphoto.com

FEATURED VIDEO