Thanks For The Memory: USB 3.0, cfast 2.0 & Up In The Cloud
As billions of images are produced by millions of devices, the demand for bigger capacity storage, faster memory cards, and speedier methods of transferring huge files has become apparent. Cloud storage has become a standard offering among many camera makers; so independent cloud services have grown. Essentially branded server farms, the competition for your data is increasing, as are capacities of desktop backups.
More new external drives are supporting USB 3.0, but adoption of Apple Thunderbolt is still lagging behind. What's more, flash drives and card readers are increasingly following the USB 3.0 trend, although a few companies are tenaciously holding onto USB 2.0. And who would have imagined a USB 3.0 flash drive in a 1TB capacity? Well, it's a reality.
Memory cards are taking another step forward. Last year we saw the introduction of the XQD card, which is still slow in being adopted. This year we bring you the CFast 2.0 card as potentially the next evolutionary step beyond CompactFlash (CF). Interestingly, these memory card developments largely center on meeting the demands of shooting HD video with our digital cameras. Like Blu-ray vs. HD DVD, XQD and CFast will battle it out, until one emerges victorious—only to be outshone by a still unnamed newcomer—in the SD family perhaps? With all that in mind, here are some recent developments, all geared toward the faster and bigger trends.
Memory Cards & Accessories
The Hyper HyperDrive ColorSpace UDMA 2 is a portable memory card backup storage/viewer. The 3.5" TFT Color LCD lets you review captures uploaded to the device via CF, SD/SDHC/SDXC, or MMC card, storing data on a 2.5" SATA II/III drive. Both JPEG and Raw images can be viewed, and can also be shared via Wi-Fi-enabled devices. It is powered by a 2600 mAh lithium-ion battery yielding up to three-hour use and can be recharged via USB 2.0 port. It's available as an enclosure sans drive ($249 MSRP) and with a drive in capacities to 1TB ($549). Transferring images to this device means you can carry fewer cards, or buy less expensive lower-capacity cards, which can then be reformatted and reused.
Kingston's DataTraveler HyperX Predator 3.0 USB Flash drive is available in 512GB ($800 street) and 1TB capacities, with speeds up to 240MB/s read and 160MB/s write. The casing is made of shock-resistant zinc alloy. DataTraveler HyperX Predator ships with a custom Kingston key ring and a HyperX valet keychain. If you have more modest requirements, there is the new DataTraveler Ultimate 3.0 Generation 3 USB 3.0 Flash drive, in 32GB ($59) and 64GB ($91) capacities, with read speeds to 150MB/s and write speeds to 70MB/s. It comes in a solid metal matte finish case and features a convenient retractable design that protects the USB from damage while being carried. Of course, they're backward compatible with USB 2.0, while operating at respectively slower speeds.
Lexar continues support of the XQD specification and they've brought out the Lexar Professional 1100x XQD in 32GB ($299 MSRP) and 64GB ($579) capacities and the XQD USB 3.0 Reader ($45). Also new are the JumpDrive P10, S33, and S23 in capacities up to 64GB. These are all USB 3.0 flash drives. For the cost of a modest D-SLR body ($999), SD card users can benefit from even greater capacity with the new 256GB Lexar Professional 600x SDXC UHS-I memory card. UHS-I technology offers enhanced performance. The card includes downloadable Image Rescue 4 software to recover lost or deleted photo and video files. And if you've downsized, you might consider Lexar's new High-Performance microSDHC UHS-I memory cards (16GB/$39; 32GB/$69). The cards come with a USB 3.0 reader.
Sakar has the Kodak-branded DR-300 Hi-Speed USB 2.0 memory card reader ($17 street). This memory card reader is USB powered, reads and writes to 47 types of removable media, and features two powered always-on USB ports to charge various small devices, such as phones, without being connected to a PC. And it has headphone and microphone jacks.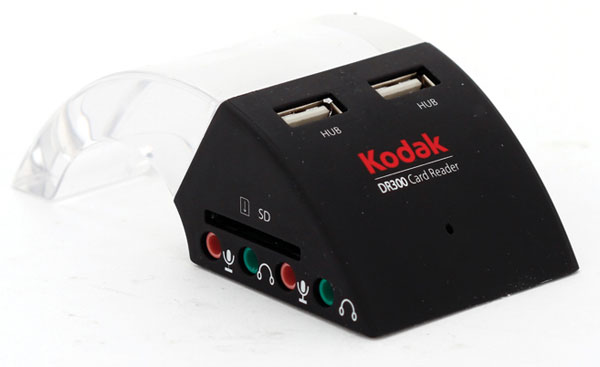 SanDisk is, to my knowledge, the first company to come on board with the new CFast 2.0 memory card. The new specification potentially offers a 4x performance speed enhancement over CF. According to SanDisk, "Digital cameras are expected to become more powerful, with the ability to capture images at greater than 40MP resolution. These next-generation cameras will produce photos of unprecedented quality, and the large file sizes can quickly overwhelm a CompactFlash memory card's data-transfer rates and halt shooting." The CFast 2.0 specification features theoretical performance of up to 600MB/sec. Phase One has already expressed interest in adopting the new specification. Unofficially, one other camera company is exploring this option.
Desktop And Portable Drives
The Buffalo DriveStation DDR external USB 3.0 hard drive has a 1GB cache for accelerated file transfer speeds. Storage capacity can go as high as 3TB (1TB/$119 to 3TB/$189 street).
G-Technology's G-RAID mini (2TB/$449 MSRP) is designed for location shooters. Out of the box, this fan-cooled external drive is set up in RAID 0 (performance mode—for speed, with RAID 1 protected mode option), using two 7200 RPM drives. The drive is FireWire bus powered—even when using USB 3.0 for data transfer. The even more portable alternative (non-RAID) is the G-DRIVE mini, with an all-aluminum enclosure and storage capacities to 1TB ($199) using HGST Travelstar 7200 RPM drives. The G-DRIVE mini offers both USB 3.0 and FireWire 800 connectivity for fast data transfers and has an integrated heat sink for cooling and silent operation. Preformatted for Mac users, the drive works with Apple computer systems right out of the box and is Time Machine ready (can be initialized for Microsoft Windows).
Rocstor has Lancer LX aircraft-grade aluminum alloy, shock-absorbent pocket drives. The bus-powered drives feature both FireWire 800 and High Speed USB 3.0 ports with USB 3.0 transfer rates to 5000MB/s. These external drives are available in storage capacities ranging from 500GB to 1TB in HDD to 7200 RPM ($115 to $157 street) and 256GB to 512GB in SSD ($299 to $495). Also new, the Hawker HX Pocket Drive (1TB HDD/$260; 512GB SSD/$570) is designed and engineered to meet the needs of secure mobile data storage. These hardware-encrypted, ruggedly encased drives offer USB 3.0 and eSATA interfaces and protect against shock.
Network & Cloud Storage
Many of these new products and services are geared toward major volume users who have a need for access to large files among multiple users. Thus will appeal to the pros among you. Buffalo's LinkStation 400 Series network storage is a replacement for the current LinkStation Pro lineup. This series features transfer speeds up to 80+ MB/s and is said to have a User-friendly Interface (UI) with intuitive navigation and easy-to-use mobile UIs for iOS and Android. It's available in a single-drive, two-drive, and easily scalable external enclosure. Prices start at $149 (street) for the LinkStation 421E dual-bay, diskless enclosure, and up to $719 for the LinkStation 420D dual-drive, fully populated NAS 8TB version.
The current Dane-Elec my-Ditto network storage solution is a hybrid network-connected hard drive and cloud platform that offers a complete remote access, backup, and streaming solution designed to be all-inclusive, combining local and cloud storage. Available in several configurations, starting at $219.
LaCie's 5big NAS Pro is a five-bay Network-Attached Storage (NAS) solution powered by Intel. Thanks to hybrid cloud technology, the LaCie 5big NAS Pro lets everyone in your studio collaborate easily using a single interface for both network/cloud storage and remote access. Plus, data stays secure owing to SimplyRAID and client-side cloud encryption. LaCie says they offer a seamless hybrid cloud solution that lets you quickly access data anywhere on any device, computer or mobile, from one convenient interface. Available in capacities to 20TB, starting at $549.
OWC (Other World Computing) recently introduced the Jupiter mini-SAS shared SAN (Storage Area Network) system, which means that data is stored in a single location and can be accessed by multiple workstations simultaneously, with capacity up to 3600TB (3.6 Petabytes) via modular expansion. It is available as a stand-alone storage solution supporting multiple RAID configurations designed for speed and data protection. Hot-swappable redundant power supplies can be replaced without shutting down or restarting. It also features a user-friendly management and monitoring application for checking overall system status, performance, maintenance, and diagnostics. A complete solution starts at $4799.
Seagate Technology has announced a networked home/studio storage and backup solution—Seagate Central shared storage. Seagate designed a seamless, centralized backup system for each computer on the network, regardless of operating system. Seagate Central shared storage will be available as follows: 2TB/$189; 3TB/$219; 4TB/$259 MSRP.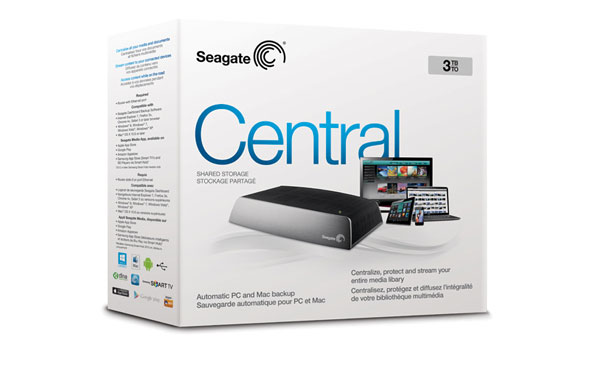 Last year Western Digital introduced the My Book Live Duo personal cloud storage system, with dual hot-swappable disks. This year capacity on this network drive has been increased to 8TB. Compatible with Mac and PC operating systems, My Book Live Duo continuously maintains a second copy of all files for real-time data backup in mirrored mode (RAID 1), which means that effective capacity is 4TB for data/images and 4TB for backups, but configurable for a full 8TB speedy storage solution (RAID 0). WD mobile apps give you access via smartphone or tablet. Price dropped to $389 (MSRP) for the 4TB version.
Product shots appear courtesy of the respective manufacturers/distributors.
Contacts
Buffalo Technology: www.buffalotech.com
Dane-Elec: www.my-ditto.com
G-Technology: www.g-technology.com
Hyper: www.hypershop.com
Kingston: www.kingston.com
LaCie: www.lacie.com
Lexar: www.lexar.com
OWC: www.macsales.com
Rocstor: www.rocstor.com
Sakar: www.sakar.com
SanDisk: www.sandisk.com
Seagate Technology: www.seagate.com
Western Digital: www.wdstore.com

FEATURED VIDEO