Tenba Equipment Cases with Exclusive Datapanel Identification System
Tenba's Air Case line of lightweight, shippable equipment transport cases has been enhanced by the introduction of an exclusive Datapanel identification system that facilitates faster, easier and more reliable shipping, tracking, tracing and identification. The new feature will be supplied as standard equipment on those Air Case models and sizes typically used for equipment shipping, rental houses and similar applications. The Datapanel consists of a durable, rubberized assembly secured to the case with military-grade, seatbelt-type webbing and heavily reinforced nylon stitching. Massive #10 YKK zippers on both sides pull down from beneath a protective Velcro closure flap to open the panel and access its features. The most prominent of these features is a large, clear vinyl shipping window that securely holds, protects and clearly presents a standard FedEx or UPS-type waybill, eliminating the need to tape or otherwise fasten shipping documents to the case. As a result, preparation time is reduced, the need for messy and unreliable tape is eliminated, documents are far more secure, and the overall appearance and presentation of the case is cleaner and more professional. The shipping window itself is instantly user-replaceable if needed, but--like the entire Datapanel assembly-- is built to withstand the rigors of regular shipping, baggage handling and long-term professional use.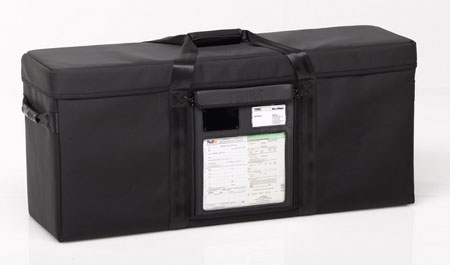 A second, smaller window pocket is also provided, sized to hold a standard business card or similar identification. Finally, an anodized aluminum I.D. badge is provided, secured to the Datapanel with machine screws to a steel backing plate. The badge may be engraved with the name or logo of the owner, rental house or studio, for a unique and permanent finishing touch. Tenba offers custom laser-engraving as an optional service, and an information/order form is included with each Datapanel-equipped Air Case. Unlike stenciling, embroidery or other traditional means of marking shipping cases, these engraved plates are highly wear-resistant, professional and, as the manufacturer describes them, "high-tech, elegant and slick." Plates can be removed and replaced if information or ownership changes.

FEATURED VIDEO