Tenba Announces New Metro Vest
Tenba has introduced a new photographer's vest that marries up-to-the-minute utility with classic photojournalist styling. The new Metro Vest features nearly 2-dozen pockets, compartments, organizing spaces and accessory attachment points to keep gear at-hand and quickly accessible. Designed for comfort and mobility even when fully loaded, the vest is made of 100% cotton with a soft, garment-washed finish and mesh panels at the chest and back for cooling ventilation.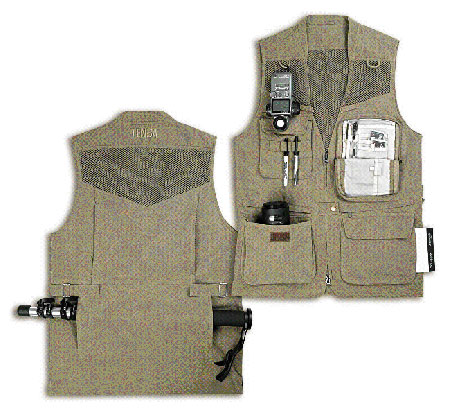 The lower front of the Metro Vest offers two large cargo pockets lined with smooth, water-resistant nylon and roomy enough to hold a flash, lens or compact camera. Behind both cargo pockets are side hand warmers and zippered storage pockets. The main pockets also feature exclusive "silent mode" flaps, which can be folded back and fastened to themselves, effectively preventing their Velcro closures from connecting. This clever detail is sure to be welcomed by news, sports and wildlife photographers, who shoot in environments where noise is an enemy.
On the right front chest panel is another flap pocket, suitable for a light meter, notebook, voice recorder or other hand held item. The pocket also has the "silent mode" feature, as well as exterior hanging loops for quick access to pens, markers, mini flashlight or other small items. The left side chest pocket zips around and flips down, exposing interior organizers for media cards, batteries, pens and more. Above the chest pockets are two small Velcro retaining strips, which are designed to secure a camera strap and keep it from swinging excessively while on the move. There are two cord loops at the shoulders, for a meter, press pass or other hanging items.
On the inside of the front of the vest is another zippered storage pocket, as well as an angled, fast-access cellphone pocket. And on the outer, lower half of the back of the vest is a unique pass-through tunnel pocket, ideal for storing a wind breaker, groundcover or camera rain cover, or even for temporarily stowing a monopod.
The Tenba Metro Vest is available in Small, Medium, Large and Extra-Large sizes, corresponding to a men's chest/suit sizerange of 38 to 54. All sizes are cut full, to allow room for gear and for comfortably wearing over other clothing, and feature side adjustment straps for "fine-tuning" the fit. Suggested retail price is $99.95. The Vest -- along with Tenba's broad selection of camera bags and related accessories -- is available at photo specialty retailers beginning late October.

FEATURED VIDEO