Tamron Intros Do-Everything 18-400mm F/3.5-6.3 Di II Zoom Lens with 22.2X Zoom Ratio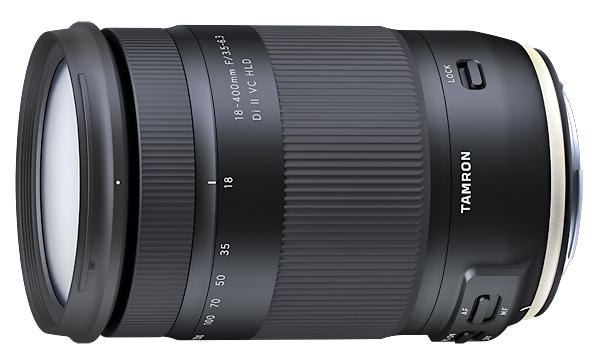 Tamron has introduced a versatile 18-400mm f/3.5-6.3 Di II VC HLD zoom lens that's ideal for shooting everything from expansive vistas to tight shots of distant wildlife. Designed for APS-C DSLR cameras, this is the world's first all-in-one zoom lens with a powerful reach of 400mm (equivalent to 620mm in the 35mm format) at the long end of its range.
Tamron designers employed both Low dispersion (LD) and aspherical lens elements to optimize image quality and minimize distortion and chromatic aberration throughout the impressive 22.2X zoom ratio of the new 18-400mm lens.
The optical construction of Tamron's 18-400mm f/3.5-6.3 Di II VC HLD consists of 16 elements in 11 groups. And with a reproduction ratio of 1:2.9, this do-everything lens can also be used for macro photography.
Despite its broad capabilities, the new Tamron 18-400mm is relatively compact and lightweight, with a total length of just 4.8 in. and a weight of 24 oz. The lens features a power-saving torque-modulated motor designed to deliver high-precision autofocus in a compact package.
The new 18-400mm utilizes Tamron's Vibration Compensation technology to minimize camera shake when shooting handheld under low-light conditions and at the telephoto end of its range. Tamron's 18-400mm f/3.5-6.3 Di II VC HLD will be available in July in mounts for Canon and Nikon APS-C DSLR cameras at an expected retail price of $649.
You can find more details on Tamron's website.

LATEST VIDEO