Tamron's SP AF70-300mm F/4-5.6 Di VC USD; Ultrasonic Silent Drive—Quiet, Fast Autofocusing
For the first time, Tamron has incorporated an Ultrasonic Silent Drive, or USD, with full-time manual override in this zoom lens, making it a competitive technology with Nikon's Silent Wave Motor (SWM), Canon's Ultrasonic Motor (USM), and Sony's Super Sonic wave Motor (SSM). This mechanism is designed to speed up autofocusing, with the added advantage of quiet operation.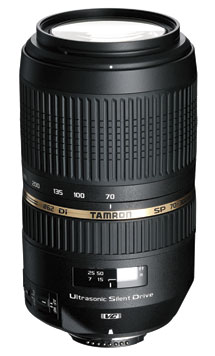 The Tamron SP AF70-300mm F/4-5.6 Di VC USD.
Courtesy of Tamron
The 70-300mm VC ($449, street price) will work with both full and APS-C sensors (as well as 35mm SLRs in the appropriate mounts), so you have to multiply the 70-300mm focal length by the appropriate factor when using it on an APS-C camera. An advantage is that it won't become obsolete if you get a full-frame sensor camera in the future. It is available in Nikon, Canon, and Sony mounts; however, unlike Tamron's other 70-300mm non-VC lens, the Pentax mount is not currently supported. This lens also lacks that lens's "macro" focusing to half life-size.
Optical Configuration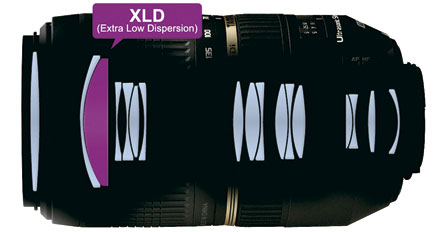 XLD (highlighted) and LD glass elements contribute toward clean, crisp image capture with a notable absence of color fringing.
Courtesy of Tamron
This lens also boasts Tamron's proprietary Vibration Compensation optical Image Stabilization (IS) technology to counter camera shake when shooting handheld. Well, except for the Sony version (hence the absence of "VC" in that model's designation), owing to the fact that Sony incorporates IS in the camera itself. As my tests with the earlier Tamron lenses proved, VC works well. The question here is whether or not it would be as effective at the long zoom range. For this review I worked with a Nikon D300, which required me to multiply the lens focal lengths by a 1.5x sensor factor, effectively leading to 105mm at the short end and an impressive 450mm at the long end.
70mm Vs. 300mm: Giraffe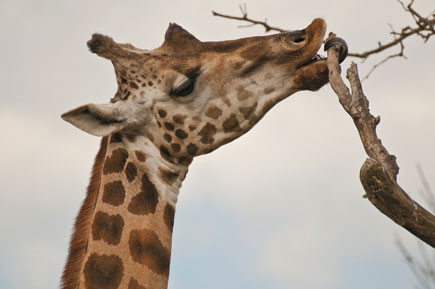 I photographed this giraffe at Chicago's Lincoln Park Zoo while standing just outside the enclosure. Setting the lens at its widest position, 70mm (= 105mm), just let me capture the statuesque nature of this majestic beast. However, zooming out to 300mm (= 450mm) gave me an intimate view as the giraffe's tongue grabbed the branch for a snack.
All Photos 2010, Jack Neubart, All Rights Reserved
Handling And Build
The 70-300mm doesn't look big and is not cumbersome to carry. However, add the petal-shaped lens hood and the lens begins to draw attention, especially when zoomed all the way out. While I did detect a bit of unevenness while zooming, this action was, for all intents and purposes, smooth enough so as not to interfere with capturing subjects. Besides, I usually preset a focal length, which may then require minor adjustments that are smooth enough as to be unnoticeable.

While the incorporation of a zoom lock appears to be an increasing trend, this lens lacks that feature. In my experience with this glass, it was unnecessary, as I did not detect any lens/zoom creep. However, I would still have preferred the option, especially since I occasionally found that my supporting hand (under the lens barrel) inadvertently rotated the zooming collar.
Portrait Close-Up With VC
Sitting across the table, I photographed this young man in his parents' restaurant. I set the zoom to 120mm (= 180mm) for a 1⁄20 sec exposure at f/4.5 (ISO 800). Supporting camera and lens with one elbow on the table, I engaged VC, which ensured against camera shake.
One thing, as might be expected with a typical lens shade for a long zoom, the petal-shaped hood is too deep for active use with a polarizing filter. And unfortunately there is no provision that allows you to easily rotate the filter with the lens hood in place. So when using a circular polarizer, you'd either have to forego use of the shade entirely or preset the filter and then attach the shade—neither of which is an ideal situation.
Lens Fact And Fancy
With some lenses I'd worked with in the past, you didn't have to look too hard to find color fringing. This lens counters color fringing due to lateral color (or "magnification aberration," as Tamron refers to it), as well as axial chromatic aberration, by the use of XLD (Extra Low Dispersion) and LD (Low Dispersion) glass elements. The images were crisp and clean, with very rare occurrences of color fringing.
70mm Vs. 300mm: Distortion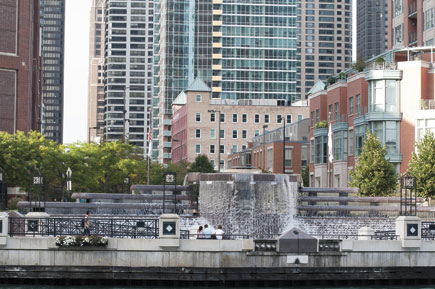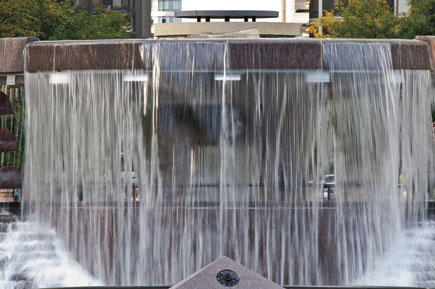 In this scene from across the Chicago River, you can see a trace of barrel distortion in the 70mm view. Pincushion distortion is just barely evident in the tight 300mm shot of the waterfall. Nikon D300; 70mm exposure: ISO 800, 1⁄200 sec, f/7.1; 300mm exposure took advantage of Vibration Compensation, putting VC practically at the four-step limit: ISO 800, 1⁄25 sec, f/22.

FEATURED VIDEO