Take It To The Edge; Frames, Edges And Borders From Extensis PhotoFrame 2.5
Since I reviewed Version 2 over a year ago, Extensis has significantly upgraded its powerful PhotoFrame software, a plug-in to create a tremendous variety of exciting image frames and border effects. With the new Version 2.5, you can quickly create an unlimited array of effects from high-quality frames designed by professional artists, or use the included Instant Frame and Instant Edge systems to create your own effects from scratch. The number of preset frames has been doubled to 2000, and the cross platform software works with both Windows and Mac, including Windows XP and Mac OS X. Extensis says that the 2.5 plug-in is compatible with Photoshop Versions 4 through CS, ImageReady 2.0 through CS, and Elements 2.


The software installs quickly and its interface is cleanly designed, well thought out, and easy to use. To apply a frame, first open your photo in one of the programs listed. Select PhotoFrame from the Extensis listing under Filters, then select a frame from the frame gallery on the CD, or create a frame from scratch. Handles at the center of all four sides of your picture allow you to scale and rotate the effect, to adjust each frame to fit your image precisely the way you want. For further special effects, you can apply drop shadows, glows, bevels, and textures to your frame. A large zoomable preview shows your changes in real time while the effect is applied to your original in the background. Click apply and you're done.

With Photoshop CS running on Mac OS X 10.2, I found that PhotoFrame 2.5 is lightning fast. The various effect tools are presented in floating palettes that can be repositioned, docked, or hidden, giving you freedom to customize
your workspace.

You can apply multiple frames to the same image, loading up to 32 frames. For greater control, the effects can be applied to a new layer. Furthermore, there are two folders of textures on the PhotoFrame CD containing choices in color, black & white, seamless and non-seamless. In fact, the CD includes over 450MB of frames and textures. You can load these from the CD each time, or you can do what I did and copy your favorites (frames only) to your hard drive so they're available without having to insert the CD. If you have enough space, you might copy the whole collection to your hard drive.

With the Instant Edge palette, you can apply and combine multiple edge distortions to either frame files or Instant Frames. Distortion effects include wave, triangle, sawtooth, brush, random, diffusion, and cleanup. To create your own frame from scratch, go to the Instant Frame palette and choose a shape from the drop-down menu. Choose from any customize shapes such as circles, rectangles, polygons, stars, arrows, and hearts. PhotoFrame encourages creativity through an interface that lets you experiment to discover the exact look you want. Real-time previews and interactive controls let you design as you go while your frame is processed in the background.

What kind of frames are there to choose from? Space precludes listing all 2000, but categories include natural media, charcoal, brushes, camera edges, canvas, stucco, ripped paper, tape, airbrush, honeycomb, ice, India ink, marker, scratch, smear, smudge, snakeskin, sponge, tiles, watercolor, woodblock, toothbrush, grill, corrugated, comb, blotch, chisel, fabric, wave, film strip, and fingerprints.

Within the digital collection you'll find, bubbles, extrude, crystallize, glass, dots (like a halftone screen), cat's eye, disco, Mondrian, razor, saw blade, sonic, spin cycle, sprayed strokes, squares, stars, strata, and whirled. Checking out some of the new offerings in Volumes 4 and 5, how might you use acid burn, amoeba, atomic cloud, coral, crumple, emulsion, foil, magma, nebula fusion, splatter, steel wool, zoom, plasma, paranormal, even marshmellow cream? And there's alphabet soup, bark, crackle, digital confusion, junkyard, microsphere, paper mache, putty knife, quadratical, wax, weathered wood, and mummy. Within each of these categories you'll find multiple choices of frame styles. Obviously, there are effects to suit every imaginable type of photo, from still life to action, from landscape to portrait, from handcrafted traditional to high tech contemporary, from naturalistic realism to digital fantasy.

Here's how to apply them, step by step.

A) Load the PhotoFrame 2.5 CD which holds the 2000 frames.

B) Open your image in Photoshop or Elements 2. I worked in Photoshop CS for these examples.

C) From the Filter menu choose Extensis>PhotoFrame 2.5. A large preview window, #1, opens showing your photo with three palettes--the main Frame palette and two Effect palettes. The Background palette includes Background, Border, Glow, and Shadow tabs while the Bevel palette offers Bevel and Texture options.
#1. After loading the Extensis PhotoFrame 2.5 CD with its 2000 frames in my CD drive, I opened my photo of a rabbit in Adobe Photoshop CS. From the Filter menu I choose Extensis>PhotoFrame 2.5. This large preview window opens showing the original photo with three palettes--the main Frame palette and two Effect palettes.
When you're getting started, I suggest that you hide the two Effect palettes (by clicking on the small button at the upper left of each palette) until you've become thoroughly familiar with the Frames palette controls. This shouldn't take long, as the choices are very intuitive. When you do want to move on to the Effects palettes, simply go to the menu bar and click on Window to show them again.

D) Now it's time to choose a frame style. Within the Frame palette, #2, click the Add Frame File icon at the upper right.
#2. To choose the frame, from within this Frame palette click the Add Frame File icon at the upper right. This brings up the Choose a File window.
E) This brings up the Choose a File window, #3. Use this window to navigate through the frames on the CD, sorted in five volumes. The folders on the left are the categories of frames. In this example, I chose the widebrush subfolder from Volume 1. Within each folder are a number of variations, here I selected widebrush_04.frm. This simply means it is variation 4 within the widebrush folder, and the frm indicates that it is a frame file (as opposed to a texture or something else). When you click on this frame, an image of it appears at the far right of the window. Use the arrow keys to scroll through all the frame choices. Then with the one you want highlighted, click the Apply button at the lower right of the Choose a File window.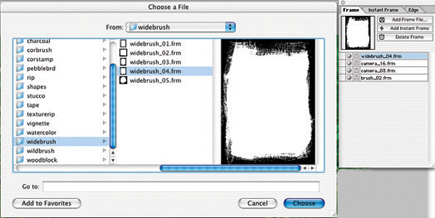 #3. Use this Choose a File window to navigate through the frames on the CD, sorted in five volumes. In this example, I selected widebrush_04.frm from the widebrush subfolder from Volume 1.

LATEST VIDEO

SPONSORED VIDEO
Testing Tamron's SP 150-60mm G2 lens while capturing birds and alligators in Apalachicola, Florida.