Take a Gander at the Massive Tamron 150-600mm Superzoom Lens that Debuted at Photokina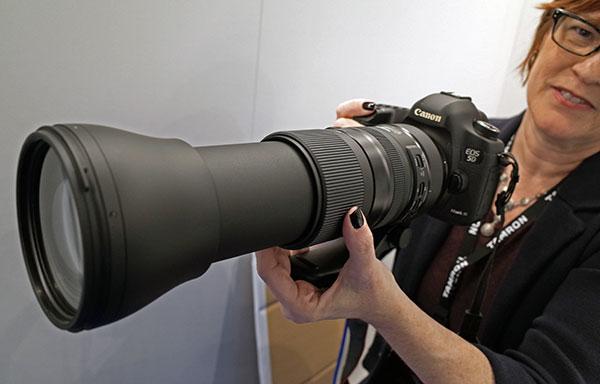 We wrote about the new Tamron SP 150-600mm f/5-6.3 Di VC USD G2 (Model A022) lens when it was announced at the beginning of the month but it was only at the photokina show in Germany last week that we got to see this impressive superzoom in person. And man, is it big!
The Tamron SP 150-600mm f/5-6.3 Di VC USD G2 is the follow-up to a similarly featured 150-600mm lens that we reviewed a few years ago and we can't wait to get our hands on the new model and try it out.
Some of the key enhancements to this version of Tamron's 150-600mm lens include a new optical design, enhanced coatings, improved auto focusing speed, and a more robust build quality. It certainly felt more robust during the brief time we got to try it out behind-the-scenes of Tamron's busy booth during photokina. The lens weighs in at approximately 70 ounces and features a protective fluorine coating on the front lens element that is water- and oil-repellent.
A couple things we like already about the Tamron SP 150-600mm G2 (Model A022) include a new Flex Zoom Lock mechanism that lets you look the zoom at any position just by sliding the zoom ring. This allows you to lock in a preferred focal length so you don't unintentionally alter the zoom. For greater protection when shooting outdoors, the lens has a moisture-resistant build including leak-proof seals throughout the lens barrel.
The Tamron SP 150-600mm G2 (Model A022) lens has already shipped in Canon and Nikon mounts in the Japanese market and was scheduled to go on sale soon in the US market for $1,399. (A Sony A-mount version will go on sale at a later date.)
Read more about the lens on Tamron's website.

FEATURED VIDEO