A Tabletop Lighting System Sampler; We Work With The Lowel Ego, Interfit Pop-Up Light Tent, Sharpics D-Flector, Samigon Internet Photo Studio Pro, And Sunpak eBox Page 3
One Colorful Step Beyond
I'd started with the Lowel Ego and decided to finish with it for a special project. With the glass fish as my subject, I draped both Ego units and the backdrop in a shimmering Mylar. While this may be far from a literal interpretation, I would use this image as an adjunct to a more straightforward rendition. I could use this version to show potential buyers how nice the figurine would look in their home in the proper setting.

I also took this shot one step farther. I knew the lighting would not be neutral, so why not take it to the next level by setting the camera to Tungsten WB (White Balance)! That would bathe the fish in blue, which seemed appropriate. Since I was shooting raw, I could always correct the color cast later. And that gave me the idea to take the shot in a different direction altogether, rendering it in Fluorescent WB for an otherworldly effect.

I should point out that, even though I used a D-SLR, these systems can be just as easily used with practically any point-and-shoot digital camera. It helps if the camera has a Custom WB setting should you need it. For all but the tungsten lights, it's safe to use Auto WB and still get very usable images. (I should also add that results may vary depending on the camera you use.)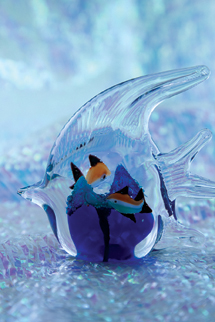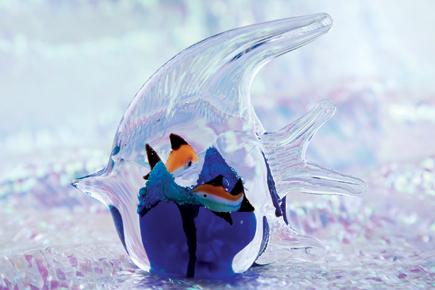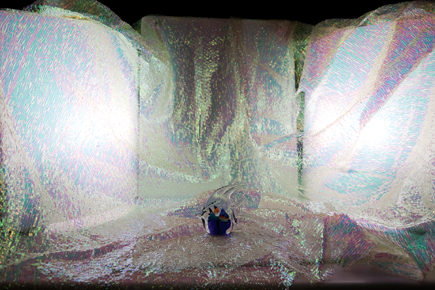 As the setup illustrates, I draped shimmering Mylar material over the backdrop and Lowel lights (angled at roughly 45Þ from behind on each side) to create something more exotic. I produced two versions, one shot in camera with Tungsten WB (vertical) to simulate a watery blue environment and another converted from Daylight to Fluorescent WB during raw conversion for something more fanciful.
Pick A Winner?
When all is said and done, I would be hard-pressed to pick one system over another. I like the Ego because it is so clever and utilitarian, and it did yield the cleanest light under Daylight WB. It did take a few minutes to put together, and, while I hesitate to take it apart and put it together on a regular basis--I'd rather leave it standing as is--some may find this task easy enough.

The Interfit system is arguably the most flexible, albeit the most bulky--the lights and stands being the problem, in contrast to the compact pop-up tent. Tent lighting comes to the fore with highly reflective subjects, such as silverware, porcelain, and jewelry. I liked the portability, small size, and easy setup that characterize the Sunpak light cube--it folds down to a portfolio case with pockets to hold the lights. However, I'm not too crazy about the tungsten lights. They have an almost spotlight quality, weak output, and can't be extended in height.

The portfolio-style background support in the Sharpics system is highly portable, though I'm not sure how long it would last if you schlep it around everywhere. What's more, the lights are rather bulky and can be knocked over easily, owing to their top-heavy nature. But the stands they come with do feature some height extension. What I really liked was the shimmering neutral backdrop, although it seems more suited to direct flash than to these lights, which still produce visible shadows when sidelighting. And last but not least, Argraph is certainly inventive with its Pro version of the Internet Photo Studio, but the key lights tend to run hot to the touch (let the reflectors cool down). Further, the color balance of the base unit doesn't match these main lights. That said, this is a very flexible system--a scaled-down photo studio, complete with background support.

Okay, so do I have a favorite? Ideally, I'd combine the Lowel Ego lights with the Interfit pop-up tent or Sunpak cube, and, if they fit, add the Argraph combo base unit/background stand and the Sharpics shimmering neutral gray backdrop and Ego reflector panels to the mix to form the ultimate, most functional tabletop setup. But no matter which tabletop system you buy, a little ingenuity and patience can make it work for practically anything (of suitable size) that you need to photograph. By the way, I'm taking bids on the fish, which I bought for 99 cents in anticipation of this day.
Manufacturers/Distributors
Argraph Corporation
(Samigon)
111 Asia Place
Carlstadt, NJ 07072
(201) 939-7722
www.argraph.com

Interfit Photographic Ltd.
420 Industrial Court West
Villa Rica, GA 30180
(866) 947-9796
www.interfitphotographic.com

Lowel-Light Mfg.
140 58th St.
Brooklyn, NY 11220
(800) 334-3426
www.lowelego.com

Sharpics Inc.
9921 Carmel Mountain Rd. #322
San Diego, CA 92129
(858) 780-0072
www.sharpics.com

ToCAD America Inc.
(Sunpak)
53 Green Pond Rd., Ste. 5
Rockaway, NJ 07866
(973) 627-9600
www.tocad.com

LATEST VIDEO