A Tabletop Lighting System Sampler; We Work With The Lowel Ego, Interfit Pop-Up Light Tent, Sharpics D-Flector, Samigon Internet Photo Studio Pro, And Sunpak eBox
Selling collectibles, used cameras, confections, and a myriad of other items online is an exploding phenomenon, but to sell effectively you have to show the product off to advantage. Of course, tabletop photography extends beyond the world of eBay. You may want to document small valuables for insurance purposes or have loftier goals in the still life world. Any way you look at it, you need a good tabletop setup to do the job right.

In the past, I've examined a few convenient tabletop systems, but I have to admit that this group of products tops even those. We'll be looking at the Lowel Ego, Interfit Pop-Up Light Tent, Sharpics D-Flector, Samigon Internet Photo Studio Pro, and Sunpak eBox--each configured as an integrated tabletop solution with two lights and a backdrop or backdrop support. All, except the Sunpak unit, feature daylight-balanced spiral fluorescent bulbs, but whether or not they are truly daylight-balanced we shall see. The Sunpak system makes use of tungsten lights.
Interfit Lighthouse - Custom WB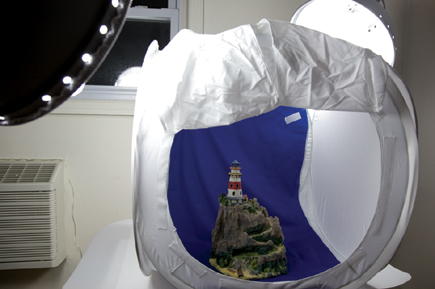 Interfit Lighthouse - Setup
All Photos © 2007, Jack Neubart, All Rights Reserved
My Test Subjects
I selected two items that would be a challenge to photograph. On the one hand, I wanted to show the products to advantage, but I also wanted the pictures to be a true representation. What I didn't want was totally flat lighting, which could also result in double shadows--something I took great pains to avoid. The first object is a ceramic aquarium ornament that measures 12" tall and 8" wide. This would test a system's ability to photograph relatively large, opaque objects and to show off the ornament's sculpted qualities.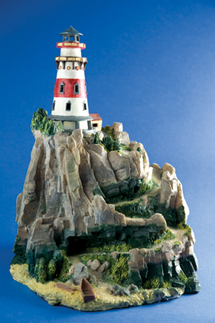 Lowel Lighthouse - Daylight WB
The second item was a small glass fish (5" long x 4" high) that was also a diorama of sorts. So it wasn't just a matter of highlighting the transparent nature of the miniature, I also had to bring out the details within, which also meant showing some of the figurine's flaws. If I were photographing these items for a museum catalog or to document them, I would likely take at least one picture that includes a ruler to show scale.

I spent several hours finessing each setup and trying to eliminate unnecessary shadows and reflections, as the case may be. One problem with small sets is that it is very difficult to keep glare off a seamless paper or shiny fabric backdrop. Sometimes compromise was called for.
Samigon Lighthouse - Daylight WB
Samigon Lighthouse - Setup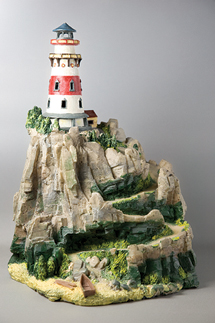 Sharpics Lighthouse - Custom WB
Sharpics Lighthouse - Setup
(Lighthouse shots) I photographed this aquarium ornament using various WB settings. For comparison, I've shown Daylight WB renditions for all except the Sunpak tungsten-based system (Tungsten WB). And I further compared each with either a Custom WB or Auto WB alternative, although differences are often subtle enough to be overlooked. The Lowel Ego fared best with Daylight WB, while Auto WB produced a slightly cooler tone. The same could be said when comparing the Daylight vs. the Auto WB versions shot with the Samigon system. For the other systems, we're looking at Custom WB as the sole alternative to the Daylight (Interfit and Sharpics) or Tungsten (Sunpak) version, with Custom WB producing richer tones, but marginally so.
Tabletop Lighting Systems Tested
These systems do not throw enough light to overwhelm stray light that might enter the picture, so I worked at night, with all other lights turned off. I had two setups going concurrently, using both a breakfast nook and fabricated table (long story, but it's an open file hanging system that I covered over to form a working surface). Of course, lights were turned off on one setup while I worked with the other. Once I finished working with each system, I focused on doing something a bit more creative. The trick was in deciding which lighting system would work best. I examined my options and made my choice.


LATEST VIDEO

SPONSORED VIDEO
Testing Tamron's SP 150-60mm G2 lens while capturing birds and alligators in Apalachicola, Florida.