Stocking Stuffers; Gifts, Gadgets, & Gizmos For Digital Photographers
"A turkey never voted for an early Christmas."--Old Irish Proverb

It's time again to write my annual "stocking stuffers" column in which I collect a list of goodies that make perfect holiday presents for your favorite digital photographer. The ideal stocking stuffers are inexpensive, useful, and small enough to fit inside a sock, but a few of this month's suggestions may be just a little bit bigger and cost a little bit more. By the way, I'm hoping Santa brings me a GeekStuff4U.com's "USB Self-Destruct Button." Look it up on their website for a laugh--or not.

Low Angles: Hoodman's Looking Up
If you like macro photography you already know that one of the most useful camera accessories is a right-angle finder because it's no fun crawling on your belly (like a reptile) to get those low-down shots. Hoodman's (www.hoodmanusa.com) H-RAV right-angle finder fits Canon, Fuji, Nikon, and some Olympus and Pentax digital SLRs. It has a built-in 1x and 2.5x diopter, 360Þ rotation capability, and includes a universal viewfinder mounting adapter. Check their website for a fit for your specific camera. The H-RAV is bundled with a carrying case and costs less than $130, which can save you some money when compared to right-angle finders from some camera manufacturers.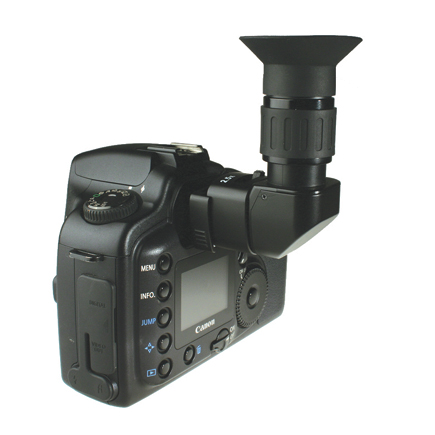 High Angles: Climb The Ladder To Success
Franzus' (www.adorama.com) industrial-grade aluminum LadderKart is indispensable not only for getting a little elevation during your next photo shoot, but is also a less tedious way to schlep all that gear! When used as a hand truck, this heavy-duty, three-step combination ladder has a 250-lb weight capacity or a 300-lb weight capacity when used as a stepladder. It folds flat to 6.5" (in depth) and has 4" diameter rubber wheels. The top step is 30" high with a 15" safety rail. The large (11x9") polypropylene steps are sturdy and the handle is covered in foam. While the Franzus' LadderKart might only fit inside Godzilla's stocking, it costs less than $60.
Lensbaby Lenses
Lensbaby (www.lensbabies.com) is a flexible camera lens that creates an image that has an area of sharp focus surrounded by a graduated blur. By bending the flexible lens tube you can shift the in-focus area. The farther you move the lens up, down, left, or right, this area of sharpness shifts, producing blurring and prismatic color distortions in the rest of the image. For more information about Lensbabies, see the April 2005 issue of Shutterbug or visit our website at: www.shutterbug.net/equipmentreviews/accessories/0405theoriginal/index.html. Both the Lensbaby 2.0 and the Original Lensbaby feature a 50mm fixed focal length but you can now overcome that limitation by attaching the Lensbaby 0.6X Wide Angle Conversion Lens or 1.6X Telephoto Conversion Lens that lets you change the effective focal length to 30 or 80mm. In order to use any of these adapters, you'll need a Lensbaby 2.0 ($150) or Original Lensbaby ($96).
Mini Pocket Drive
Memorex's (www.memorex.com) Mini TravelDrive is a USB flash drive that makes a perfect stocking stuffer for the traveling photographer. At 2.25x0.85x0.27" thick, the Mini TravelDrive offers storage capacities from 256MB up to 2GB. The Mini features a platinum-colored design and is bundled with software for e-mail, security, file synchronization, and virus detection. An ergonomic gripping area makes for easy handling and a wraparound blue LED light adds a dash of panache to this tiny storage device. It comes with a lanyard carrying strap and is compatible with Mac OS 8.6 or later, Microsoft Windows 98SE/2000/Me/XP, and for all you Open Source fans out there, Linux 2.4x or higher.