Spider Holster Modular Pad System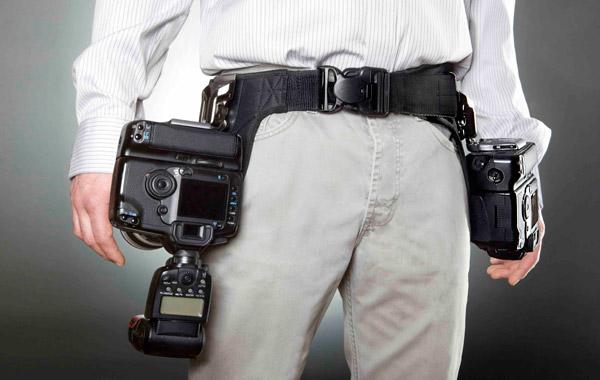 Spider Holster
announced its modular SpiderPro Pad, which allows photographers a comfortable and convenient method to carry two pro-level DSLR cameras without straps or bags. The design places a Spider Holster and pad on each hip, eliminating the back, shoulder and neck strain of carrying cameras on a tangle of neck straps. The new modular components are designed for cross-platform compatibility, and to fit SpiderPro Belts as well as third-party photography belts and backpack systems for trekking.
"After launching the SpiderPro system we received overwhelming positive feedback from professional photographers and even comments that they were making their own 'makeshift' multiple holster systems. In response to such high demand, we developed an additional sturdy and functional SpiderPro Pad designed to work with existing SpiderPro setups, as well as third-party Pro belts and backpacks," said Shai Eynav, President of Spider Holster and inventor of the system. "The modular system was crafted with professional photographers in mind, and can hold two pro-level cameras with pro lenses and speedlights. The modular ProPad allows them to add a Holster to the existing Single Camera System or remove the second holster and pad for one-camera shoots as well."
Designed to accommodate pro-style DSLR fitted with telephoto lens and flash units, the flagship SpiderPro Holster features durable all-metal construction designed specifically for active shooting situations, indoors or out. The SpiderPro system is fully customizable and those that already own a single-camera SpiderPro Holster don't need to buy a whole new system. They can simply purchase a SpiderPro Pad upgrade kit <http://www.spiderholster.com/spiderpro-belt-pro-pad.html> for $120 that contains a SpiderPro Pad, SpiderPro Holster, SpiderPro Plate, along with one SpiderPro Pin and adapter screws. In addition, SpiderPro Pad adapter kits are available that will accommodate the SpiderPro system on popular third party photography belts.
Newcomers to Spider Holster can purchase a complete SpiderPro DualCam System for an introductory price of $235 direct or through retail outlets worldwide. Additional SpiderPro Pads and adapter packages are also available. To find a local retail outlet or purchase direct, please visit the Spider Holster website at: http://www.spiderholster.com.

LATEST VIDEO

SPONSORED VIDEO
Testing Tamron's SP 150-60mm G2 lens while capturing birds and alligators in Apalachicola, Florida.