Special Report: photokina
New Photo Printers Page 2
Enhanced Epson Printer
In spite of rumors that Epson (www.epson.com) would announce a replacement for the Stylus Photo 2200, no such model appeared at photokina. Instead, the company introduced the new Stylus Photo R320 with features such as direct printing from 13 types of memory cards, a built-in color monitor for viewing and selecting images, and the ability to print long-lasting photos in a variety of popular borderless sizes up to 8.5x11"; using roll paper, it can also print panoramic images as large as 8.5x44". The control panel for direct printing includes options for choosing from nine paper types and seven different photo layouts plus manual adjustments, filters, and frames. Note, too, that the R320 can print directly onto ink jet printable CDs and DVDs, without the problems associated with adhesive labels. (List price, $199.)

The R320 employs six (dye-based) ink colors, ejects tiny 3 pl droplets, and provides up to 5760x1440 optimized dpi resolution. It's quite fast, capable of making a 4x6" photo in less than 45 seconds. In addition to direct printing from PictBridge-compatible cameras, or from memory cards, the R320 allows for saving images directly onto a CD-R or a Zip disk without using a computer by utilizing the printer's front access host USB port. This port makes it simple to connect the printer to a CD-R drive, Zip drive, thumb drive, or PictBridge-enabled digital camera. An optional Bluetooth Photo Print Adapter is available, allowing for direct printing from a variety of Bluetooth-enabled devices including mobile phones, Personal Digital Assistants (PDAs), and Windows laptops and desktop PCs. (Street price, $69.)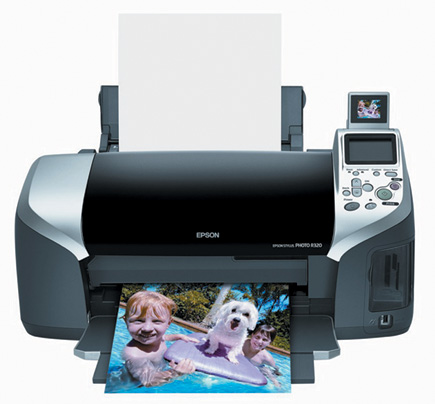 Lexmark's Improved Photo Printers
Lexmark's previous series of photo printers were primarily designed to be low price leaders. Recently, the company has become more serious about high quality photo printing, as evidenced by a major R&D effort that led to superior technology and more convenient features. Their 4800x1200dpi photo printers, the P915 and the larger P6250 Home Photo Center are identical in most respects, but the latter includes a built-in 1200x2400dpi flat-bed scanner. (Street price, $149 and $249, respectively.)

Intended for the ease of use that families demand, these machines allow for direct printing from memory cards or from PictBridge-compatible cameras and include enhancing features as well as a large LCD screen for image preview. They can also print from a connected computer, using Smart Software with enhancing features such as redeye reduction. The new Lexmark models are also quite fast. I was able to make a very nice 4x6 photo in about 45 seconds, using 5 pl and 9 pl droplets. A high-resolution borderless 8.5x11" print took longer of course: about 4.5 minutes. More importantly, the prints are archival, with a 70-year on-display lightfast rating (confirmed by Wilhelm Research) when using Lexmark's six-color Evercolor inks in three cartridges and the new Fujifilm photo paper. For more information about these Lexmark printers, visit www.lexmark.com.
Kodak's Affordable Dye Sub Printer
Although labeled as a professional model, the new thermal Kodak 1400 Digital Photo Printer should also attract some photo enthusiasts with its $549 list price. (That's a lot lower than the $899 price of the previous model, the 8500 Digital Photo Printer.) Designed to make dye sublimation photos in the most popular sizes--from 4x6" (four per sheet) to a full 8x12"--this machine generates high-resolution, water-resistant prints in about 90 seconds. They're beautiful, too, with rich colors, high sharpness, and great resolution. Specifics as to the archival rating were not yet available at our press time, but the prints are said to "last a lifetime."

The required glossy or matte paper plus ink ribbon is bundled in matched volumes: 25 and 50 sheet packs. A package includes exactly the right amount of ink to make the pertinent number of prints, for optimum color density, without any worry about degraded image quality caused by low ink. The consumables are priced competitively (for dye sub ink and paper); the per print cost should work out to about $2. To learn more, visit Kodak's website at: www.kodak.com.

LATEST VIDEO