Special Report: photokina
New 35mm And Digital SLR Cameras Page 3
More affordable than the 5-megapixel professional E-1, the new Olympus E-300 EVOLT (
www.olympusamerica.com
) is an 8-megapixel "consumer-grade" digital SLR in a sleek (1.3 lb) body with aluminum die-cast chassis and some aluminum panels and more convenient controls. (Estimated price, $1500. Editor's Note: This is a spec price and we hear Olympus may bring it in at a lower number.) Because it incorporates a new type of optical porro finder (the type used in some binoculars) there's no large penta-prism hump. The E-300 EVOLT employs the same Four Thirds (17.3x 13.0mm) CCD sensor as the E-1, producing a 2x focal length magnification factor, but with slightly smaller pixels (photodiodes). It also benefits from the automatic sensor cleaner and TruePic TURBO processor for great color, contrast, and speed.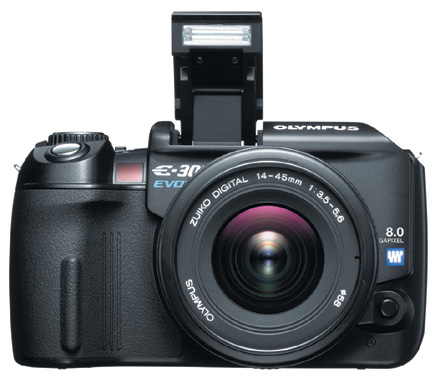 Novices will love the E-300 EVOLT's 17 subject-specific Program modes while experienced photographers will appreciate the familiar auto and manual options, various overrides, and the fast, 2.5 fps framing rate in JPEG, TIFF, raw, and raw+JPEG recording modes. Compatible with all Zuiko Digital lenses, the new camera also accepts most of the E-system accessories.

The world's first digital SLR with a built-in Anti-Shake (Image Stabilizer) system, the 6-megapixel Konica Minolta Maxxum 7D (http://konicaminolta.us) employs the CCD-shift technology already available in some DiMAGE-series cameras. This system--illustrated with a transparent body at photokina--instantly shifts the sensor module within a wide range in all directions to compensate for virtually any type of camera shake. In my preliminary tests, the system proved to be amazingly effective. Resembling the 35mm Maxxum 7, this new Maxxum digital SLR is a mid-size (1.68 lb) camera with similar dial and lever controls, magnesium-alloy body parts, and oversized 2.5'' LCD monitor. It's loaded with automatic, semiautomatic, and manual options for simplicity and full creative control.

The Maxxum 7D features Konica Minolta's latest CxProcess III technology for great image quality while high speed is achieved with the new Advanced LSI engine designed to provide fast data transfer. In Continuous shooting, the camera allowed me to make 15 full resolution JPEG Fine images in a sequence, or nine raw or raw+JPEG shots, at a fast 3 fps that's useful in action photography. The nine-point autofocus system is also very fast and employs a central cross hair sensor plus eight line sensors canted at various angles for great reliability. Anyone who owns Maxxum lenses really must check out this digital SLR camera. Frankly, it would be a fine choice for any photo enthusiast, particularly those who often shoot with long lenses and want sharper photos without the frequent need for a cumbersome tripod. (Estimated price, $1599.)

These days, there's no need to pay a lot of money for a high-performance digital SLR camera. The new Pentax *ist DS (www.pentaxusa.com), for example, is significantly less expensive than the original *ist D. In spite of the lower price, the new model is a 6-megapixel camera employing the same CCD sensor and advanced image processing technology. The smallest and lightest (1.1 lb) digital SLR on the market, the *ist Ds is easy to use, making it ideal for first-time digital SLR buyers. It includes a host of user-friendly features, including a large 2" LCD screen, 11-point autofocus sensor, many automatic modes, and simplified controls such as a mode selector dial with many options.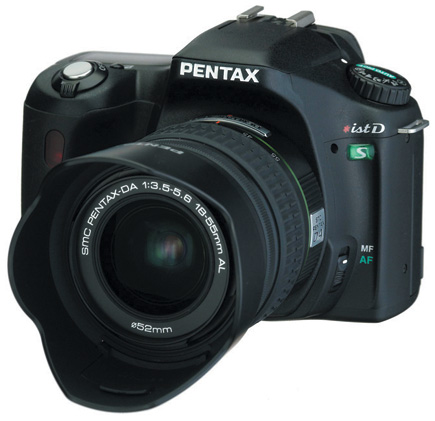 Serious shooters will appreciate the more advanced *ist DS options: 2.8 fps framing rate (for eight shots), 18 Custom Functions, raw and JPEG recording, semiautomatic and manual modes plus the usual controls for exposure, white balance, ISO, etc. Although it's missing a few non-essential *ist D features, the new Pentax *ist DS includes all of the most useful capabilities and the rugged stainless steel chassis. It's also compatible with most Pentax lenses, including those in K and KA mount, with only a few limitations. This is a real bonus, especially for anyone who owns older K-mount lenses and wants to get into digital SLR photography without spending a lot of money. (Estimated price, $899.)

Converting From Film To Digital
First shown at the PMA Show in February 2004 as a "product in development," the 10-megapixel Leica Digital-Modul-R (www.leica-camera.com) device shown at photokina was functional and should be available for purchase soon. (Estimated list price, $5000.) The accessory sports lots of analog controls for digital features that will be appreciated by Leica aficionados. Only problem is that the module is actually very large and heavy (26 oz) because it includes a hard drive, battery holder, and handgrip. Its 10-megapixel Kodak CCD sensor is quite large, too (26.4x17.6mm effective imaging area), so the focal length magnification factor is only 1.37x. In order to maintain optimal image definition, no anti-aliasing filter is used; a moiré filter is available but can be turned off when desired.

An R8 or R9 camera with the Digital-Modul-R includes many of the digital features that serious photographers expect, including extensive white balance and color temperature control; sharpness, color saturation, and contrast level adjustments; ISO options from 100 to 1600; 1.8" LCD monitor; histogram display; raw, JPEG, and TIFF recording modes; and more. I found the FlexColor Raw converter software (from Imacon, the maker of the module's processor as well) to be incredibly versatile; this program will be a real bonus for purchasers of the Leica Digital-Modul-R.
Pick Of The Show
by Uwe Steinmueller
Photokina 2004 showed that the high-end of digital imaging is getting both more exciting and more crowded. The Canon EOS-1Ds Mark II, at 16.7 megapixels, and the Nikon D2X, at 12.4 megapixels, are going up against the medium format digital back market. But the medium format market is by no means standing still. The most interesting announcement came from Mamiya, with their new Mamiya ZD. This will be a 22-megapixel medium format digital SLR (fully integrated) and is rumored to be sold at about $10,000- $12,000. Also, Hasselblad showed an integrated solution as well, the 22-megapixel H1D. This camera should cost about $20,000 and will ship soon.

We also got a chance to see the Leica Digital-Modul-R. This may not have a big impact on the digital SLR competition, but it might just be a precursor to a future Leica M Digital. If Leica together with Imacon will get the digital part right the Leica M Digital will be a very exciting camera.

Olympus presented its E-300 EVOLT consumer Four Thirds digital SLR (price was not set yet). This 8-megapixel digital SLR completes the growing Olympus Four Thirds system. If everything is right with this camera then Olympus will have a strong player in the sub-$1000 digital SLR market. Olympus also announced some lower priced consumer lenses as a match to the E-300 EVOLT.

What's new in the world of the raw file format? In my opinion the new DxO raw converter deserves our attention. Adobe announced its Digital Negative Format (DNG) to standardize raw file formats for cameras. It is way too early to gauge the reaction of manufacturers right now, but my feeling is that we shouldn't expect Canon and Nikon cameras to adopt it anytime soon.

LATEST VIDEO

SPONSORED VIDEO