Special Report: Canon EOS 20D
Eight megapixel digital SLR with substantial upgrades over the highly rated EOS 10D
One of the most successful digital SLR cameras for photo enthusiasts, the 6 megapixel EOS 10D was suddenly discontinued in August 2004. Naturally, Canon had an improved model waiting in the wings. The 8 megapixel EOS 20D offers not only higher resolution, but also includes some of the technology developed for the professional EOS 1D Mk II. Priced only slightly higher than the EOS 10D, the newer model boasts a superior image processor, greater speed, more effective flash metering and autofocus, plus other noteworthy upgrades listed in our chart.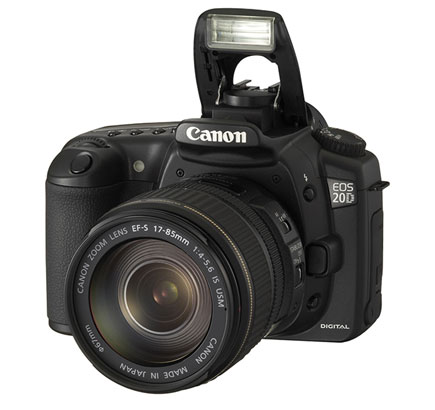 It combines a stainless steel chassis and magnesium alloy panels with instant response, high speed, ease of use, a wealth of user-selectable features and superb image quality suitable for large prints. Although primarily intended for the advanced hobbyist, the EOS 20D has enticed some wedding, portrait, event and stock photographers who do not need an (8MP) EOS 1D Mk II or the newer EOS 1Ds Mark II, both of which are faster and built like a proverbial tank.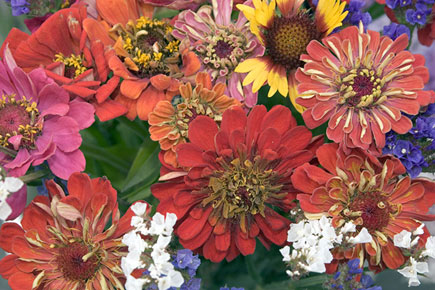 Although much of this review focuses on advanced technology and pro caliber functions, the EOS 20D can be as easy to use as a Digital Rebel with its primary features. Even if you are a novice in digital photography, don't let the technical complexity scare you away from this higly desireable camera. (Program mode; built-in flash; ISO 800.) All Photos © 2004, Peter K. Burian, All Rights Reserved
Noteworthy Upgrades
A full comparative evaluation of the EOS 20D versus the 10D would fill an entire review, so I have compiled the following chart. It includes a summary of the upgrades that serious photographers will consider to be the most important. For more detailed discussions about the new technology, visit the Canon EOS 20D Web page at http://consumer.usa.canon.com/ir/controller?act=ModelFeaturesAct&fcategoryid=139&modelid=10464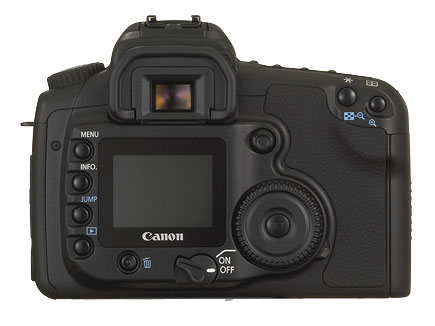 Upgrade vs. EOS 10D Additional Specifics Evaluation
Second Generation 8.2 Megapixel CMOS Sensor Higher resolution; improved sensitivity with new microlenses and new noise reduction circuit Increased resolution is significant for anyone who wants more finely-detailed large prints; lower noise at all ISO levels is a benefit for those who often shoot at ISO 800 or 1600 in low light

Greater speed in all respects Faster startup (0.2 sec. vs. 2.3 sec.); faster framing rate (5 fps vs. 3.3 fps); larger buffer plus reduced clearing time with simultaneous card reading/recording; greater burst depth (23 vs. 9 Large/Fine JPEG's and 9 vs. 6 raw files); The camera is virtually always ready to shoot; it is also more suitable for serious action photography
DIGIC II Image Processor Designed for superb color, white balance and high ISO quality, plus greater speed Aside from greater speed, slightly higher color and WB consistency

9-Point High-precision AF with New Multi-controller Faster, more precise, more sensitive AF system; two extra focus detection points; central point is cross-hatched (for greater reliability) and twice as sensitive with lenses with f/2.8 or wider maximum aperture Faster autofocus overall, a definite advantage in wildlife, action and any candid photography; more reliable in low light (EV -05 vs. EV +0.5); focusing points are logically arrayed for quick off-center compositions or for tracking small action subjects

Enhanced Color and White Balance Settings Improved Auto WB accuracy especially at high ISO and with internal flash or Speedlite 580EX; WB can be shifted blue to amber or magenta to green hue; new WB bracketing feature produces a series of 3 image with varied WB Excellent Auto WB performance outdoors or with flash; WB shift useful in specific situations where the necessary color balance shift can be easily predicted; WB bracketing is more often useful

True RAW + JPEG capture mode Separate RAW and JPEG image can be recorded versus simple embedded JPEG in a RAW file Appreciated by those who often shoot in RAW capture but also want high quality JPEG's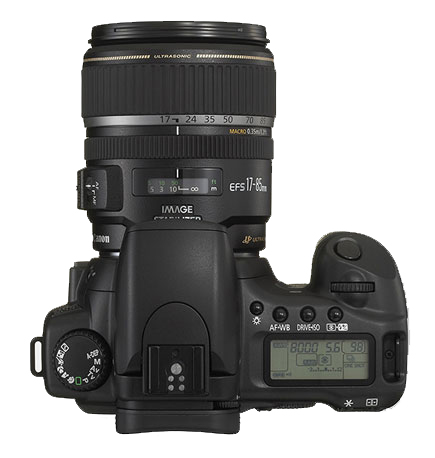 More options for selecting Parameters re: contrast, saturation and sharpness Ability to select image adjustment in Adobe RGB Color Space Greater versatility for those who prefer to shoot JPEG's in Adobe RGB (vs. sRGB)

New long-exposure noise reduction feature (dark frame subtraction) for 1 sec. or longer images Can be enabled or disabled When disabled, image recording is faster, useful when you need to make long exposures series quickly

New E-TTL II flash metering system and higher pop-up flash head More accurate flash exposures with built-in flash or EX Series Speedlites using ambient light measurement before pre-flash plus distance data from lens Produces pleasing flash exposure more consistently especially with highly reflective subjects, a valuable benefit for anyone from snap shooter to professional; higher built-in flash is slightly more effective in preventing red-eye

Versatile Black & White mode Allows for in-camera selection of various filter effects for contrast control, similar in concept to using filters in conventional monochrome photography plus Sepia tone option More versatile than other cameras' black-and-white modes but "red filter" does not produce a punchy effect

Higher top shutter speed and flash sync speed 1/8000 vs. 1/4000 sec. and 1/250 sec. vs. 1/200 sec. Slightly faster flash sync speed useful in close-ups made at very wide apertures or for some moving subjects

Compatible with all EF/EF-S Lenses and Many EOS System Accessories Accepts new zooms designed specifically for the APS-C size sensor Compatible with very short focal length lenses, such as EF-S 10-22mm, great for ultra wide angle photography

USB 2.0 Hi-speed connectivity (vs. USB 1.1) Greater data transfer speed from camera to computer Appreciated by photographers with USB 2.0 compliant computers who do not use accessory card readers

PictBridge compliant Allows for direct printing with any PictBridge enabled printer of any brand Some value for quickly printing snapshots

Reduced size/weight Minimal size reduction but weight reduced from 17.9 oz. to 24.2 oz. Greater portability; weight reduction is meaningful
Performance and Quality Evaluation
During the test period, I made hundreds of images with this incredibly versatile, lightweight digital camera. Subjects included people, fall color scenes, motorcycles barreling down country roads and the high-speed equestrian events at the Canadian Show Jumping Championship. In virtually every situation, the EOS 10D proved to be highly responsive and often produced images of professional quality. Based on my shooting experiences, and the resulting images, I can provide the following assessments.
Speed and Responsiveness: I have yet to test another camera in its price range that is as quick to start up, make settings and take a long series of shots as the EOS 20D. The new sensor, processor and buffer system also make it ready to take another shot virtually anytime; I rarely needed to wait for the buffer (short term memory) to clear when using a high speed SanDisk or Lexar memory card.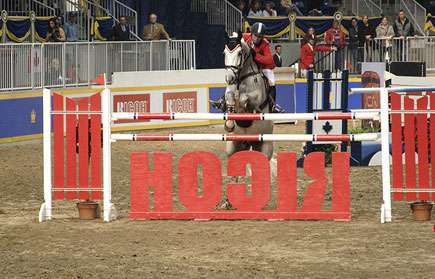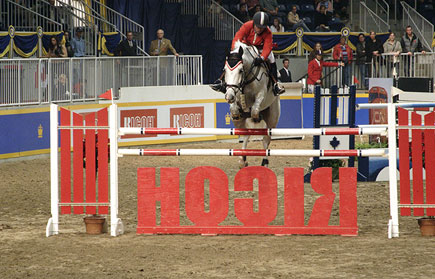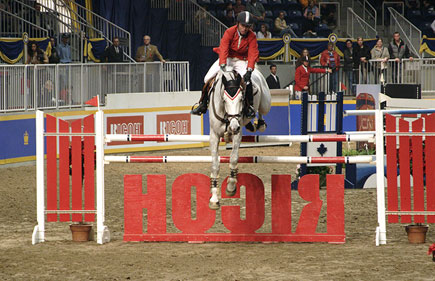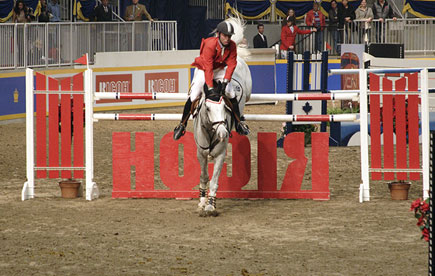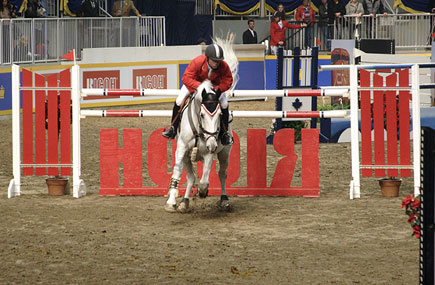 The camera had no difficulty in tracking fast moving subjects. In low light, autofocus performance was best when I used only the single, central focus detection point instead of the full nine-point option. (f/5.6 at 1/200 sec.; ISO 1600; Royal Winter Fair, Toronto.)
Autofocus and Exposure: Except in very dark conditions, the autofocus system was fast and reliable. In the low light of an arena, autofocus was most reliable when I used only the single central sensor, particularly with a "fast" lens, with an f/2.8 maximum aperture. The evaluative metering system proved to be highly accurate, with or without flash. In most cases, the exposure was within a half stop of correct, easily adjusted later using imaging software. Contrast was very high in ISO 800 to 3200 images taken in bright light, easily solved by setting a much lower in-camera contrast level or with raw converter software.
Color Rendition: The EOS 20D delivered images with clean, accurate colors with rich reds. Other hues and tones were less vibrant at the default setting for Saturation. Overall, the results are pleasing but for higher visual impact, it's worth setting a higher Saturation level in camera, or in imaging software. The Auto WB system was quite effective outdoors, but in other lighting conditions, it's worth using one of the more advanced options for accurate balance, particularly under artificial lighting.
In its default modes, the 20D produces pleasing images with moderate contrast, sharpness and color saturation as in this image. Those parameters can be adjusted in-camera, with the raw converter software (for images made in raw capture) or in any image editing program. (Raw capture; no color, contrast or sharpness adjustments; ISO 100; polarizing filter.)
Resolution/Sharpness: This 8MP camera delivered images with very high resolution, ideal for making finely detailed 13x19" prints suitable for framing. (By comparison, EOS 10D images produced comparable quality in 11x16.5-inch prints.) Sharpness was a tad low at the default setting, but this can be boosted if desired, preferably in imaging software as the last step before making a print. Shoot in raw capture and optimize the images for printing with some expertise and a custom lab should be able to make even larger prints that will impress most viewers.
Digital Noise: At low ISO, the EOS 20D produces very clean, silky smooth images. Digital noise is noticeable at ISO 800, but the pattern is very fine and tight so it's certainly not objectionable. By ISO 1600 however, the colored specks are obvious because the noise suppression system is not as aggressive as in some other cameras. That's a suitable compromise because it prevents an artificial, plasticky effect or a loss of fine detail. Available as a custom function, ISO 3200 should be used only when absolutely necessary and cleaned up later with Noise Ninja 2.0 or other noise reduction software. All in all, impressive performance for an 8MP camera with a small, APS-C size sensor.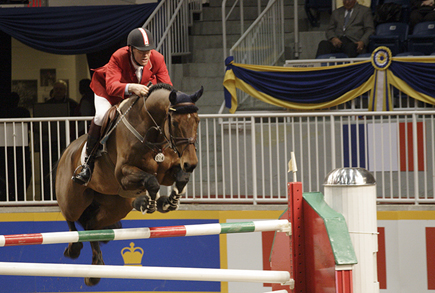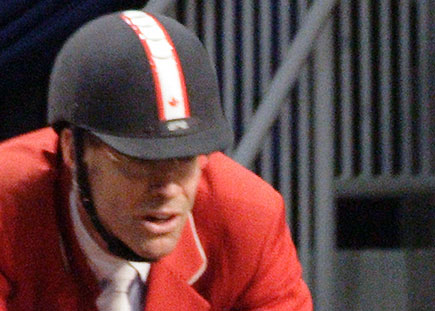 Images made at ISO 1600 are better than those produced by many other cameras. Although they exhibit digital noise, the pattern is fine and tight. Neither the specks nor the noise suppression processing obscures fine detail as indicated in the small portion of the full frame. Consequently, I never hesitated to use ISO 1600 when necessary for fast shutter speeds in low light. (Royal Winter Fair, Toronto.)
Overall Image Quality: As you would expect from an ultra-high tech 8MP camera, the EOS 20D produces images of outstanding quality in both RAW and JPEG Large/Fine capture modes. They are beautifully clean and smooth, with exceptional clarity and remarkable definition of fine detail. Except at high ISO settings in bright light, contrast is moderate and dynamic range is wide so most images hold detail in both shadow and highlight areas.

1 20D Canon Raw Converter Tools 2.jpg: The bundled Canon raw converter software is very versatile, allowing for extensive adjustment of any CR2 format file before conversion to TIFF (or JPEG). This program is not as fast as some aftermarket converters, but it maintains the exceptional quality generated by the camera.
Final Assessment
No camera is perfect and I can identify a few improvements that would have made this one closer to ideal: a more effective AWB system, a 1/500 sec. flash sync speed, a much larger LCD monitor and faster raw file converter software. Still, the EOS 20D has already received many rave reviews for its fine image quality, blazing speed, long battery life, and exceptional versatility. The accolades are well deserved and this model offers excellent value at the sub-$1500 street price. If you're a serious photo enthusiast with some experience in digital basics -- or if you're technically inclined and willing to experiment -- the Canon EOS 20D would be an ideal choice.
For a second opinion, read George Schaub's EOS 20D Review in Shutterbug magazine, at www.shutterbug.com/test_reports/0205canon
For the full Specifications list, visit the Canon Web site http://consumer.usa.canon.com/ir/controller?act=ModelTechSpecsAct&fcategoryid=139&modelid=10464