Sony RX1R II Compact Camera Review
(Editor's Note: Lab Review lab tests and comments are supplied by BetterNet, Shutterbug's TIPA-affiliated testing lab and edited by George Schaub. Shutterbug is the sole US representative within TIPA, a worldwide association of photo and imaging magazines.)
The Sony RX1R II is a high-end compact camera with an integral lens that features a full-frame sensor with a very high resolution of 42MP, comparable in some ways to a classic rangefinder camera or the Leica Q system. The original Sony RX1 was one of the first cameras that offered a full-frame sensor in a compact camera and was sold in two versions: as a "standard" that used a low-pass (anti-aliasing) filter and, as the RX1R, one that was built without a low-pass filter.
The new Sony RX1R II is a combination of both, allowing the photographer to disable the filter or not. In our tests we didn't use the electronic filter system in order to get the sharpest and most detailed results.
Camera Build, Layout & Performance
The new RX1R II is also the first RX1 system with an electronic viewfinder. The viewfinder is integrated into the camera's top and will pop up when the photographer activates the "FINDER" switch on the left-hand side of the RX1R II.
The electronic viewfinder offers 2.36 million RGB dots and is comparable to the viewfinder of Sony's top cameras in the A7 series. The EVF is very large (0.74x for a 50mm lens in infinity settings) and allows perfect image control, including manual focusing. The new viewfinder also makes the old optional viewfinder, the Sony FDA-V1K, obsolete. This viewfinder is very helpful in manual focusing mode as it offers a magnifier function and focus peaking. For manual focusing the camera has a large and handy lens ring.
Autofocus mode is even more comfortable. The camera uses an extremely fast AF system based on a hybrid focusing system that combines phase-detection technology and contrast AF metering utilizing 399 AF areas. However, due to its new electronic viewfinder there is not enough room for a small/internal flash system although the camera has a standard accessory shoe on the top to use external flash systems like the Sony HVL-F32M. Some third-party vendors also offer flash systems or remote control systems for external flashes for the Sony as well. The RX1R II supports all standard flash modes, including TTL metering and rear curtain synchronization.
The camera has a built-in prime Zeiss f/2 lens, a Sonnar T*, with a focal length of 35mm. The high-quality lens is one reason for the high-resolution results we got in our tests. The camera uses Sony's "Steady Shot" system for image stabilization.
The RX1R II offers professional handling. For manual setting of the aperture it has a large lens ring with 1/3 stop clicks for fine exposure control. To change shutter speed the photographer has to use the setup dial on the back, which can also be used for a lot of different settings and for menu navigation.
The camera has user-defined function buttons and three user-defined settings on its mode dial. Besides standard exposure modes, it includes scene modes, panorama photo modes, and a video mode.
Comments On Image Quality
Color: The Sony RX1R II yields very colorful reproduction of all scenes. The standard test chart was reproduced with 112.2 percent saturation, which is a little high compared to professional SLRs with full-frame sensors that generally yield images with 100 to 108 percent saturation. Some colors are really boosted. The red, yellow, and green test patterns show a remarkable shift into the more saturated areas of the color space. The white balance tends toward a slight yellowish touch, especially in brighter nuances, while skin tones have a somewhat higher orange rate. But the overall color results of the Sony are very good, especially in the differentiation of colors. The colored spools in our standard test box shot are reproduced with superb detail rendering. The structure of the gray background of the test box is also very clean.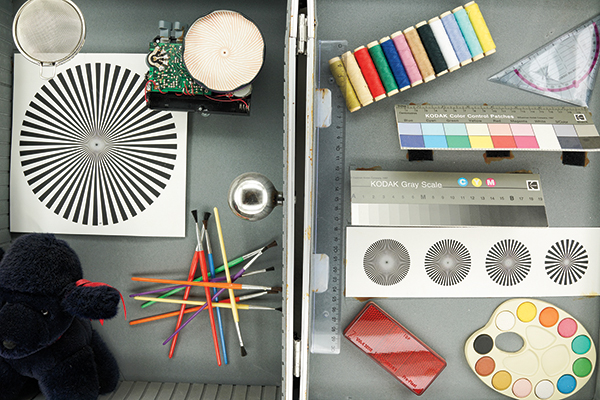 Sharpness: The new Sony reproduced the standard test chart with 5,059 of 5,304 lines per picture height, which is excellent. We do note, however, that it tends toward a slight oversharpening due to its image processor. Our test chart showed a "clipping warning" on hard contrast lines, which are reproduced in a slightly exaggerated way. Nevertheless, "real life" scenes are reproduced without exaggeration and look very good. The very good differentiation of color helps.
Noise: The RX1R II did a very good job in our noise tests. At lower ISO speed settings the luminance noise level is a little higher than the results of many full-frame SLR systems, but is still very low. The camera keeps a level of 0.5 to 0.79 percent in images up to ISO 3200; the 1.0 line is crossed at ISO 12,800. In all, the color noise results are excellent. "Pixel noise" and "Noise spectrum" are on a very low level. At ISO 3200 color noise gets visible, but on a very low and discreet level; even at ISO 12,800 the images have a clean and clear look. In images taken at ISO 25,600 and higher the combination of color noise and anti-noise filtering gets visible and is quite annoying at ISO 51,200. At ISO 102,400 the filter effects reduce detail reproduction and image quality drastically.
The camera showed a very good performance in our dynamic range tests. It achieved an excellent maximum of 11.8 f/stops and keeps a high dynamic range level of more than 10 f/stops in images taken from ISO 50 to 800. At higher ISO speed settings the dynamic range results drop drastically.
Comments on Video Functions
The Sony RX1R II can record Full HD video but does not offer 4K movies. Sony explains the lack of 4K as due to thermal problems with the small body and the large full-frame sensor. The camera is able to record videos with 1920x1080 pixels in high frame rates of 50 (PAL) or 60 (NTSC) frames per second. In addition to those high-end frame rates it also offers standard frame rates with 25/30 frames per second and a cinema or Blu-ray compatible mode with 24 frames per second.
By using Sony's own video format—XAVC-S—the RX1R II is able to record movies with very high bit rates of 50 Mbit/s with a better compression quality than standard cameras. It also offers AVCHD 2.0 mode (28 Mbit/s) for easier handling and higher compatibility with standard camcorders.
The camera includes manual exposure settings in video mode. Manual modes are available on the screen menu when the camera is set to movie mode. The P, S, A, and M settings on the standard mode dial aren't active for video recording. Pressing the video record button when using these photo modes will activate automatic exposure settings for the video sequence. In manual mode the camera allows for manual setup of ISO speed, limited to a maximum of ISO 25,600. The camera offers manual sound control and has a 3.5mm jack for use of an external microphone.
Comments On Video Quality
The resolution test result is on a standard level for a full-frame sensor camera. The test chart was reproduced with 817 lines per picture height, which is a little below the nominal resolution of 1,080 lines per picture height. Just as in photo mode, hard contrast lines like the slanted test line of our ISO 12.233 chart are reproduced with boosted contrast and additional sharpness filtering that can cause jaggies or halo contours on these lines. This effect is negligible in natural scenes, but sometimes becomes visible. Nevertheless, the videos have no problem with aliasing or moiré effects.
The color reproduction is very good. Just like in photo mode the colors are a little oversaturated, but still look natural. In some scenes contrast is very high and therefore colors look even more saturated, but in our live test scenes this effect is still on an acceptable level.
Results of the noise tests are good, when using ISO speed settings no higher than ISO 3200. The highest ISO speeds up to 25,600 cause very intense color noise effects in the videos. Dynamic range in video mode is very high: The RX1R II records video sequences with 10.6 f/stops, which is an excellent result.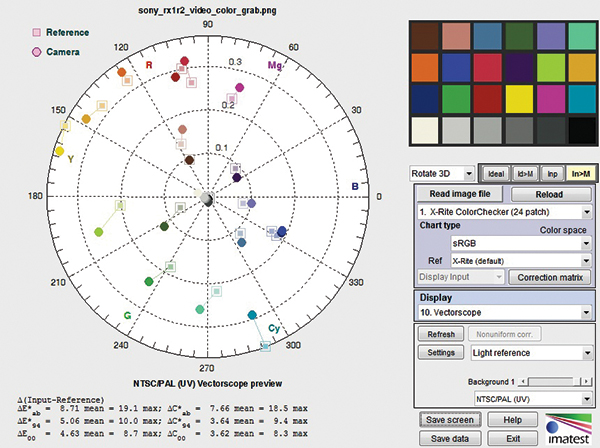 Pros
• High-resolution images in a compact camera
• High-quality lens system (wide angle)
• Compact body, professional handling
• High-resolution EVF and swivel LCD
• Integrated image stabilizer
Cons
• Very high price
• Missing internal flash
The Sony RX1R II has a list price of $3,300. For more information, visit sony.com.
(Lab Review is where we publish web-exclusive lab reports on cameras. To read more Lab Reviews, click on the Reviews tab on the top navigation bar of this page. New photo gear reports are published frequently, so check Reviews for more equipment evaluations from Shutterbug writers.)

FEATURED VIDEO