Sony Cyber-Shot Camera With Sweep Panorama Technology
The new HX1 Cyber-shot model can take 224-degree panorama shots in one easy press-and-sweep motion. It is also the company's first Cyber-shot camera to use the exclusive 1/2.4-inch Exmor CMOS sensor technology. This technology allows it to achieve burst speeds of 10 frames per second at full 9.1 megapixel resolution in continuous burst mode.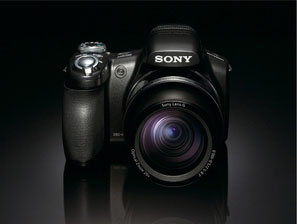 The HX1 model has two scene modes that are said to significantly reduce noise. Using the high-speed shutter Exmor CMOS sensor technology, the new model takes six shots within a fraction of a second. Combined with the power of the BIONZ imaging processor, it immediately superimposes them into one picture. The camera calculates the position of objects in each frame and composes the sharpest picture possible, resulting in clearer, sharper images.

The two modes that use this functionality include hand-held twilight and anti-motion blur. For difficult shots in low light, the hand-held twilight mode results in clearer and sharper pictures without the need of a tripod. Anti-motion blur uses High ISO to reduce blur especially in dimly lit environments.

To reduce blur, the camera detects if a person or object is moving, or if the camera is shaking, which is likely when taking a telephoto shot. When it superimposes the images, the camera captures the moving subject or object from one of the six shots. It takes, combines and composes the rest of the image using the six shots. This reduces blur on the main subject and results in a sharp, clear background.

Capturing wide landscapes, church spires or skyscrapers is as easy as "press and sweep." Sweep panorama mode lets you reach beyond the traditional wide-angle lens and capture breathtaking shots. With wide and ultra-wide settings and horizontal or vertical directions, sweep panorama mode can take up to 224-degree horizontal or 154-degree vertical shots.

Using the fast-speed Exmor CMOS sensor, the camera continuously shoots full-resolution images at a high speed. Using the BIONZ imaging processor, it automatically stitches the pictures together to create one stunning panoramic photo. The maximum resolution is 7152 x 1080 (ultra wide horizontal).

The HX1 camera captures movie clips in 1080p HD resolution, and a built-in stereo microphone records crisp, clear audio. The camera's wide 20x optical zoom is also available while shooting.

When set to HD movie, it records at 30 frames per second (1440 x 1080). The camera uses the high-quality, high-compression MPEG4 AVC/H.264 format. Other recording options include standard-definition video and VGA.

The camera also has HDMI connectivity via supplied HDMI accessory (cable not included) so images can be shared in high definition on an HD television set. MPEG4 AVC video recording allows you to view footage on a PC and upload it to the Web.

The Sony G lens is optimized to complement the advanced image sensors and image processing technology in Sony's cameras. The HX1 camera features a 28-560 millimeter f/2.8-5.2 wide-angle lens with 20x telephoto range. With the combination of this G lens and sweep panorama mode, the camera can cover almost any telephoto and wide angle need.

Containing a six-blade aperture, the G lens produces beautifully defocused backgrounds with a soft, natural feel. A-spherical lens elements and elements made from extra-low dispersion glass combine to minimize chromatic aberration common to high-magnification lenses.
Like many of Sony's new cameras this year, the HX1 model has the convenient and powerful intelligent auto mode, which combines Intelligent Scene Recognition (iSCN), Optical SteadyShot™ and face detection technologies. It recognizes scenes and lighting conditions within one-thirtieth of a second, and then changes settings. This produces clearer images with more natural skin tones, reduced red-eye, fewer closed-eye shots and less overall blur without compromising image quality.

The iSCN feature detects up to eight scenes and automatically changes settings that will apply to the scene or lighting conditions. With the iSCN Advance feature, the camera takes a second shot when low or backlight is detected, letting users choose the best picture.

With face detection technology, the camera will adjust the flash, focus, exposure and white balance producing more natural skin tones and reducing red-eye. Face motion detection identifies a moving subject and adjusts the ISO to minimize blur. In conjunction with iSCN, the camera takes two pictures simultaneously and saves the one in which the eyes are the least closed.

A new selected-face memory function registers one face (selected by the user) as the main face and adjusts focus, exposure, flash and white balance accordingly. The camera remembers the face every time that face shows in the frame.

Additionally, the camera comes with Smile Shutter technology that helps capture a smile the moment it happens and dynamic range optimizer (DRO) technology that adjusts for contrast.

Pricing and Availability
The Cyber-shot DSC-HX1 camera will be available in April for about $500 and pre-sales will start in March. The camera and a range of accessories will be available online at sonystyle.com, at Sony Style® retail stores (www.sonystyle.com/retail), at military base exchanges and at authorized dealers nationwide.

LATEST VIDEO