Sony A7S II Mirrorless Camera Review
(Editor's Note: Lab Review lab tests and comments are supplied by BetterNet, Shutterbug's TIPA-affiliated testing lab and edited by George Schaub. Shutterbug is the sole US representative within TIPA, a worldwide association of photo and imaging magazines. You can see full resolution images we shot with the Sony A7S II in an early field review here.)
The Sony A7S II has a 12MP full-frame sensor. This mirrorless camera could be dubbed an "available light specialist" that offers extremely high sensitivity settings of up to ISO 409,600. According to Sony, the BIONZ X processor in the A7S II features an upgraded image processing algorithm that boosts the sensor's capabilities overall, particularly at the mid-high end of the ISO scale. This is designed to produce more detailed still images and movies with low noise at high ISOs. Let's take a closer look at this high sensitivity camera, which has also been called a "low-light monster" and a "master of the dark arts."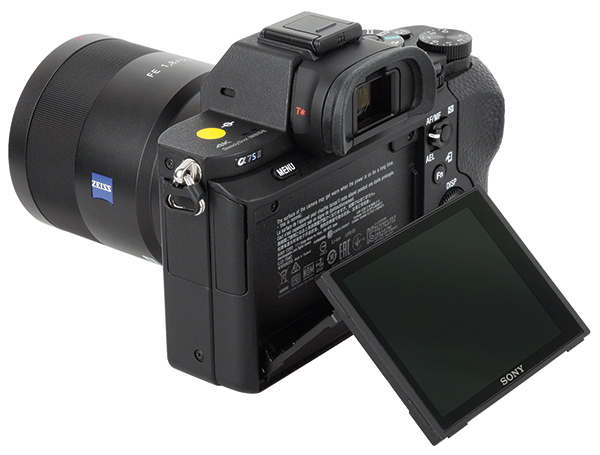 Camera Build, Layout & Performance
Just like the second generation of the A7R, the new Sony A7S II has a revamped body design. Compared to the previous model, the A7S II's body has a bigger grip and the shutter release button has been moved to the top side of the grip instead of its former location directly on the camera top. These seemingly small details offer better handling of the camera.
The A7S II has adopted some of the other excellent features of the A7 series. The A7S II now offers a five-axis image stabilizer, which Sony specifies as a gain of 4 EV stops. In our test we used the stabilizer with two lenses, the Sonnar T* FE 55mm f/1.8 ZA and the Vario-Tessar T* FE 24-70mm f/4 ZA OSS, and can confirm this claim.
The A7S II also has a new AF system that while related to the AF system of the A7R is a little different. It uses 169 AF areas and is extremely fast and reliable, even in very low-light situations—the forte of the A7S II. Its face detection/eye detection feature now works in Continuous AF mode, which is very helpful when shooting portraits or when recording videos.
Manual focusing is aided by a magnifier and a "focus peaking" function. The very bright and crisp electronic viewfinder is similar to the A7R system and is based on OLED technology. It offers 2.36 million RGB dots and is also very large (0.78x for a 50mm lens and focus setting to infinity). A lot of additional information is shown as overlays. The viewfinder can show an exposure simulation for the current exposure parameters. We also found that it is especially responsive in brightness conditions that might otherwise create a very dark rendition in an electronic viewfinder.
For moviemakers, the Sony A7S II has a very important new feature: the ability to record 4K video internally on its SDXC cards. The previous model was able to record 4K video but had to use an external recording device. When shooting with the Sony A7S II in 4K mode, however, you need to use very fast SD card media: SDHC/SDXC cards with UHS-I compatibility and "U3" and "Class 10" specifications. If standard SD cards are used the camera won't start recording and prompts the user to reduce the video resolution to Full HD settings.
Comments on Image Quality
Color: The automatic white balance system sometimes showed a shift into the greenish area of the color spaces. The test chart was reproduced with only a minor shift of gray and light gray elements into the green and yellow direction, while the darker areas are neutral or show a very little shift into cooler nuances. The saturation is a bit high for a professional system camera (nearly 110 percent), but the overall look is very natural. Only red nuances are boosted and have a very high yellow/orange rate. Skin tones look very natural and while they have a bit higher magenta rate, this is only noticeable in the result graphics of the test chart shot and is nearly invisible in the portrait test shot.
Sharpness: All technical test images were shot with the excellent Sonnar T* FE 55mm f/1.8 ZA lens while the standard test box shot and the portrait shot were done with the Vario-Tessar T* FE 24-70mm f/4 ZA OSS lens. The camera showed a very good result in our resolution test and reproduced the ISO 12.233 chart with 2,589 of 2,832 lines per picture height.
Even though the electronic sharpening settings are very decent and the test shot showed only a 9.9 percent overshot effect, our Imatest software showed a clipping warning. This occurs when very hard contrast lines (black slanted line on a white background in the ISO chart) show a kind of double contour. This over-sharpening effect isn't noticeable in real-life test shots. The camera reproduces images with high sharpness, very good detail reproduction with only minor structural errors, and a very good differentiation of all color elements.
Noise: The camera showed an excellent performance in our noise and dynamic range tests. Luminance noise keeps very stable and on a low level. It crosses the 1.0 percent line only in images taken with ISO 51,200 and higher. The noise spectrum and the pixel noise show very smooth graphics, and the color noise gets visible only in images taken with ISO 25,600 and higher. Only the additional ISO speed settings (204,800 and 409,600) show some annoying results created by the combination of color noise and anti-noise filtering by the image processor. In these images the A7S II created "colored clouds" in homogeneously colored patterns.
The dynamic range results are excellent. The camera achieved a maximum of 12.3 f/stops and keeps a high level of 10 to 11 f/stops even at very high ISO speed settings (up to ISO 102,400).
Comments On Video Functions
While the previous model needed an external recording device like the "Atomos Shogun" to record videos with 3840x2160 pixels, the Sony A7S II is able to record 4K movies on its internal SDHC/SDXC card. Note: High resolution and high bit rates of up to 100 Mbit/s need very fast SD cards, so the camera will record 4K video only on SDHC/SDXC cards with UHS-I compatibility, Class 10 and U3 certification.
To offer very high bit rates and high resolution the Sony A7S II uses a Sony video file format called XAVC-S, which is based on MP4 video compression but can use a higher data rate. In addition, the camera offers AVCHD recording of Full HD videos with 1920x1080 pixels and with standard AVCHD 2.0 files (data rate up to 28 Mbit/s). In this mode the camera offers 50 or 60 full/progressive frames per second, while it records up to 30 frames per second in 4K mode.
The camera offers a special video mode on its mode dial that allows use of all manual exposure modes like P, S, A, and M, plus manual selection of ISO speed. Even the highest ISO speed settings are allowed in manual ISO mode.
There are many more video functions. It can use S-Log image styles that can be used to create a certain color look in editing software and the use of different kinds of time code systems to synchronize video sequences, which are shot with several cameras (in interview scenes with multiple cameras, for example).
Only one drawback of the first A7S is carried forward to the new A7S II: The video record button is located on the rounded edge on the right-hand side of the camera, where it becomes nearly invisible. In our opinion this is not only inconvenient but can cause shake and image blurring when starting or stopping the video sequence.
Comments On Video Quality
The quality of video recordings with the A7S II is comparable to its photo results. The resolution chart in 4K video mode was reproduced with 1,836 of 2,160 lines per picture height, which is very good. The overshot effects (caused by additional sharpening by the image processor) are very low, which is excellent.
The camera produced very high dynamic range results in our tests. The videos taken with the A7S II showed up to 11.5 f/stops in video mode, which is absolutely great for a small and compact mirrorless camera with a video recording function. The noise results are on the same level as the results in photo mode. Noise gets visible in videos recorded at ISO 25,600, but recordings at lower ISO settings are very clean.
The color reproduction is very good. The camera showed a shift of the brighter gray test pattern into the yellowish direction. Skin tones are reproduced very naturally. Surprisingly, the red nuances aren't as exaggerated as in photo mode.
Scorecard
Pros
› High sensitivity imaging chip offers up to ISO 409,600
› Excellent results in dynamic range and noise tests
› Bright and brilliant viewfinder (OLED, 2.36 million RGB dots)
› Many excellent features adopted from Sony A7R II
› Five-axis image stabilizer
› Excellent video capabilities with 4K recording
› Wi-Fi (including NFC module)
Cons
› LCD can only be rotated up- and downward
› 12MP will be insufficient for many photographers (architecture, landscape, and more)
› Small rechargeable battery with low capacity; camera needed additional/second battery in a lot of shooting sessions during the test (battery capacity 310 images/55 minutes video recording)
The Sony A7S II has a list price of $3,000 (body only). For more information, visit sony.com.

FEATURED VIDEO