Sony's Cyber-shot DSC-R1; 10-Megapixel Digicam First With APS-C Sensor—Is This A Trend? Page 2
A combination of 10-megapixel resolution plus a high-grade lens produces JPEGs with great sharpness across the frame; for the absolutely best corner sharpness, use the 35-120mm zoom range and apertures from f/5.6-11. The camera's default sharpening level is a tad low. Some DSC-R1 owners may be tempted to set a High level, but that would be a mistake. Much better results are possible by setting in camera sharpening to Low to avoid sharpening JPEG artifacts or any digital noise. Later, experiment with Unsharp Mask settings such as 350/0.4/2 in Adobe software for remarkably crisp details.
Evaluation:
The high ISO and dynamic range issues are discussed in the Technology sidebar, but in resolution, the DSC-R1 beats the 8-megapixel digital SLRs by a small margin. My best (low ISO) Fine JPEGs made for very good 13x19" prints at 240dpi, after some optimizing and sharpening in Photoshop. When I started with images made in raw capture, the tabloid-size prints exhibit slightly higher definition of the most intricate detail. Those prints received a "technically excellent" rating from several photographers who examined the framed photos.
The Benefits Of Sophisticated Sensor Technology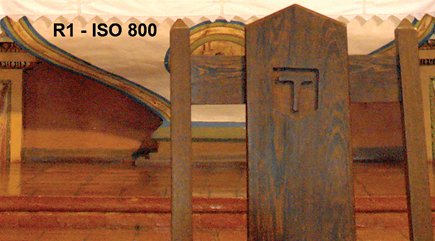 In order to test the digital noise effects produced by the camera--without long exposure Noise Reduction--I took photos inside this dark mission chapel at all ISO levels from 400-3200. As the small sections of each image should indicate, the digital noise pattern is remarkably smooth at ISO 400, noticeable (but tight and fine) at ISO 800, coarse and colorful at ISO 1600 (but acceptable in 8x10" prints), and objectionable at ISO 3200. Some digital SLRs (such as the EOS Digital Rebel XT) generate superior images at very high ISOs, but the Sony DSC-R1 is a fine performer among cameras with built-in lenses. (All photos made at f/2.8 at a shutter speed of 1/30 sec or faster; Manfrotto tripod; images lightened with Levels in Photoshop for greater visibility of the noise pattern.)
The Benefits Of Sophisticated Sensor Technology
The most significant aspect of the Sony Cyber-shot DSC-R1 is the new oversized sensor with the largest photosites of any camera with built-in lens. This is also the first Sony CMOS chip to be used in any digicam. Presumably, we'll see it in other cameras, too, perhaps in several brands, since Sony is a major sensor supplier to the industry. That would be good news in my estimation, because of the greater light sensitivity provided by the oversized photosites.

While the sensor should produce clean images in many situations, Sony has included three distinct Noise Reduction (NR) systems. A new Clear Color NR feature amplifies the signal at each pixel for improved signal-to-noise ratio with very low power consumption. At high ISO settings, additional NR processing is automatically activated. Finally, during 1/25 sec and longer exposures, a long shutter speed NR system kicks in; an NR symbol then appears in the LCD monitor. No user selectable control is available for any of these noise suppression systems.
Noise Control Evaluation: While reviewing my high ISO images--made without long shutter speed NR--I reached the following conclusions: The ISO 400 images are particularly clean, significantly better than the DSC-F828 images; with the right sharpening techniques, they made for excellent 8.5x11" prints and very good 11x17" glossies. By ISO 800, the digital noise pattern is more obvious, but the images still make for highly acceptable 8x10" prints. By comparison, images from the DSC-F828 are useable only for 4x6" prints. At these ISO levels, the DSC-R1 is the best of the dozen high-resolution prosumer cameras that I have tested. (Few similar models offer ISO options above 400 or 800.)

At higher ISO levels, noise becomes more problematic. My ISO 1600 images exhibit obvious noise and are quite soft, perhaps due to overprocessing, but 5x7" prints look fine. By ISO 3200, mottled, blotchy color specks (chroma noise) obliterate fine detail in shadow areas. Frankly, I would use ISO 3200 only if there were no other way to take sharp photos in low light where a tripod was prohibited. Aside from that issue, the overall performance is very respectable, making the DSC-R1 a fine choice for some high ISO shooting.
Additional Noise Suppression: Long shutter speed NR is also available but it's not ideal. This system makes for smoother images, but in my opinion, processing is excessive. The ISO 800-3200 images especially appear soft due to blurring, with flattened detail, for an overall "plasticky" effect. These aspects are most visible in low contrast scenes and cannot be fully corrected with sharpening in Photoshop. Unless you appreciate the unduly smooth effect, avoid shooting at 1/25 sec or longer shutter speeds. Note, too, that converter software (including the Sony program) does not provide any method for moderating the camera's noise suppression processing when working with raw files.

Dynamic Range: As mentioned in the introduction, the large photosites should allow the DSC-R1 to generate images with maximum detail in both highlight and shadow areas. In order to confirm that benefit, scientific testing would be required. During informal testing under harsh lighting, the camera produced images with some loss of highlight detail but often held shadow detail very well. In dark locations, the camera did a fine job of maintaining shadow detail in images that were correctly exposed. Overall, dynamic range seemed to be slightly wider than with the DSC-F828 with its smaller sensor and tiny photosites.
Wide Dynamic Range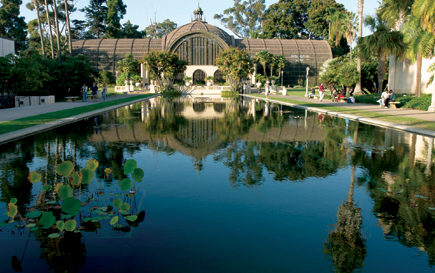 The new CMOS sensor's wide dynamic range should allow the DSC-R1 to record detail in both highlight and shadow areas in some contrasty scenes, even without the use of the new Advanced Gradation Control System. The latter may be useful in theory but frankly, its effect is not visible in the vast majority of images. (Multi-Pattern metering; Adobe RGB color space; ISO 160; f/8 at 1/100 sec; Hoya SHMC polarizer.)
It's also worth noting that the DSC-R1 includes an unusual feature called Advanced Gradation Control System (AGCS). This is a remarkably sophisticated utility that adjusts tonal range to optimize contrast "to avoid crushed shadow detail and clipped highlights." Problem is, AGCS produced only a subtle difference that was not visible in the vast majority of my images.

Final Assessment: At low ISO settings, the DSC-R1 does not offer a major digital noise benefit over the DSC-F828, although ISO 200 images are a bit "cleaner" when viewed at 100 percent magnification. By ISO 400, the DSC-R1 produces obviously better quality without the coarse, mottled "grain" pattern visible in DSC-F828 images. At this level, the DSC-R1 is competitive with some digital SLRs. Even at ISO 800, performance is excellent for a high-resolution digicam.

So, what's the bottom line? Does this 10-megapixel digicam, with extra large CMOS sensor and oversized pixels, offer major benefits over an 8-megapixel camera with a smaller CCD chip? The answer is a qualified, yes.

In terms of resolution, there's not a huge benefit in 10 vs. 8 million pixels, so the difference is not obvious in prints until the 13x19" size, where the DSC-R1 wins hands down. Granted, the higher image quality can also be attributed to the superior 24-120mm (equivalent) lens. In the 28-120mm range for example, the newer zoom provides better edge sharpness than the 28-200mm zoom in the DSC-F828. As a bonus, it's not plagued by the purple fringing (chromatic aberration) typical with the longer zoom.

In the dynamic range, the difference is not obvious. While shadow detail is better in extremely contrasty scenes, highlight detail is about the same. During testing, I was unable to confirm Sony's claim of "2.5 times the dynamic range" touted in a press release. But the DSC-R1 certainly outperforms the DSC-F828 in terms of digital noise control, a very meaningful benefit at every ISO over 200. (Granted, the new Clear Color NR system may be partially responsible for the improvement.) The new sensor really proves its value here. It deserves an "excellent" rating vs. the "acceptable" grade earned by the older, smaller sensor, making the DSC-R1 far more suitable for high ISO photography.
Technical Specifications
Sensor: 21.5x14.4mm CMOS sensor; 10.3 megapixels effective
Lens: 24-120mm (equivalent) f/2.8-4.8; 12 elements including four aspherical
Shutter: Electronic; speeds from 30 seconds to 1/2000 sec plus Bulb
Capture Formats: Numerous JPEG options plus raw (SR2 format) capture
Focusing: Manual and autofocus; five-point sensor, automatic or user-selectable focus points; autofocus assist lamp; Single Shot and Continuous focus; Manual focus (focus by wire); Macro focus to 13.7"
ISO Equivalent: ISO 160-3200
Exposure Control: Center-Weighted, Multi-Pattern, and Spot meter; exposure compensation and bracketing; AE Lock; highlight detail warning available
Operating Modes: Aperture- and Shutter-Priority AE, metered Manual, Program, plus four Scene Program modes
Color Modes: Standard sRGB, Vivid sRGB, Adobe RGB; Black and White and Sepia
Connectivity: USB 2.0; video output
Power: One rechargeable InfoLithium NP-FM50 battery or supplied adapter/charger
Dimensions/Weight: 5.5x6.6x3.8"; 2.3 lbs
Street Price: $999

FEATURED VIDEO