Sony's Alpha A700; A Remarkably Fast 12-Megapixel D-SLR Page 3
Particularly in Extra Fine JPEG or raw capture, image quality is outstanding at ISO 100-400, suitable for making gallery-quality 13x19" inkjet prints. Photos made without overrides exhibit rich colors, snappy contrast, high sharpness, and remarkable smoothness. Most of my friends considered the results to be "perfect" while a couple would have preferred just a hint of a "grain" for a more film-like effect. Switching to Raw Capture mode produced nearly identical quality but the Sony Image Data Converter SR 2 software provided a wide range of correction possibilities (without degrading the image), including control over the NR level.

Auto White Balance (AWB) was very effective outdoors while multi-pattern metering was often accurate, although some light-toned scenes required a +2/3 compensation level. The Dynamic Range Optimizer was useful for increasing shadow detail, but produced the most natural-looking effect when used at moderate intensity. (When in doubt as to the optimal level, try DRO Bracketing.) In images made at higher ISO levels, digital noise is very well controlled. Color saturation and edge sharpness remain high even at ISO 3200; the images were suitable for decent 8x10" glossies. (ISO 6400 is mostly for emergency use and for 4x6" prints.) A stronger or weaker level of NR can be set in camera at ISO 1600 and above. That allows for an even smoother effect (but with more smudging of fine details) or for a more "grainy" look (with better definition).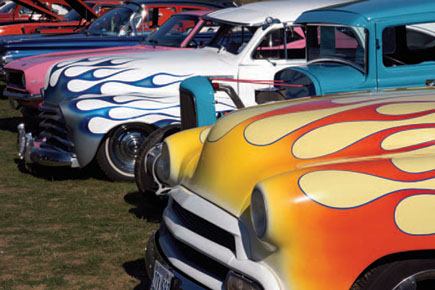 The new Extra Fine Capture mode minimizes JPEG compression in order to provide the very "cleanest" images possible, without any noticeable JPEG artifacts. While raw capture offers a significant benefit (great "correctability" in the Converter software), actual image quality is just as high in Extra Fine JPEGs, a benefit for photographers who do not want to spend extra time at a computer. (Image made at ISO 100; f/13; +2/3 exposure compensation; Hoya Pro 1 circular polarizer.)
Final Assessment
The original A100 remains a very fine 10-megapixel entry-level D-SLR but the new enthusiast-level 12-megapixel model is even more desirable because of more effective technology, much greater speed, more rugged construction, and a richer feature set. It should be a strong contender in the mid-range category in spite of fierce competition from other recent 10- and 12-megapixel models. While the A700 does not include a Live View mode, it's a powerful camera, part of an extensive Sony system that should satisfy even the semiprofessional photographer. Whether you already own Dynax lenses or are considering a multi-talented, high-resolution D-SLR, be sure to ask for a demo of the A700 while comparison shopping for your next camera.

For more information, contact Sony Electronics, 16530 Via Esprillo, Ste. MZ 7104, San Diego, CA 92127; (877) 865-7669; www.sonystyle.com.
As a semiprofessional camera, the A700 is loaded with advanced capabilities for serious photography, including features such as a PC cord socket (for studio flash) and a full range of options for TTL flash (with a dedicated flash unit). (Image made with studio flash, at f/5.6 at 1/60 sec; ISO 200.
Technical Specifications
Image Sensor "Magnification": 1.5x field of view crop
Sensitivity: ISO 100-6400
Viewfinder: 95 percent field of view, 0.9x magnification; interchangeable screen; -3 to +1 diopter correction; 25mm eye relief
Shutter Speeds: 30 seconds to 1/8000 sec plus Bulb; top flash sync speed 1/250 sec or 1/200 sec when stabilizer is on
Exposure Metering: Center-weighted, spot, and 40-segment (evaluative) metering; exposure and flash exposure compensation, AE Lock and AE Bracketing for ambient light and/or flash
Image Adjustments: 13 Style modes; Adobe or sRGB color space; contrast, saturation, sharpness, and brightness parameter adjustments; High ISO and Long Exposure NR level selectable; Standard and Advanced DRO with selectable levels plus DRO Bracketing
Flash: Built-in, with pre-flash TTL; ADI metering with D or DT lenses; numerous Flash modes; PC cord socket; wireless off-camera TTL flash and high-speed sync available with certain flash units
Power: One NP-FM500H rechargeable InfoLithium battery (1650 mAh); optional AC adapter and vertical battery grip VG-C70AM
Dimensions/Weight: 5.6x4.25x3.25"; 1.5 lbs
Street Price: $1399

A long-time "Shutterbug" contributor, stock photographer Peter K. Burian (www.peterkburian.com) is the author of several books, including "Mastering Digital Photography and Imaging" and the "Magic Lantern Guide to the Sony A700" (to be published in 2008). He is also a digital photography course instructor with BetterPhoto.com.

FEATURED VIDEO