Software From Around The World; Image-Processing Options
"A photograph is a secret inside a secret. The more you see, the less you know."
—Rian Johnson from The Brothers Bloom
As digital imagers in a worldwide economy we have lots of image-processing options available, not only from this country but also from software designers located all around the world. This month I'll show you some of the latest examples of imaging software that gives you lots of options, whether you want to process Raw files, tweak images, or add special effects to your photographs.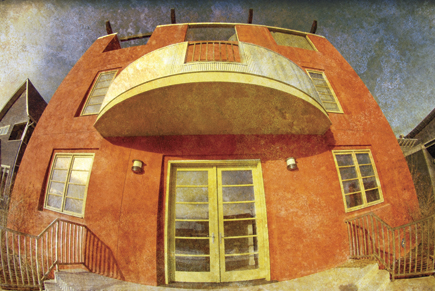 © 2009, Joe Farace, All Rights Reserved

Italian Plug-Ins For Photoshop, Elements, And Aperture
DataMind's (http://products.datamind.biz) Jade is a deceptively simple yet amazingly useful plug-in for Adobe's Photoshop/Photoshop Elements and Apple's Aperture; Jade is also available as a stand-alone application. You can even configure Apple's iPhoto to use Jade to edit your photos. All you have to do is open the iPhoto>Preferences menu and set Jade as an external editor. Then you can select the photos you want to edit and click the Edit button and Jade will start with the selected photos in the gallery. Jade uses state-of-the-art algorithms that preserve overall quality while allowing you to enhance color, contrast, or dynamic range. Then, if you'd like, you can adjust output by fine-tuning parameters such as intensity and color correction.

Beryl is a single purpose plug-in for Photoshop/Photoshop Elements that's one of the easiest tools to use for removing redeye I've tried. Beryl lets you make the process automatic or you can do it manually: just select the removal level you want or need and boom, it's done. The Beryl and Jade plug-ins are available for both Mac OS and Windows versions and sell for 49.99 euros each or about $72 each as I write this, which might be a productivity bargain if you need to do lots of redeye retouching on event photographs. The Jade stand-alone application sells for 29.99 euros (about $43).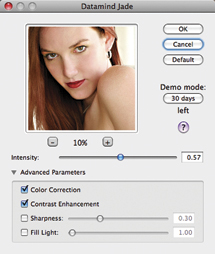 Photos © 2010, Joe Farace, All Rights Reserved

Silky Raw Conversion
Shortcut Software International Inc. (www.shortcutinc.com) is a U.S.A.-based company that offers imaging software, such as the PRO version of SILKYPIX Raw conversion software which was developed in Japan. The PRO version offers a professional color management engine, including ICC profiles alongside comprehensive processing functions such as white balancing, contrast, sharpness, saturation, lens correction, image perspective and cropping, as well as outputting. Adobe's extended RGB color space is supported as are 200 different cameras and Shortcut tells me newly introduced cameras are being added rapidly. The interface has a large preview window with space for thumbnails and is relatively easy to use. Anybody who's serious about Raw capture will find the product makes it easy to get the maximum image quality from their Raw files. SILKYPIX PRO is a stand-alone application that's currently available for Windows and a Mac OS version is promised "really soon now." SILKYPIX PRO costs $249.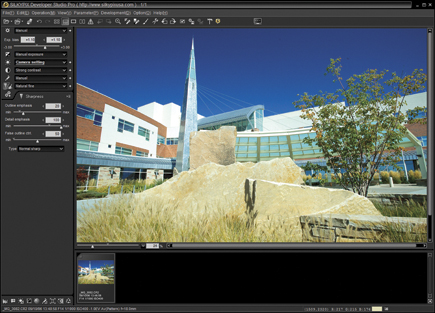 © 2010, Joe Farace, All Rights Reserved

Melancholytron
Over the years the Nova Scotia-based genius of Lloyd Burchill at Flaming Pear Software (www.flamingpear.com) has produced many interesting Photoshop-compatible plug-ins and the latest version of the oddly named but imminently useful Melancholytron is one of his best. Burchill describes it as a plug-in that "makes pictures moody, nostalgic, and somehow sad," but there's more to it than that. On the surface it's vignetting software that lets you subdue hue and focus, directing the viewer to the photograph's main subject. Its interface provides instant feedback and offers lots of controls that let you add other kinds of effects to the image. The newest version is recordable and works with 16-bit color in Photoshop. Melancholytron costs $29; while you're visiting Flaming Pear Software's website, make sure to purchase a copy of the fun and useful Flood ($29), too.
© 2009, Joe Farace, All Rights Reserved

Comparing Images
Is your hard drive full of too many copies of the same image? While that almost sounds like an infomercial, Bolide Software's (www.imagecomparer.com) Windows-only Image Comparer 3.7 is a useful software tool for photographers, designers, and web designers who have lots of images to manage. From Russia with Love's Image Comparer lets you find any number of duplicates stored on your hard drive and will display information about the disk space that can be saved by deleting all of those duplicates. All of the clones can be removed with one click and you can select images to be deleted, moved to another location, or copied elsewhere. The entire process is automatic; all you have to do is specify the location of images and set the level of similarity. The program supports many different image file formats, including Raw, JPEG, J2K, BMP, GIF, PNG, TIFF, and TGA. Image Comparer runs on Windows 98/Me/2000/XP/Vista/7 computers and costs $34.95. A free 30-day trial version is available so you can try it with your own image file collection.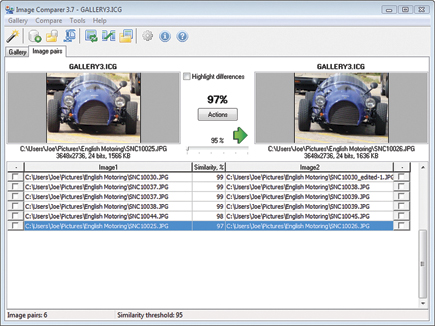 LATEST VIDEO

SPONSORED VIDEO
Testing Tamron's SP 150-60mm G2 lens while capturing birds and alligators in Apalachicola, Florida.