Software From Around The World; Image-Processing Options Page 2
I Can See Clearly Now…
Canada's Athentech Imaging (www.athentech.com) offers a Windows version (a Mac OS version is expected "really soon now") of a Photoshop plug-in that uses its patented Perfectly Clear image correction technology. The Perfectly Clear plug-in automatically produces one-click corrections—simply load the plug-in and the selected photos will be corrected. Athentech Imaging tells me that Perfectly Clear doesn't enhance photos, it corrects them using algorithms that treat each separate pixel as if it was captured by its own camera so every point in an image is optimized for exposure, color accuracy, depth of field, tint, sharpness, noise, and redeye. The software works on both 8- and 16-bit images and displays "before and after" versions of the photos being processed so you can decide to fine-tune any of the automatic corrections using controls for exposure, color accuracy, or sharpness. This means adjusting exposure won't affect vibrancy or adjusting sharpness won't affect color. You can also select presets that automatically apply or create your own customized settings. A 30-day trial version can be downloaded from Athentech Imaging's website to try it yourself.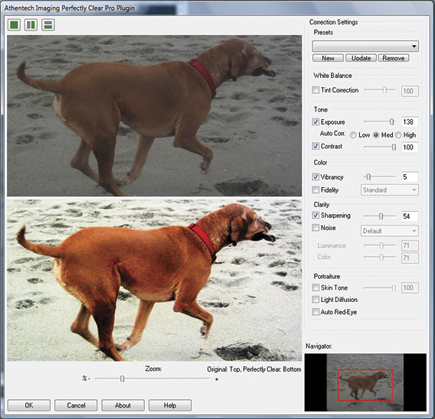 Courtesy of Athentech Imaging, All Rights Reserved

Totally Rad! Plug-In
Dirty Pictures from Totally Rad! (www.GetTotallyRad.com) is a Photoshop-compatible plug-in for applying custom texture overlays that blend seamlessly into your images to add a bit of character and depth. The super clever and easy-to-use interface lets you find the perfect texture for your photo, adds that texture to your image as a separate layer, and automatically sets up layer masks that let you control the effect by painting or erasing part of the layer. You can save favorite settings for each texture, preview texture choices, and tag your favorite textures for access later. Dirty Pictures includes 21 custom-designed, high-resolution texture overlays but also works with your own texture library. It's available for Mac OS and Windows and costs $149. You won't find a better, easier way to add textures to your photographs.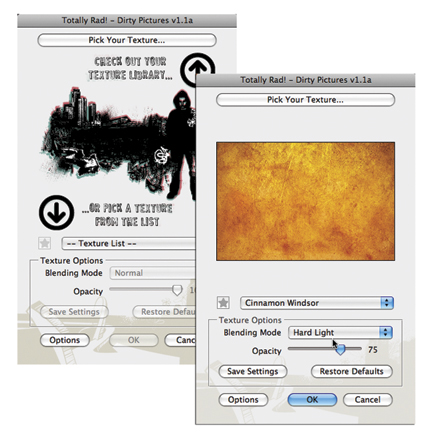 Greek Magnifying Glass Action
From Greece's PanosF/X (www.panosfx.com) we find a set of actions for Photoshop/Photoshop Elements that produces magnifying glass effects, even allowing you to choose from three different handle styles. The free version only includes the plain vanilla handle while the commercial version that costs 9.90 euros, or less than $15 as I write this, lets you also use Modern or Victorian handles. In addition, the commercial version allows you to create a flat or a bent photo effect and you can move the lens (it's on a separate layer) around and see changes underneath it in real time! You can even customize the degree of magnification and distortion and choose from a number of different backgrounds.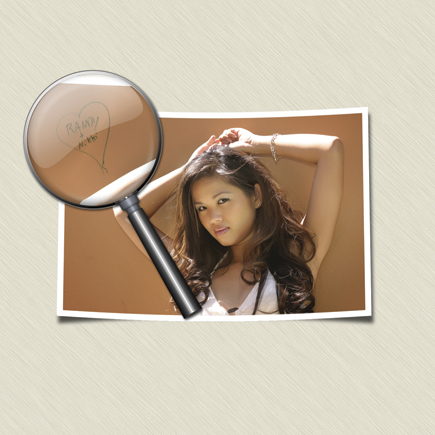 © 2009, Joe Farace, All Rights Reserved


LATEST VIDEO