Sigma DP3 Merrill Camera Review
The Sigma DP3 Merrill is the latest Sigma camera with the new Foveon sensor. With this sensor, the camera can capture complete RGB information for every single pixel and doesn't need to interpolate colors like all other digital cameras with Bayer pattern sensors. The APS-C sized sensor offers a resolution of 14.7MP, referred to by Sigma as equivalent to 45MP resolution of a standard sensor ((4704 x 3136 pixel x 3 RGB data per pixel).
In comparison to other DP cameras, the DP3 Merrill shows some differences in the lens system. The DP3 Merrill offers a 50mm lens (75mm--35mm film equivalent) while the DP1 and DP2 series offer wide angle lenses.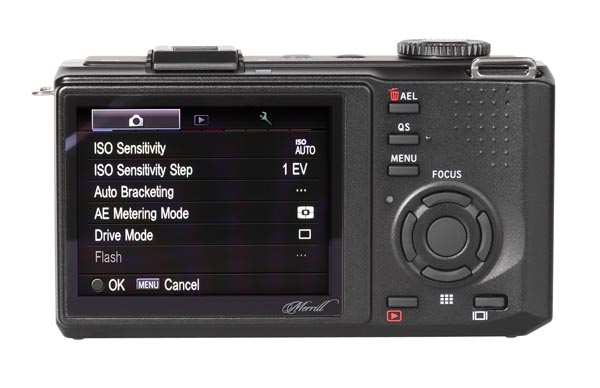 A mode dial on the top of the camera is missing. Instead of this thecamera offers a large dial on the top which is used for parameter setup andmenu navigation. This is very handy, because the dial is adjacent to the shutter release button. The cursor field doesn't show labeling for the right and left direction buttons because it is context sensitive and toggles through various functions depending on the menu item selected. This is a very elegant but is also a bit unusual. The QS button allows the user to change image parameters very quickly without the need to work through the complete menu.
The new Sigma doesn't use an optical viewfinder. It offers a large, 3" LCD screen with high resolution (920,000 RGB dots) instead. This very high quality monitor offers crisp reproduction of the setup menu and recorded images, but has some viewing problems under bright light. Sigma offers an additional optical viewfinder (Sigma VF-21) as an option. The quality of the viewfinder is a bit dull and only offers 85 percent coverage, but it helps in many brightly lit situations.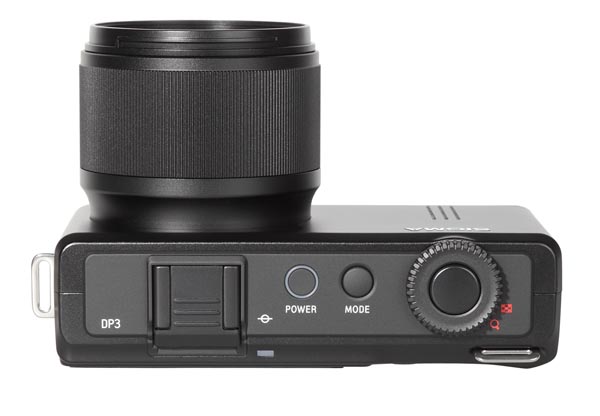 Just like all DP cameras, the DP3 Merrill suffers a bit in operationbecause of the very large files it creates in Raw mode. It creates up to 50 MB Raw files because it saves the data of all the RGB information for every pixel, while standard cameras save only one color information per pixel. Even with a fast SD card (SanDisk Class 10 16GB) the Sigma needs up to 15 seconds of processing time per Raw file, while the Fujifilm X100s we recently tested, for example, creates 32-36MB Raw files and needs only 5.5 seconds to process them.
The autofocus system of the Sigma DP3 Merrill is faster than its forerunners, but compared to other high-end compact cameras or CSC systems is still a bit slow and, in darker shooting conditions, is sometimes a little inconsistent.
With 640 x 480 pixels, the camera offers a video mode which certainly isn't state of the art. An HDMI port for high resolution image and video presentation is missing as well. The camera has only a USB interface and ananalog PAL/NTSC TV interface.
Comments on Image Quality
Color: The automatic white balance system causes a shift of darker gray areas into the direction of blue colors and yellow and yellowish/greenish nuances in the brightest gray areas. Brighter skin tones show a shift into the yellow and green direction, which causes a somewhat "unhealthy" look. Colors are much better when shooting in Raw mode and that are processed with Sigma's Photo Pro software where white balance can be adjusted.
Sharpness: The sharpness results are extremely good. The camera offers very crisp and clean images with a maximum of 3030 lines per pictureheight. This is nearly the nominal resolution of the sensor (3136 lines perpicture height) and achieved with an unobtrusive sharpness filtering. The crisp and clear look is also noticeable in our portrait shot. The hair structure is clearly differentiated. There are absolutely no problems with aliasing effects or color moirés.
Noise: The noise level is acceptable in lower ISO speed settings, but increases extremely quickly as ISO is raised. The luminance noise y-factor crosses the 1.0-percent frontier at ISO 400. The color noise is very high in ISO 1600 to ISO 3200 shots and the image literally falls apart when shooting at ISO 6400. The test result of this ISO 6400 image is distorted by the combination of this extreme color noise and the anti-noise filtering. The luminance noise factor is extremely high: 12.29 percent (!).
When shooting in ISO 6400 mode the single gray patterns of our Stouffer 4110 noise and dynamic range test chart can't be differentiated. This is also the reason for the extremely low dynamic range result of 4.3 f-stops at ISO6400, while the camera gained a maximum of 12.1 f-stops at ISO 200.
Pro:
+ high resolution results
+ crisp and clear image results without moirés due to the special Foveon image sensor
+ massive body, high quality finish
Contra:
- missingoptical view finder
- very slow Raw mode processing
- very high noise in higher ISO speeds
Contact: www.sigmaphoto.com
Price: $999 on Sigma web site
Lab and test comments by our TIPA-affiliated testing lab, Betternet.Edited by George Schaub.
To view our lab test and comments on the Sigma DP2 Merrill click here: http://www.shutterbug.com/content/sigma-dp2-merrill-lab-test-results-amp-comments

LATEST VIDEO