Sigma APO 150-500mm f/5-6.3 DG OS HSM Lens; A Long Range Zoom with Image Stabilization Page 2
I was most curious about my ability to handhold such a long lens, especially at the longer ranges, and if OS would make a big difference in super tele use. Sigma claims a 4-stop advantage. In my usual use of OS on a more modest focal length lens I would work at lower ISO settings in dim light to maintain image quality, or squeeze out shots at 1/15 sec that would otherwise get quite shaky. But the shutter speed range has to be raised with such a long lens, and my usual safety net (non-OS) shutter speed with a lens like this would be 1/1000 sec, and even then I would try to get faster shutter speeds (which would often force me to raise ISO.)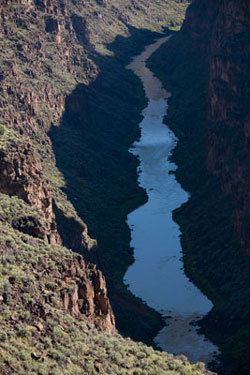 Rim Trail: The West Rim Trail of the Rio Grande Gorge outside Taos, NM is a perfect spot to work with this lens. Exposure on the 150mm and 500mm are the same, with OS Mode 1, 1/250 sec at f/16 at ISO 200 on a Canon 5D.
It's not only the weight of this lens that makes handholding tough; it's also that the center of balance is much further forward, which makes handholding awkward.
So, my desired range for handholding this lens with OS on should be in the 1/125 range, which theoretically should put me in the 1/1000 to 1/2000 sec equivalent. So I set the camera to TV mode and the shutter speed to 1/125 and shot away, first with and then without OS Mode 1 on. I also shot on a solid tripod with OS off. As I suspected the percentage of keepers with OS on (and tripod-mounted) was much higher than without, where only a small number of non-OS handhold shots passed the magnification test. I suspect those keepers were dumb luck.
The point is that your expectation that OS or similar allows you to shoot in low light at speeds such as 1/15 sec is not what happens with this lens. And given that maximum aperture even at 150mm is f/5.6 (a faster lens would of course be quite huge and much more expensive) you still might have to raise the ISO to get a 1/125 sec shutter speed for handheld shooting in dim light. But it sure beats the alternative, which is shooting this lens handheld without OS, which I think makes no sense.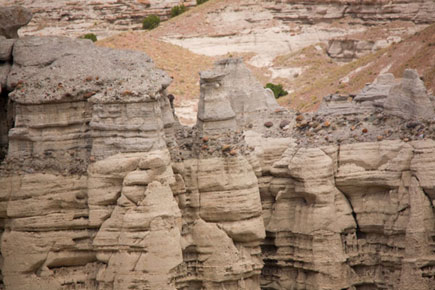 The Long and the Short of It; Well, there's no question that focal length can totally alter your point of view. Here's a scene shot with the 5D and the Sigma 150-500mm at 350mm and a Canon 16-35mm zoom at 16mm.
To use OS you click a switch to choose the Mode and then slightly depress the shutter release to get it to start working. You wait a bit to have the image "settle" in the frame then follow through on release. It all takes a very small amount of time, but it is certainly not instantaneous. In other words, the OS works by your visually confirming that it has "held" the image for you. The payoff in handheld shots is evident.
One curious matter: the lens is listed as having a maximum aperture of f/22. But on both the 5D and D30 I got readings of f/29 at minimum aperture on both the camera LED and the EXIF data in Canon's Digital Photo Professional software.
I must admit that my first day of shooting with the lens was a bit rough, but more in terms of wrangling it than anything else. After a short time I came to enjoy and appreciate the incredible range of options it offered, particularly in the open skies and vistas of the West. I came to always use OS when shooting handheld, and always used the rotating lens collar feature when working on a tripod. My only concern is the way the lens vignettes at wider apertures on the full-frame sensor, and this would give me pause if I only worked with this format. I did not have a Nikon or other mount to see if this occurred with other makes. I would not hesitate to use this on APS-C sensor cameras. At around $1000 street price the lens adds much to any serious travel kit; I can also see where the zoom range would be most helpful to those doing sports, event and even wildlife photography.
Specifications
Sigma 150-500mm f/5.6-6.3 APO DG OS
Construction: 21 Elements, 15 Groups
Minimum focusing distance: 86.6 inches
Filter size: 86mm
Supplied: Tripod mount collar; lens hood, strap, cloth padded case
Weight: 67.4 oz
Size: (150mm focal length) 3.7 x 9.9 inches
Mounts: Sigma, Canon, Nikon (non-OS) Sony, Pentax
Price: About $1000 street price

LATEST VIDEO