Sigma's 18-250mm f/3.5-6.3 DC OS HSM Lens; The Whole Nine Yards
There is an underlying desire in every travel or street photographer to be able to carry one lens to cover all contingencies. The dream is to be able to capture every situation, candid or posed, without having to swap lenses in the middle of the shoot. In general, you'd expect to bring along two lenses to accomplish what this one lens offers—one to capture the wide to normal view and one to bring in the medium to distant shot. But having all this in one lens is something we all would like, especially if, being realistic, we have to make only a few compromises in speed and image quality.
The new Sigma 18-250mm lens ($800 MSRP) holds out the promise of just such a combination, albeit with the loss of speed at the tele end. Weighing in at 22.2 oz and 3.1x4" in size (compact) and about 7" extended, the lens surely passes the portability test. Mounted on a Canon EOS 30D, the effective focal length is 28.8 (call it 29) x 400mm, a 13x zoom ratio. The lens is also available for Nikon, Pentax, Sony, and of course Sigma D-SLRs. You can multiply by your particular factor to find your effective focal length. Being of DC breed it is only to be used on APS-C-sensor cameras.
Street Portraits

I arrived in Taos just in time for the so-called "Hippy Dippy" Parade in the town's "Summer of Love" celebration—just my luck. But I was very happy to have the Sigma along for the day as I could make some fun street portraits of the participants and get a wide shot (35mm equivalent) as well as get close in (120mm equivalent) without having to intrude on the subject's personal space.
All Photos © 2009, George Schaub, All Rights Reserved
Two other designations are of note: HSM (which means motor in lens so you can use it on just about any D-SLR, including amateur models) and OS (which means Optical Stabilization, a way of compensating for that fairly slow maximum aperture at the tele end).
Wide View
The incredible range of coverage of the Sigma (about 30-400mm on the Canon EOS 30D I used to test it) means you never have to cross the street again. Standing in the same spot I got this overall shot of the abode wall and obligatory poppies, and then a close-up of the clump of flowers center frame. I don't recommend doing florals in this fashion but it is an impressive range nonetheless.
At the 18mm setting the max aperture is f/3.5, quite good in such a lens; it goes to f/4 as soon as you leave that base focal length, f/4.5 at the 35mm setting, f/5 at the 50mm setting, f/5.6 at the 80mm setting, and finally to f/6.3 at the 135mm setting and higher. Why is this important to know? If you are working in marginal light in, say, Aperture-Priority mode and are zooming in, you can lose a stop when going from the widest setting to the 50mm range and a bit less than a stop when going from there to the longest focal-length setting. That's almost two stops of light from full wide to max tele, which can bring you from steady to unsteady shutter speeds without being aware of it in the heat of the shoot.
Street Scene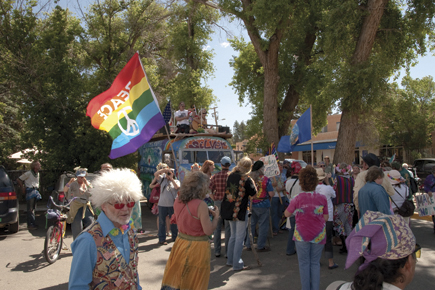 The wide to tele range means you can capture the overall scene and specific parts of the scene quickly. The Sigma does get you a bit "zoom happy," but that's just what you might want when traveling and/or doing street photography.

FEATURED VIDEO