Shutterbug Photo of the Month Contest Prize Winners Announced!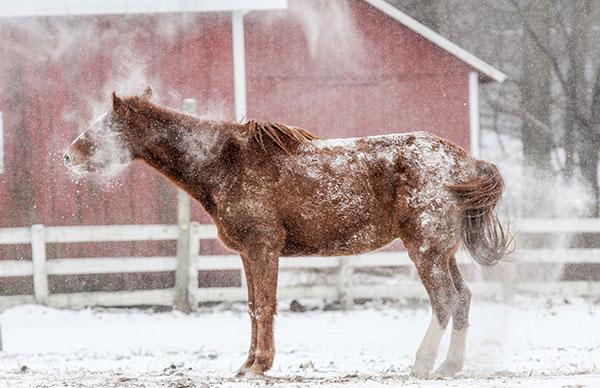 Shuttterbug is proud to announce the two prizewinners of the April 2015 Photo of the Month contest. The Grand Prize winner, selected by Shutterbug's editors, was Lynne A Kasey for the beautiful, wintery image at the top of the story, titled "Shake It Off."
Kasey will receive a fabulous Canon PIXMA Pro-1 professional photo printer ($1,000 value) as the Grand Prize.
"Cingin had decided to take a roll in the snow at the beginning of a blizzard," Kasey writes about her winning image. "I shot a series of five images starting with him as he began to stand up. This was the third shot. Love the action of the snow flying off of his face. Miss this guy."
Kasey captured the photo with a Canon EOS 7D at 1/500 sec, f/5.6, ISO 160, 200mm. You can see a larger version of Kasey's prize-winning image in the Shutterbug Photo of the Day gallery here.
The winner of the People's Choice award for the photo with the most five-star votes was Douglas Croft for the gorgeous shot below, which is titled "Sunset on the Pacific." Croft will receive a $500 Gift Certificate from LensRentals.com for being the People's Choice winner.
"Pigeon Point lighthouse, just south of San Francisco is bathed in a golden winter sunset," Croft writes about his image. He shot it with a Nikon D7000 DSLR and Nikkor 18-300mm lens at ISO 200, f/16, 1/15 second.
See a larger version of the photo in the Shutterbug Photo of the Day gallery here.
Thanks to everyone who entered the contest! Keep posting images in our Shutterbug Photo of the Day gallery and we will feature our favorites on our homepage.
Special thanks to Canon USA and LensRentals.com for the great prizes! We plan to launch another Photo of the Month contest soon, so stay tuned.

LATEST VIDEO