Shutterbug Photo of the Day: "God's Fire" by Tom Carroll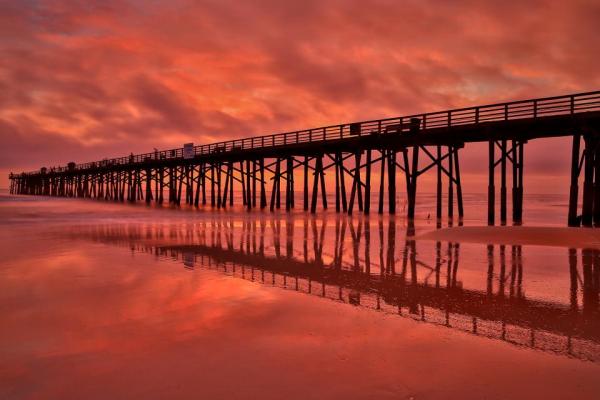 Our Shutterbug Photo of the Day by Tom Carroll offers the viewer a beautiful vision in scarlet. The black geometric shape of the pier is a stark counterpoint to the red tinted sky above and water below.
"On December 31, 2015, sunrise occurred at 7:18 AM over the Flagler Beach fishing pier on the coast of northeast Florida. I took a series of 48 images of the pier between 6:33 AM and 8:02 AM. Of those, 12 images were taken between 6:53 AM and 7:17 AM," Carroll writes.
"The two images taken at 6:53 AM and at 7:17 AM had a typical blue cast. Beginning at 6:53 AM, the entire scene began to develop the pink glow manifest in the image. The bright pink/orange cast of the scene lasted only about 3 to 5 minutes. The whole show was over by 7:17 AM when the scene returned to the more typical blue cast. I have seen this rare atmospheric phenomenon only a few times, most recently at sunrise over Price Lake along the Blue Ridge Parkway. I suggest that during these rare atmospheric conditions, the sunlight before sunrise shoots directly up to the cloud deck above the scene, interacts with various cloud and fog layers, and is reflected down to the earth. The bright pink or red cast in these rare situations is due to the lengthy trajectory of the sun's rays through the cool (and consequently more dense) morning, suspended atmospheric particulates. The image was taken at 7:02 AM—16 minutes before sunrise."
This image was captured with a Canon 5D Mark III and 24-105mm f/4 L IS USM lens at ISO 100, 2.5 sec, f/18, 24mm, B&W polarizer, Feisol CT-3372 tripod.
See a larger version of the photo in the Shutterbug Photo of the Day gallery here.
If you want to enter Shutterbug Photo of the Day, post an image in the Shutterbug Photo of the Day Gallery and include your real name and some background on the image (how and where it was shot; the story behind the image; gear and settings used etc.) in the description field to qualify.
We will select one Shutterbug Photo of the Day image every month to run as a full-page feature in the magazine.

FEATURED VIDEO