Shutterbug's Exclusive photokina Coverage; Memory Cards: Increases In Speed And Capacity
Because of the increasing resolution and burst speed of some new cameras, the capacity and speed of memory cards continues to increase. While a super-fast card cannot boost a camera's maximum framing rate, the extra card speed can provide greater burst depth (more frames in a long series) and shorter data recording times. A high-speed card is also ideal after a long trip, when you're transferring hundreds of images to a computer using a very fast card reader. Card capacity is increasing, too, and that aspect should appeal to some photographers with ultrahigh-resolution D-SLRs and particularly to owners of High-Definition (HD) camcorders.
New SDHC Cards
Although the SDHC format is quickly becoming the most common in all types of cameras, I did not find many new cards of this type at photokina. That's probably because the top speed potential had already been reached in 2007 with the Class 6 cards already available at that time. A Class 6 card is rated with a minimum sustained read and write speed of 6MB per second (MB/s), although some cards may actually be much faster. As well, most manufacturers were already marketing 16GB cards by the spring of 2008.
"FUJIFILM branded Secure Digital Cards use Class 6 speed rating. As recommended by the SD Card Association, Class 6 speed rating cards are optimal for use with DSCs and professional video cameras. This means FUJIFILM SD media cards are ideally suited for use in Finepix digital cameras, as well as a variety of other devices that utilize the SD media format. Considering the applications recommended for each class speed rating, Class 6 cards meet the demands for today's digital camera consumer."
Panasonic SDHC Class 4 12GB HD video card
SanDisk has modified their Extreme III SDHC cards ($180 for the 16GB model) to a speed rating of 30MB/s instead of 20MB/s. Do note, however, that the higher speed is available only with the Nikon D90. That's because SanDisk worked with Nikon to ensure that this D-SLR would be able to utilize an additional unique mode available with the new cards. (Some future cameras may be compatible, too.) For maximum data transfer speed from this card to a fast computer, use the new SanDisk ImageMate Multi-Card USB 2.0 Reader/Writer. You could also use a high-speed USB 2.0 or FireWire CompactFlash card reader (discussed later), with a new product from Delkin, the Secure Digital to CompactFlash card adapter.
SanDisk Extreme III SDHC card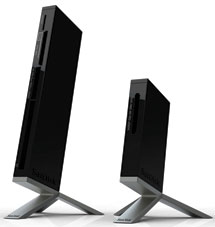 SanDisk ImageMate Multi-Card USB 2.0 Readers/Writers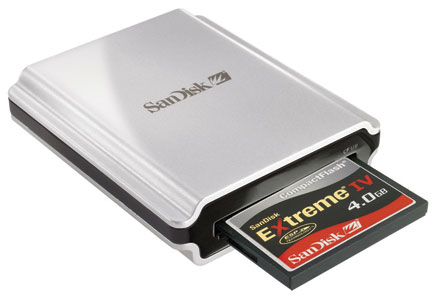 SanDisk Extreme FireWire CF reader
New CompactFlash Cards
Because most of the ultrahigh-resolution and pro D-SLRs still employ CompactFlash (CF) media, the manufacturers are continuing to develop new cards. While the 300x or 305x cards were already extremely fast, a few new models provide even greater read/write speeds, particularly the UDMA-compliant models. These employ a new data timing mode called Ultra Direct Memory Access instead of conventional PIO technology. Do note, however, that UDMA cards provide the maximum specified write speed only with UDMA-compliant cameras: certain D-SLRs released since the spring of 2007 and many medium format digital backs.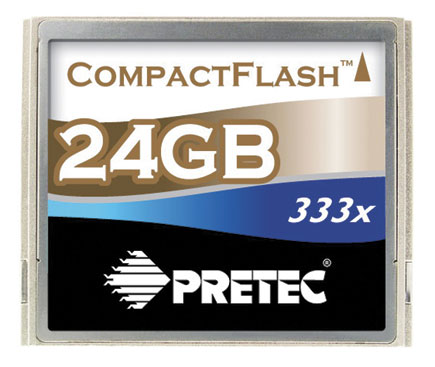 Pretec 333x 24GB UDMA CF card

FEATURED VIDEO