Shutterbug's Exclusive photokina Coverage; Memory Cards: Increases In Speed And Capacity Page 2
Pretec unveiled a new 333x CF card (UDMA) in capacities up to 32GB, said to be the fastest in the world, at 50MB/s. This company also received a lot of coverage for its ultrahigh-capacity media: the new Pretec 233x CF card (35MB/s) in 64GB and 100GB (incredible!) versions. (Full price information was not available, but the 233x 64GB and 333x 32GB cards have MSRPs of $399 and $630, respectively.) Very few still photographers need capacity over 16GB and there's definitely some risk in putting all your eggs (images) in "one basket." (Lower capacity cards reduce the number of images that are lost if a card is misplaced or becomes corrupted.) However, videographers using CF cards will appreciate ultrahigh capacity.
SanDisk Extreme IV 16GB UDMA CF card
SanDisk's Extreme IV cards (UDMA compliant) were already incredibly fast at 40MB/s but the series, now in capacities up to 16GB ($400), is faster with a read/write speed of 45MB/s. Those who want ultrahigh capacity instead will want the SanDisk Extreme III CF card, now available in a 32GB version ($280) with an increased read/write speed of 30MB/s (up from 20MB/s).
Lexar Professional 233x 8GB UDMA CF card
Lexar introduced an entirely new line of UDMA cards at photokina, the 233x Professional series, replacing the older (non-UDMA) 133x series. These are available in capacities to 8GB ($120) and provide a minimum sustained read/write speed of 35MB/s. Naturally, the more expensive 300x Professional UDMA cards are faster at 45MB/s and are now available in capacities up to 16GB ($350). As with any UDMA card, maximum data transfer speed to a computer requires a super-fast CF card reader (preferably FireWire)—such as the Lexar Pro, Synchrotech, or Hoodman FireWire 800 models, the SanDisk Extreme FireWire 800/400 accessory, or the Lexar Pro USB 2.0 and SanDisk Extreme III USB 2.0 accessory.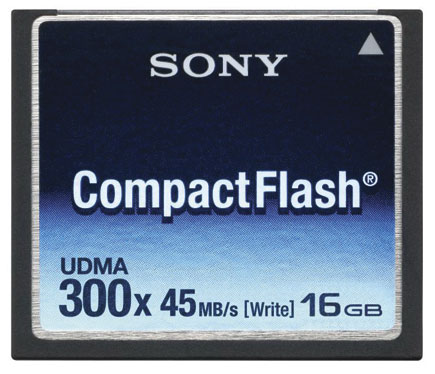 Sony 300x 16GB UDMA CF card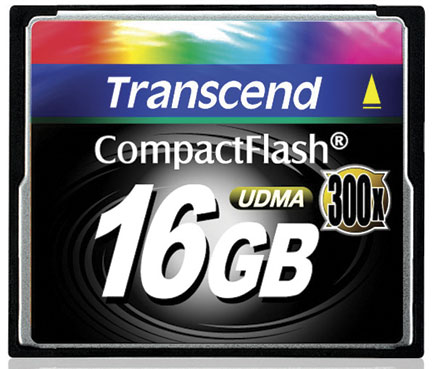 Transcend 300x 16GB UDMA CF card
Two other companies introduced higher capacity versions of their fastest CF cards at photokina. Sony's 300x UDMA card and Transcend's 300x UDMA card, both with a 45MB/s read/write rating, are now available in a 16GB version. (A price for the Sony 16GB card was not available; the Transcend card sells for under $200.)
Wireless SD Cards
Eye-Fi already made SD cards that allowed for cable-free uploading of JPEGs to a home computer with a wireless network, and also to the Internet. Their new 2GB card boasts double the data transfer speed and is available in three versions. The standard Home card ($80) offers wireless uploads to a computer while the Eye-Fi Share ($100) also provides unlimited "WebShare" service. The Explore card ($130) adds unlimited geotagging and hot spot access. Visit www.eyefi.com for specifics as to the services, compatibility issues, additional benefits for owners of the Nikon D60 and D90, and for firmware updates to make older Eye-Fi cards faster as well.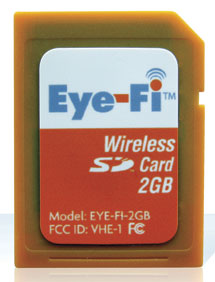 Eye-Fi 2GB Wireless SD card
Lexar also introduced their own 2GB Shoot-n-Sync Wi-Fi Memory Card ($99, estimated). This one allows for wireless transfer of JPEGs to a home computer with a wireless network and for uploading to photo-sharing, social-networking, or blog sites. For additional information on the specific features provided by the Lexar Wi-Fi SD card, review the information and the video available at www.lexar.com/digfilm/sd_wifi.html. Do note, however, that neither the Lexar or Eye-Fi cards are super fast in recording images, so they're intended for JPEG capture with a digicam and not for video or raw capture.
Lexar 2GB Shoot-n-Sync Wi-Fi Memory Card

FEATURED VIDEO