Shutterbug's Exclusive photokina Coverage; Bags And Carrying Systems: Backpacks, Carryons, And All-Purpose Luggage Page 2
Naneu Pro's biggest backpack, called the Adventure K5, was Shutterbug's pick of the show for PMA, but this was its first showing at photokina. It is so big I just had to try it on. Later I got a funny look from Editor George Schaub when I said I had a picture of me "in" the bag—but that's how it feels, because you can split it and wear it all on your back, or part back and part front (so you are "in" a bag sandwich). Even so, it is surprisingly comfortable even for a small person.
Except for the size, the Cullmann Como 3Flex backpack is anything but conventional. In fact, it is a shoulder bag and a backpack in one. The smaller shoulder bag fits into the larger backpack forming a front compartment. Remove it and you can take just the gear you need for the day. Once it is removed you can expand the big bag to use alone. You need to see it to appreciate it: there is a video demonstration on their website, www.cullmann-foto.de. Cullmann products are distributed in the US by RTS.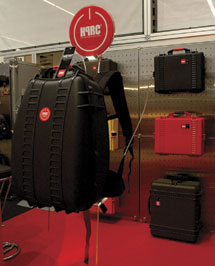 Another unlikely backpack (the HPRC 3500 from HPRC) is made of hard-shell resin, but is properly contoured and has what looks like a very comfortable mesh harness. It offers extreme protection from dust; water; humidity; bumps and knocks; temperature; and even chemical corrosion.
Sling bags are more popular than ever. Tamrac's big new Velocity 10 can hold two D-SLRs, while Camera Armor has a rather blocky design called the Seattle Sling which is unexpectedly comfortable to carry and has a completely waterproof insert. Naneu Pro's Sierra has a mesh strap which is very comfortable in hot weather.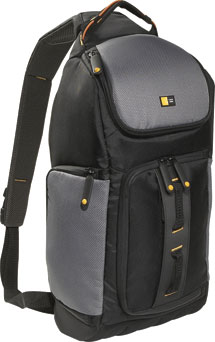 Externally, most others resemble Lowepro's seminal SlingShot to some degree, but access and configurations vary widely: I looked at Case Logic, Kata, M-ROCK, Tenba, and Vanguard. Each has its own strengths and you need to think about your needs, your kit, and your way of working to see which would be best for you. All share the advantages of comfort, quick easy access to your gear without removing the bag, and relatively small size with a lot of carrying space.
Domke F-612 Long Lens Bag
There's more protection for big lenses, too. Because they need special protection, there are new cases for them. Domke's F-612 Long Lens Bag was reintroduced because of popular demand. No one wanted it changed, so they have not tinkered with the design at all. Another example of a big lens case is the Lowepro Lens Trekker 600 AW II which takes a D-SLR with a 600mm lens or an 800mm lens without a camera.
Lowepro Lens Trekker 600 AW II
Case Logic, best known for small pouches and laptop cases, is making more and more camera cases, big and small, for serious amateurs and professionals. One of their important innovations is a very firm camera cradle which guards against knocks and bumps.

World Richman is now exclusively an OEM manufacturer, so when stocks of their own HI-PRO bags are gone, that's it; but their staff designers at the Chicago headquarters are working constantly with clients who want new own-brand lines. They manufacture in China, closely supervising both workers' welfare and product quality.
Stormy Weather
Raincoats for bags are very common, but two new ideas are worth mentioning. Lowepro's 360? All Weather Cover on the Nova series is, as usual, in the bottom of the bag, but one section fits over the top, and the other over the bottom, so you can still open the bag with the rain cover on: so obvious, you can't believe it has not been done before. Of course you don't want to open the bag in a downpour, but if the weather looks threatening, it is reassuring to know your bag is protected and your gear accessible.

M-ROCK's new rain covers are on a lanyard and can double as protection when changing lenses or film in adverse conditions (dust, rain…).

Speaking of rain, weatherproof zips are more and more widely used. Some are merely water-resistant: others are alleged to be truly watertight. Calumet, Tamrac, and Lowepro are using these increasingly. Mekko have them on some of their canvas bags, and many small pouches are beginning to sport them.
The Distaff Side
Another trend is camera bags designed for (and sometimes by) women. This started out with patronizingly colored pouches for point-and-shoots, but manufacturers soon realized that there are lots of women who are serious photographers. Now there are many designs which take serious camera equipment, but have the advantage of not advertising themselves as camera bags. A good example is Jill-e Designs, a company owned and operated by women. The designs include small, medium, and large shoulder bags, as well as a rolling backpack which also holds a laptop. All three sizes are available in weatherproofed leather. Jill-e also have small colorful pouches in plastic and neoprene. Polka dots feature in the pouches and linings. A portion of the purchase price goes to the National Breast Cancer Foundation, Inc.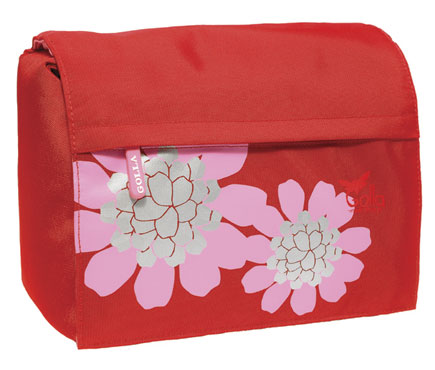 Golla has a new line of SLR bags which are compact and well padded. Besides conventional black and green nylon they are available in red, dark gray, light gray, and brown, the last complete with flower designs. All are distributed by Wynit.

Even Kata, best known for their black carapaces and utilitarian styling, have introduced color to their line, and not the usual colors but some soft pastels.
For something a little more understated, take a look at Delsey bags. They have two handsome shoulder bags, the Delsey Cortex in ballistic nylon and the Delsey Corium in top grain leather, as well as a very handsome leather backpack.
Big And Small
Pelican's hard ABS plastic cases range from small lunch box size to really big. The prototype of the 0500 at this photokina was in the latter category and is designed to be used right way up and upside down. Why? Because if you have a single piece of heavy equipment, you can put it on the shallow "lid" and use the "bottom" as a lift-off cover. Wheels can be fitted to the top or bottom, or replaced with cubes (pallet risers) so the case can be lifted with a forklift truck. Two cases can go on a 42x48" pallet. It's big, and an even bigger brother is on the way. Among other hard cases, Storm Case by Hardigg had two new cases for lighting stands or other larger equipment, and B&W had two big, stackable rolling cases.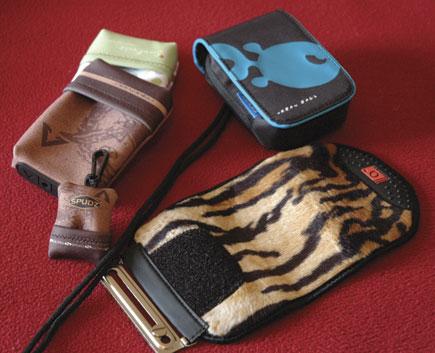 I saw literally hundreds of tiny pouches. Gold and silver fabric (M-ROCK); with rhinestones; fake animal fur; canvas; denim; leather; rubber; neoprene; soft plastic; hard-shell plastic; embroidered; silk-screened; quilted; you name it, and in most colors you can imagine, and some you'd prefer not to. A single style from Riva comes in 55 different colors! Having worked in retail, I sometimes wonder who can hold this many SKUs (Stock Keeping Units).

Little pouches may match bigger bags, or can be attached to bigger bags, or used inside to organize your equipment. Even Alpine Innovations have a line of microfiber pouches in bright prints, with Spudz lens cleaning cloths in matching covers.
Camera Straps And Accessories
Artisan & Artist showed a wide variety of new straps in bright colors as well as classic brown and black. They also had leather "half cases" (like an every-ready case with the top missing), including one for the Leica M8 and some new bags.
Artisan & Artist colorful new straps
Tenba/Skooba Design's "bungee" camera straps are very effective in reducing strain on your neck. Another way to reduce strain is with a camera harness. OP/TECH, best known for stretchy neoprene "Weight Reduction" neck straps, has two styles of harness, and the Safari from the French company Trekking is another.
Artisan & Artist leather Leica M8 half case
OP/TECH's other new items included yet another size of Hood Hat, the neoprene "shower cap" lens cap, and a series of lens sleeves which attach to the Hood Hat for a protective sheath when storing or carrying your lenses. We like Hood Hats so much that they are the subject of a "mini review" on www.rogerandfrances.com.

Braggables do not make camera bags (except for two little cell phone/PDA/point-and-shoot cases), but they do provide a way to use the photos you take: bright colored multipurpose bags and wallets with transparent pockets on the outside to display pictures. And if you want to buy a case with something useful already in it, both Peli (Pelican in the US) and B&W—case manufacturers by trade—introduced portable LED lighting units with batteries in the cases.


FEATURED VIDEO