Shutterbug's Exclusive photokina Coverage; Bags And Carrying Systems: Backpacks, Carryons, And All-Purpose Luggage
Charge!
You can now charge your electronic devices while you are on the move. The G24i solar panel was developed for MIA (Mascotte Industrial Associates) by Gcell and has so far been incorporated in a backpack, a laptop bag, a camouflage bag, and even a tennis bag. It is lightweight and flexible, not too sensitive to the angle of the light, has a high energy output, and works in a wide range of temperatures. So far as I know, MIA is the first manufacturer to take up this technology, but it is unlikely to be the last. MIA is an OEM manufacturer, so if you can't find this particular bag, keep looking. I'm sure that you will soon find solar panels in lots of products. Any motorcycle jacket manufacturers out there? MIA has lots of innovative ideas.
Materials New And Old
An important trend in the bag industry is the use of recycled materials. Paradoxically these are currently about 20 percent more expensive than conventional fabrics, but as demand increases, prices will fall and everyone will benefit. Lowepro showed several bags made from recycled materials, from little pouches for smaller cameras (Terraclime) to two professional backpacks (CompuPrimus AW and Primus Minimus AW). A portion of the price goes to saving the polar bear.
Manfrotto continues to sell National Geographic bags made with sustainable material (hemp) and whenever you buy a bag (or tripod) from them a portion of the price goes to the National Geographic Society.
Lowepro Primus Minimus AW
Not recycled, but also eminently sustainable, cotton canvas is soft and pleasant feeling, long wearing, and very practical. Mekko's newest bags are of cotton canvas, and Domke continues to use it for most of their bags, though in response to customer requests they have also brought out bags in nylon. I'm sworn to secrecy about another material Domke is testing, but (a) it's good, (b) it's cotton-based, and (c) I have never seen it in a camera bag before. They hope to introduce it at PMA.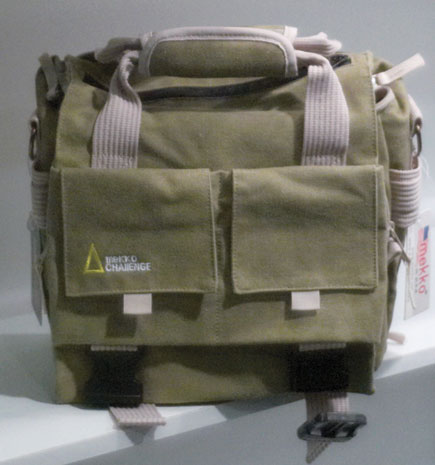 Lowepro Primus Minimus AW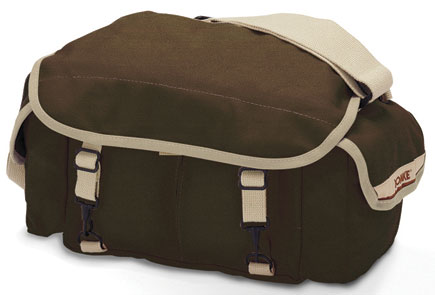 Domke F-2 in cotton canvas
Take Flight
Flying with your equipment is not easy and bag manufacturers spend a lot of time trying to make it simpler for you. Think Tank Photo brought out new versions (V2.0) of Airport Addicted, Airport Acceleration, Airport Antidote: backpacks to take professional D-SLR equipment, including long lenses and a laptop, and comply with international carryon restrictions. The bags also have added security features such as a security cable and lock. Although a cable won't deter determined professional thieves, it can slow down an opportunist. If you already have a Pelican 510 or Storm Case iM2500, look at Think Tank's Version 2.0 of the Airport Ultralight backpack with optional Artificial Intelligence laptop insert, designed to fit inside these.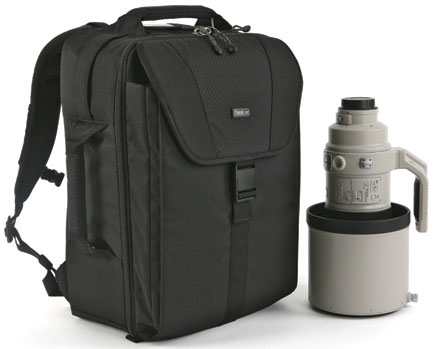 Think Tank Photo Airport Acceleration
The TSA is working with a number of manufacturers to try to make life simpler for both passengers and security staff and Tenba/Skooba Design showed me a case, called the Checkthrough, designed for a laptop and papers. It is designed to spread out flat so you don't have to remove your laptop before the bag is x-rayed. Then, at my suggestion, they tried the padded insert from one of their camera bags and it was instantly converted to a camera-plus-laptop bag! Tenba also introduced their first round flight case: very light, and produced in their factory in New York.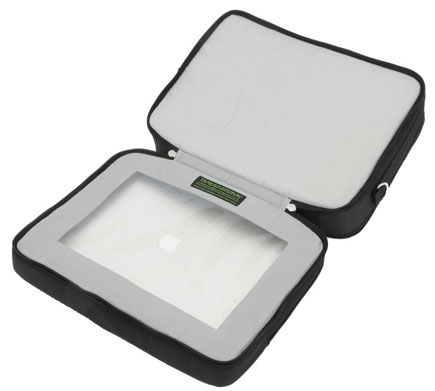 Tenba/Skooba Design Checkthrough
The Backpack Market Is Growing
Backpacks are the easiest way to carry lots of equipment, and the size of some of the newest offerings is amazing. Brandon Kirk of Tamrac said that they had so many requests for bigger versions of both the Speed Pack and the Velocity Series that they scaled them up. As Tamrac has a tradition of responding to customer requests, even though they were not sure of the market, they added the new big sizes and are doing very well with them.
Calumet Photographic sent out questionnaires to photographers asking what features they would like in a backpack, and came up with two new styles: the BP935 and the BP1500. Both hold D-SLR outfits and 17" laptops and both carry a 10-year warranty.
How bags open is important. To make it easier to get to your gear, Tamrac's Speed Packs now have a "Dual Entry" system, a side door which allows you to keep the pack on one shoulder rather than having to take it off. Bags which open away from your body make gear readily accessible for you, but not for anyone intent on grabbing it. Lowepro's new Flipside backpack has both back and side openings. Then there are accessory pockets: one that flops open can be worse than no pocket. Vanguard therefore uses a mesh gusset on some pockets; other companies use other solutions such as elastic or touch fasteners.
Naneu Pro Adventure K5: photographer sandwich

FEATURED VIDEO