Shoot Sunny "Outdoor" Portrait Photos INDOORS: No Editing Required (VIDEO)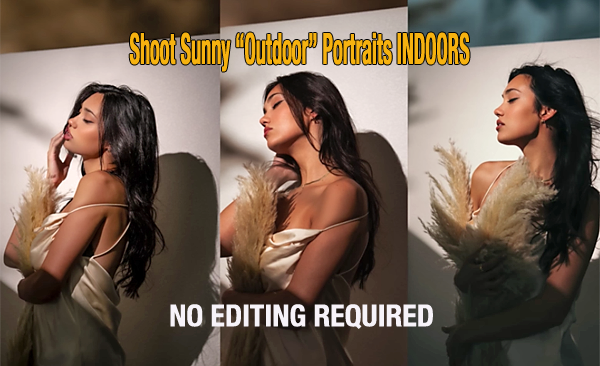 Shooting outdoor portraits can be a mixed bag. On the one hand, natural light photography means carrying less gear, but here's the problem: On bright, sunny days with high contrast, it can be difficult to properly meter a scene and capture flattering images.
The interesting tutorial below provides a simple solution, by explaining how to shoot a "fake' sunny portrait indoors. The beauty of this approach is that is delivers beautiful, predictable results. Best yet, you can get the job done in the camera, with no editing required.
Manny Ortiz is a professional portrait and street photographer with a large following on his instructional YouTube channel. In this episode he demonstrates how easy it is to mimic outdoor portraits, under controllable conditions, in barely seven minutes.
Ortiz describes the gear required, with links in the description beneath the video. While watching the video you'll also pick up valuable advice on camera settings, composition, directing a model, and more.
As Ortiz explains, "The most important part of recreating an outdoor shot is getting the light right." The way to mimic harsh outdoor light, while maintaining an attractive look, is to use a flash or an LED light—without a light modifier that would soften things up and eliminate all the shadows.
You can accomplish this technique with whatever flash you own, but for this demonstration Ortiz employs a constant light source so he can observe the effect without tripping the shutter as he positions the light. Either way, his method delivers super results. After using this technique once, it's a cinch to repeat the process for all your "fake" outdoor portraits.
There's much more to see on Ortiz' YouTube channel, so after watching this video head over there and subscribe.
And be sure to check out the tutorial we posted from another pro recently, demonstrating five simple poses for sensuous portraits.

FEATURED VIDEO