Selling Event Photography; Lessons Learned In A Fast-Paced Business
One of the growth markets for photographers these days is consumer event photography, including youth sports. This is a very specialized business; often, event photographers must be equipped to print and sell photos on-site, offer a variety of photo-package choices, and, in many cases, include green screen technology in their photo shoots. In preparation for this article I began by talking with Claire M. Werner, association manager for the Society of Sport and Event Photographers (SEP). SEP is dedicated to serving the needs of sport and event photographers and Werner was very helpful arranging some of the interviews. Check the SEP website (www.SEPsociety.com) for more information. For me it provided an excellent definition of the field and its practitioners: "An Event Photographer is a photographer who specializes in shooting special events and/or sports. Their skill set is different than a portrait photographer in many ways. Event photographers understand lighting in uncontrolled environments like outdoors or in arenas…"

My first step in research was talking to photographers about how they began and what have been keys to their success in the business.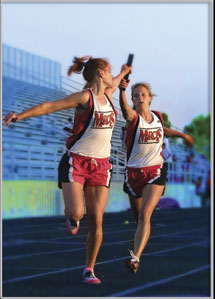 © 2008, Dave Stock, All Rights Reserved
Richard Markham (www.4allstar.com): I became a "weekend warrior" in 1984 by shooting teams and individuals to make extra money. My oldest son was 5 and playing sports. At the time the photography was fine but the photographer was always behind schedule. I thought, "This is no way to run a business." I learned photography and exposure by practicing with slide film and reading everything I could about exposure. The cropping came naturally; I knew what looked right and what did not. Where I believe I excelled in was I ran an organized shoot and followed through with what I promised.

Rhonda Forsberg (www.rhondaforsberg.com): You have to do your homework. You have to be able to capture the pulse of the event, know the key players—who you will be photographing. Also, what is the goal of the event? You also have to know the environment in which you will be shooting ahead of time, what the lighting conditions will be/might be, and be prepared for anything. I usually have a basic kit I bring with me that is unobtrusive but very usable. If you really understand lighting and your camera, you will be prepared. The key is having that understanding and making whatever challenges are there work for you. In the beginning and even now I really have to believe in or have interest in the event to be photographed. In the beginning, and still now, some of it is pro bono. I also find myself doing charity events around the arts or for the disadvantaged.
© 2008, Cynthia Zordich, All Rights Reserved
Jim Roshan (www.EventPhotoMarket.com): I was introduced to digital photography in 1997, which gave me the idea of expanding my services by photographing youth sports action and offering delivery of the photos on-site following the games. This exploded into a very lucrative business. My success got noticed by the event photography software manufacturer ExpressDigital. They later offered me the chance to start training and promoting their software and the event photography business in general. In June of 2006 we acquired Shutterbug Digital Photo (a regional pro lab) and Downing's Picture Perfect (a local consumer lab) and merged them into one firm under the Shutterbug Photo Mall umbrella. We are a pro-level camera store with a portrait and commercial studio along with the area's only 30-minute photo consumer lab and full-service, pro-level photofinishing lab. (Editor's Note: This business has no affiliation with this magazine.)

Shutterbug: Describe the range or type of event photography and the clients you cover.

Art Solomon (www.artsolomonphoto.com): I have photographed little league sports and high school sports, which includes football, baseball, swimming, soccer, basketball, softball, golf, volleyball, and cheerleaders. Add to that horse shows, pageants, parties, conventions, business meetings, dance schools, high school dances, and festivals—these are some of the events that I have photographed. This event work has taken me from Nashville, Tennessee, to Palm Springs, California, to Miami, Florida, and has allowed me to photograph three US Presidents. It has also allowed me to enjoy some of the best vacation resorts in the South.
Janice Lundberg (website in progress): I photograph corporate and private events. My client is paying me to be there and provide an unlimited quantity of pictures for the party guests. The guests never pay for their portraits. We do standard couples shots against a Rembrandt background and what I love to do is Chroma Key, where the guests are photographed against a green background and then have their picture placed in a scene where a calamity is about to happen. I call it "Terror Green Screen." The guests then make their choice of scenes from an 8x10 laminated print. The aspect all these events have in common is that the guests walk away with a print in hand. My jobs are all print on-site, utilizing state-of-the-art Sony UP-DR150 printers. So far, the biggest job we have been booked for is 1000 prints in five hours with two setups.


FEATURED VIDEO