SeaLife Products for Underwater Photos
SeaLife has created a lineup of new cameras and accessories that will enrich your next dive with brilliant images and videos of the underwater world beneath the surface.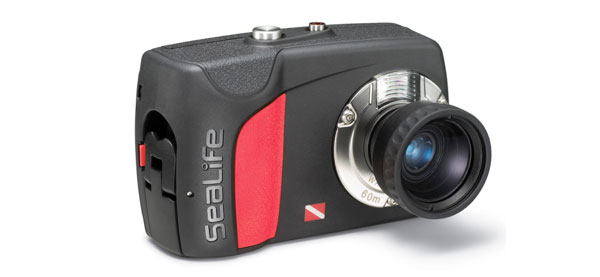 The deep-dive SeaLife ReefMaster is a self-contained 9-megapixel digital dive camera that's waterproof down to 200 ft. and features advanced underwater color correction. The ReefMaster provides an intuitive Easy Set-Up interface that you can access via the camera's 2.4-inch color LCD screen. Just navigate the graphic on-screen guide to select the mode that suits your environment-from Land to Snorkel to Dive-and the ReefMaster does the rest for you. It also includes a quick-detachable wide-angle lens that increases the view angle by 33 percent and allows close ups within 12 inches of the subject.
The SeaLife AquaPodT is a compact, lightweight and easy-to-use aluminum and polycarbonate monopod that adds from 18 to 53 inches to your reach, and was an instant hit with underwater photographers. Attach the AquaPod to your primary camera or to a secondary camera-like the SeaLife ReefMaster or a GoPro camera via the included interchangeable adaptors-and you're all set to take great self-portraits or videos. Quickly rotate the camera around, and you're ready to photograph timid fish or reach out and capture dangerous sea creatures while remaining at a safe distance.
SeaLife's Photo/Video Light provides powerful, even lighting to illuminate your subject's rich, vibrant details in still images and videos. The reliable and feature-packed Photo/Video Light's three-position array of high-output LED lights emit up to 500 lumens to make natural colors come alive, making it a perfect addition to any dive camera with a standard 1/4-20 threaded attachment point. The flexible, rubber-wrapped arm allows you to precisely position the light on your subject, and it even pulls triple duty to operate as a dive light.
The SeaLife Fisheye Wide Angle Lens is the company's widest and most-advanced external lens, and it provides for truly breathtaking seascape images when attached to one of the company's DC-series cameras. Easy to snap on and off during the dive with both a lanyard and a Lens Dock base to keep it secure at all times, the aspherical Fisheye Wide Angle Lens creates a 16mm effective focal length and a field-of-view of 111 degrees when attached to the flagship DC1400 digital underwater camera. The Fisheye Wide Angle Lens lets you truly get up close and personal to capture subject elements that you might not even notice with the naked eye.
The suggested retail price of the ReefMaster is $259.95, and the AquaPod has a suggested retail price of $69.95. The retail price of the Photo/Video Light is $369.95, and the Fisheye Wide Angle Lens is $299.95.