Schneider Diffusion Filters for DSLR Cameras
Schneider Optic's renowned Classic Soft, HD Classic Soft, Black Frost, and Hollywood Black Magic diffusion filters are now available in popular round sizes specifically for today's leading SLR, digital SLR and DV cameras.
A favorite tool of Hollywood cinematographers thanks to their ability to "hide the trick," Schneider precision optical glass diffusion filters are routinely requested by top talent who appreciate looking their best. And getting the image right in-camera also means big savings over costly, time-consuming post-editing.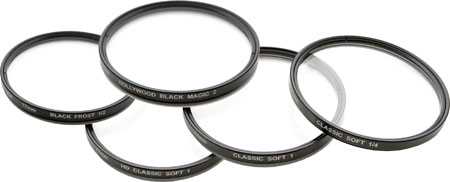 Schneider Classic Soft and Black Frost filters are now ready to fit the range of SLR and DV cameras with 2/3" chips and bigger. Schneider's renowned Classic Soft line makes it a snap to blend blemishes and fine lines or impart a closely confined subtle glow to highlights while maintaining an overall sharp focus that conceals the use of a softening filter. Black Frost filters are just the trick for setting the right mood – enhancing an image through subtle diffusion of highlights and mid-tones without any degradation or dilution of black tones. Schneider Classic Soft and Black Frost filters are ideal for D-SLR formats APS-C and larger.
For high resolution, 1/2", 1/3" and 1/4" chip cameras – as well as 2/3" chip models – there's the new Schneider HD Classic Soft, Black Frost, and Hollywood Black Magic filters. HD Classic Softs deliver the same subtle, effective softening performance as the standard Classic Soft line. Hollywood Black Magic offers the best attributes of the HD Classic Soft and Black Frost filters in a single convenient filter – removing unsightly blemishes and wrinkles while giving an airbrushed texture to the image.
New Schneider diffusion filters for SLR/DSLR cameras install right on the front of a lens without requiring the expense of a matte box. They are available in 43mm, 58mm, 62mm, 72mm, 77mm and 82mm, in strengths of 1/8, 1/4, 1/2, 1, 2, and 3 (depending on filter type).
Like B+W filters, Schneider Diffusion Filters are available at professional photography dealers worldwide. For more information contact Schneider Optics, Inc., TEL: 800-645-7239, 631 761-5000; or 818-766-3715 www.schneideroptics.com.

LATEST VIDEO