Scanners
Models From Every Film Format
Konica Minolta's DiMAGE Scan Dual IV 35mm and Advanced Photo System (optional) film scanner is a successor to the DiMAGE Scan Dual III and uses a high-performance, three-line color 3200dpi CCD sensor to deliver a 4.8 dynamic range, 3200dpi scan in 21 seconds per image via its USB 2.0 interface. The DiMAGE Scan Dual IV features advanced image correction technology such as Auto Dust Brush, Pixel Polish, and Digital Grain Dissolver. The new film scanner can digitize 35mm filmstrip images from corner to corner, thanks to a new film holder that enables a 100 percent field of view.

Nikon Updates
The Nikon people were so excited about their D70 SLR that they never bothered to mention their three updated film scanners, so I will--they're the Coolscan V ED, Super Coolscan 5000 ED, and Super Coolscan 9000 ED. The new scanners include Kodak's (nee Applied Science Fiction's) ICE4 advanced technology.
Upsizing Scanner
Creo's iQsmart 2 and 3 scanners allow the conversion of small photo originals into high-quality digital files. Both scanners use Creo's XY Stitch application to scan film or print originals from 35mm to 12x18" at the same time.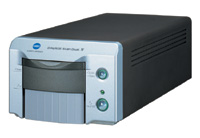 Xpaners Delight
Hasselblad Xpan users rejoice. Microtek's ArtixScan 120tf now accommodates 35x78mm panoramic film as well as 35mm slides, negatives, and all the usual popular medium format suspects. The 400dpi scanner delivers 42-bit color with high-bit raw data file output, a 4.2 maximum optical density, and multiple sampling technology that lets you sample scanned lines of two, four, or 16 to minimize signal fluctuations and reduce noise. It works with Mac OS and Windows computers, has a FireWire interface (SCSI-2 for traditionalists), and costs less than $2000.

The ScanMaker i320 is a 6400x3200dpi flat-bed scanner that incorporates Kodak's Digital ICE with Microtek's ColoRescue to automatically correct prints that have been torn, creased, cracked, or scratched. ColoRescue is designed to restore faded photos and film originals to their original colors. Need more image quality? Consider the less-than-$600 ScanMaker i900, a 3200dpi multi-format scanner that delivers 48-bit color with a separate upped bed to scan reflective material, and a lower bay for film and transparencies. It also includes Kodak's Digital ICE with Microtek's ColoRescue to restore damaged originals.
Virtual Drum?
Imacon's Flextight 343 "virtual drum" scanner incorporates a 3x8000 optic CCD sensor for an optical resolution of 3200ppi and a D-max of 4.3 in a single pass. A selection of film holders lets you mount all of the most common film formats without requiring gel, tape, or glass plates.
UMAX Is Back
UMAX has updated its PowerLook 1100 to the new 1120 model that uses a multi-sampling technique to improve image quality. The scanner's CCD array recaptures data in the same position, saving the data in a buffer before moving to the next position. The saved data is combined to reduce image noise and increase density range of the scan to a D-max of 3.7.

Manufacturers/Distributors'

FEATURED VIDEO