The Savvy Consumer's Guide To Pre-Owned, Collectible, And Vintage Cameras; The Nikon 35mm SLR Saga Page 2
Iterations Of The Noble F3
The Nikon F3 proved to be as adaptable as it was durable, and it provided the basic chassis that was instrumental in Nikon's transition far beyond the manual, mechanical era. It was developed into a high-speed 13.5 fps (!) pro model, the Nikon F3H with special MD-4H motor and pellicle mirror, and the Nikon F3AF, an early ('83) autofocus SLR, that used special 80mm f/2.8 and 200mm f/3.5 AF lenses and had its AF sensors built into the interchangeable AF Finder DX-1. Finally, with Kodak's input the F3 became the basis for the DCS 100, the pioneering and historically significant pro digital SLR of '91.
Along the way the F3 generated some of the choicest user-collectibles of all time, including the titanium-clad Nikon F3/T in natural titanium, black, and champagne finishes, the F3 Press, the rare, pricey F3 Limited slated for the Japanese market, and the Nikon 50th Anniversary Nikon F3/T Classic. There was even an engraved, motorized Nikon F3 US Navy model with a plate affixed to the back stating "Modified for submarine periscope application, Property of U.S. Navy," and, according to contemporary Nikon ads, a special model for NASA.
Shopping For An F3
If I've whetted your appetite for an F3, I'm glad. This model is a superb user-collectible with modest upside potential, but little downside potential at today's prices. The least expensive alternative is the original (non-HP) Nikon F3, which goes for about $350-$375 in E+ condition, in black, body only, and about $100 less in E condition. You can also pick up a plain F3 with MD-4 motor drive in E condition for $250-$300 if you look around. F3HPs with the High-Eyepoint DE-3 finder are more desirable to users and collectors and they command higher prices--about $450-$475 in E+ condition, about $100 less in E condition. Based on a quick search of half a dozen dealer sites, titanium F3/T and F3/T HP models are pretty thin on the ground at present. KEH offered a F3/T HP body in champagne finish at $499, but it was in BGN (bargain) condition--decent, but hardly pristine. B&H listed an F3/T (non-HP) body in "V" (very good) condition at $399. How about eBay anyone? Sure, but caveat emptor.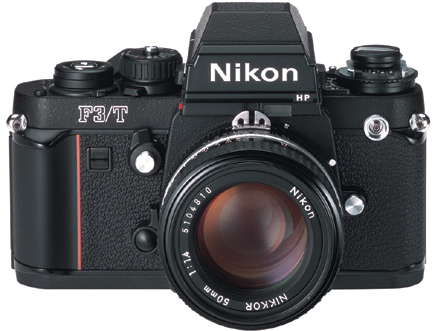 A Curmudgeon's View
As I implied at the beginning of this column, not all Nikon fanciers love the F3. In fact, I recently locked horns on this very subject with a long-time friend and professional camera historian. I found his perspective both insightful and amusing, so herewith his Nikon F3 Pet Peeves, anonymous but unexpurgated:

1. It has an electronic shutter; real cameras used by real photographers are mechanical (as God intended). They are controlled by gears and springs, not wires and transistors. They do not need batteries to function. The 1/60 or whatever it is mechanical shutter speed does not count.

2. The LCD meter read-out is located at the top of the viewfinder. This feels very unnatural. Every time I use the F3 meter, I feel like my eyeball is looking so far up it may get stuck in the top of my head. Real meters use needles; after all, that's what a galvanometer is. They should be located at the side of the viewfinder field, on the right.

3. Styling; it's too cute. Since when do cameras have vertical red lines? The F3 does not look like a Nikon. The earlier cameras have a classic look, with a slightly heavy looking offset meter prism and angled corners, which show the family heritage. With the F3 the linkage back to the real cameras, the F and SP, is lost.

4. AI lenses. OK, this started with the last of the F2s. Nikon SLR lenses should be coupled externally, with a fork and prong, and should be indexed manually by rotating the aperture ring. The earlier cameras had a certain arcane charm about them. You had to know what you were doing to use them.

5. Uses "standard" cable release. Real cameras (Nikons and Leicas) use an externally threaded cable release. This type of thread also allows use of a shutter-release extender, the so-called soft shutter release. We already had the old Nikon cable, why change?

6. I suppose it could have been worse, such as the F4. Indeed, that's my main gripe. The F3 was the next step to possibly the worst pro camera ever, the F4.
Deal Of The Month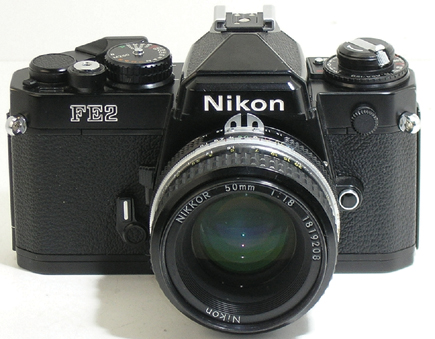 Black Nikon FE2 With 50mm f/1.8 Nikkor Lens
$259 In 9 (E+) Condition
Think of this durable, manual focus classic as an FM2 with Aperture-Priority metering option or an FE with 1/4000 sec top speed and 1/250 sec sync!

Released in 1983, this handsome, robust, semi-compact SLR is an upgraded version of the FE. It's a real sleeper, with sensitive center-weighted metering (down to EV 1 at ISO 100 with f/1.4 lens), MD-11 or MD-12 (3.2 fps) motor drive compatibility, full finder info, including manual meter scale and flash ready signal. Beautifully balanced and ergonomically contoured, the FE2 also has interchangeable focusing screens and will work with the extensive range of Nikon F-mount lenses (except G-series). We found this particular gem at Adorama (www.adorama.com), but other stores that advertise in Shutterbug also offer this model at competitive prices.

LATEST VIDEO