The Savvy Consumer's Guide To Pre-Owned, Collectible, And Vintage Cameras; The Nikon 35mm SLR Saga
The redoubtable Nikon F3 was scorned by traditionalists in 1980, but variants of this modern classic remained in production for over 21 years--longer than any other pro 35mm SLR.

When the sleek, ergonomically contoured, ruggedly reliable Nikon F3 debuted back in '80, it was greeted with cheers and jeers. Some long-time Nikon fans were gratified to have an elegant, fine-handling, robust, pro-caliber, autoexposure Nikon that could accept even their oldest Nikon lenses. The fact that the F3 provides full-aperture metering with Nikon AI (auto Aperture Indexing) and AI-S lenses, and stop-down (working aperture) metering with old non-AI lenses was seen as a big plus. However, many seasoned pros griped about the electromagnetically-controlled, quartz-timed, titanium 1/2000 sec (plus B and T) focal-plane shutter, the first shutter in an F-series Nikon that was dependent on battery power.

True, if the F3's battery died, you could still advance the film and take pictures, but you were limited to a single mechanical shutter speed of about 1/60 sec fired via a secondary fully mechanical shutter release located below the depth of field preview button to the right of the lens. For traditionalists, the superior shutter speed and exposure accuracy provided by the F3's superb microelectronics did not seem adequate compensation for the loss of battery-free operation. However, the problem was more psychological than practical, because the batteries are relatively small and inexpensive and it was easy enough to carry spares.

In opting for an electronic solution to achieving better overall performance, consistency, and durability, Nikon's forward-thinking solution pointed the way to the future, and in this digital age, the Great F3 Debate of '80 seems like a quaint anachronism. Fortunately, the camera's sterling qualities and excellent reputation for durability and "grace under pressure" in time prevailed, and many die-hard Nikon F and F2 fanatics were eventually won over. Today, the F3 has attained the status of a user-collectible classic, and among Nikonians, second in vintage appeal only to the legendary Nikon F.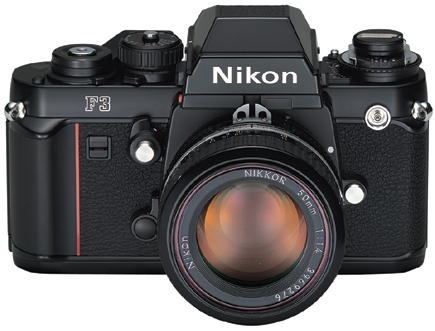 Radically Conservative? Yes, And Then Some Despite its audacious (for its day) reliance on advanced electronics, and sexy Euro-style body created by famed Italian industrial designer Giorgetto Giugiaro, the F3 is, in many ways, an austerely conservative design. Operationally, the only thing that really sets it apart from other professional 35mm SLRs of its day is Aperture-Priority automatic exposure. However, in terms of sheer quality of construction it is still unsurpassed, and some die-hard F3 fans regard it as the finest manual focus 35mm SLR ever built.

Without a doubt it fits the hands better than any of its pro SLR contemporaries (and many current film and digital SLRs as well) thanks to its ergonomic handgrip and slim, comfortably rounded contours. Its ball-bearing manual wind mechanism is one of the smoothest in any 35mm SLR and there's a reassuring click when the perfectly shaped lever completes its winding action. The viewfinder is commendably bright and crisp, but the mode/shutter speed LCD and Aperture Direct Readout (ADR) are unconventionally located at the top left and center of the screen respectively. Other quirks? How about a nonstandard flash shoe mounted Nikon F-style above the rewind crank and film speed dial, and a red "racing stripe" next to the integral grip, which is sporty and cool, or gauche and tacky depending on your taste.

Performance Plus Features
When set to the locking green "A" setting past the 1/2000 mark on the heavily knurled shutter speed dial, the F3 provides Aperture-Priority AE and stepless shutter speeds from 8 seconds to 1/2000 sec. Press in the unlocking button atop the dial and turn it to one of the 16 manual shutter settings and you can select digitally quartz-controlled speeds of 8 seconds to 1/1000 sec, including X (1/80 sec), plus B and T. The back-up mechanical release delivers a shutter speed of 1/60 sec at any setting but T when the batteries are weak or exhausted. The F3's metering system gives you a choice of TTL center-weighted (80/20 percent ratio) at full aperture, or stopped down to working aperture, and the Silicon Photo Diode (SPD) and meter circuits are built into the body so the meter works with all interchangeable finders. There's an exposure memory lock button, a 10-second electronic self-timer, and the meter can read reliably down to EV 1 (1 second at f/1.4 at ISO 100)--pretty good for a 27-year-old camera!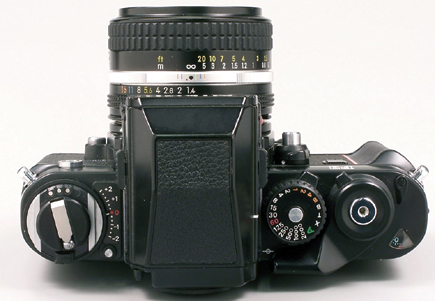 Ahead Of The Pack
While the F3 is devoid of fripperies, and is clearly aimed at serious, knowledgeable photographers, it does incorporate some notable technological advances. The F3 was the first F-series Nikon with a meter built into the body rather than the prism, and it uses an ingenious two-mirror system to provide highly center-weighted readings, with 80 percent of the meter's sensitivity concentrated in a clearly marked 12mm circle in the center of the finder, and the remaining 20 percent spread out over the rest of the frame. This metering system works on the optical axis for maximum accuracy and handles both ambient light readings and TTL Off-The-Film (OTF) flash metering during the flash exposure via an SPD housed underneath the main mirror.

To quote from a '85 Nikon pamphlet, "No less than 50,000 special non-silvered spots at the center of the main mirror allow precisely 8 percent of the light to pass through. This light is then reflected off a `piggyback' secondary mirror down to the fast reacting Silicon Photo Diode light sensor located at the bottom of the mirror box." Other noteworthy F3 features: A viewfinder illuminator button that illuminates the finder LCD and aperture window in low light; flash ready light in finder when dedicated flash units and cords are used; in-finder over- and underexposure indications in Auto and Manual modes; auto flash sync speed setting at A or 1/125 sec or above; and a positive mirror lockup. If these features sound a bit pedestrian today it's because so many other companies followed the lead of the Nikon F3 and other pioneering SLRs, like the Olympus OM-2.

But perhaps the most important factor in the F3's enduring success was that it retained Nikon's basic concept of a modular system design that was born with the Nikon F back in '59, and took it to an entirely new level. With its sophisticated electric contacts and motor drive couplings, you could add a new high-speed (6 fps) MD-4 motor drive with an MF-14 data back, or a 250-exposure MF-4 magazine back. There was a choice of 22 interchangeable focusing screens and a plethora of interchangeable finders. Indeed, a new model, the Nikon F3HP was created by the simple expedient of replacing the standard DE-2 finder with the High-Eyepoint DE-3 finder, which is easier to look through because it has much greater eye relief, but provides somewhat lower magnification. Today, most SLRs follow the HP formula to a greater or lesser degree, and the Nikon F3HP, identifiable by a discreet "HP" on the finder prism, commands a higher price than the standard F3.